Modern problems require playful solutions.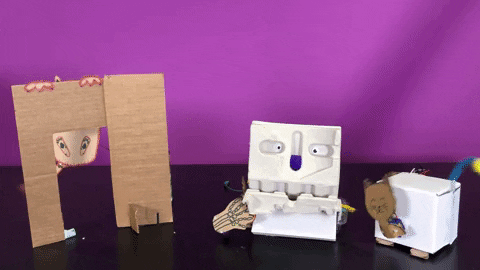 In Creative Robotics, young makers design, code and create artistic projects that bring joy to others. At the Launchpad Lab, makers aged 8-12 will combine personally crafted materials with mechanical and electronic components to create and code physical designs that move in and react to the world around them.
Makers even design how others can interact with their invention! Their design might flap, sing, flash or fold in response to a clap, a wave, a flash, a tilt or the push of a button.
While having fun with making and merging art, science and technology, you will develop skills in STEAM (science, technology, engineering, art & design, and mathematics), including creative problem-solving, self-empowerment, logic and collaboration.
---
Programs Offered
Making Makers
For ages 8-9
Makers will learn how to combine LEGO® Mindstorms® with custom cardboard parts and found materials to design, build, code, and test robotic solutions to locally relevant challenges. These challenges will be presented to you in real life scenarios like facing an earthquake in Metro Vancouver, a forest fire in the interior, or a large storm in Stanley Park.
Saturdays: September 10, 17, 24 and October 1, 15, 22
Time: 10am - 2pm
OR
Saturdays: October 29, November 5, 19, 26, and December 3, 10
Time: 10am - 2pm
Playful Inventions
For ages 9-10
Makers will create unique and playful designs by combining VEX® IQ sensors and motors with custom cardboard parts and found materials. Past makers have designed 3D interactive tech pets, carnival-style games, and motion-activated high five machines.
Sundays: September 11, 18, 25 and October 2, 16, 23
Time: 10am - 2pm
Innovative Design
For ages 10-12
Makers will form pairs and combine VEX IQ® and BBC Micro:bit with their own custom made parts to invent a working prototype for others to interact with. Through Teachable Machine and STEAMLab's A Micro:bit of AI, facilitators will provide makers with the confidence to incorporate their own custom AI vision and sound recognition software into their projects.
Makers will add the Design Cycle to their skillset and will learn how to identify a community need, prototype, create and iterate their designs.
Sundays: October 30, November 6, 20, 27, and December 4, 11
Time: 10am - 2pm
To be notified when registration opens for all programs, please contact our Youth Programs Specialist to be added to the mailing list.
---
Program Details
All makers receive support from facilitators, as well as freedom to create projects that suit their experience level. Throughout six sessions, they will develop their skills in creativity, coding and invention through guided activities, collaborative project time, exploring Science World's galleries and participating in coding and tinkering workshops.
Pricing
Science World Members: $270
General Public: $300
Please note: Space is limited to 16 participants per program.
---
Contact Us
604.443.7510 | [email protected]