As we count down to the highly anticipated Science of Cocktails on February 7, 2019, we spoke to Trevor Kallies, Beverage Director of the Donnelly Group. A tour de force behind the scenes, he has been ensuring all aspects of the event come together perfectly since its inception in 2016. His invaluable input and cocktail creativity, combined with the generous amount of time and expertise donated by himself and other CPBA members, are essential ingredients in making Science of Cocktails Science World's most successful fundraising event.
In this interview, Trevor shares his thoughts on his last three years with Science of Cocktails and what motivates him to continue to partner with Science World.
Tell us a bit about yourself and how you got into bartending.
For 17 years I have managed the bar programs at some of the highest volume bar locations in Vancouver. I started at Earls "On Top" location on Robson Street in Vancouver as a way to pay some bills while going to UBC as an undergrad. I spent time in multiple staff and management positions finding my niche in the role of 'bar leader'.
I moved to Granville Room of the Donnelly Group in 2005, where I found a passion for spirits. I began running not only the room, but the cocktail, beer and wine programs. In 2008, I took on the beverage program for the Donnelly Pub Group and Donnelly Night Club group, creating drinks and training staff from more than 10 venues with different concepts while still managing Granville Room full time. Finally, in 2010, I moved into the position of bar and beverage director for the Donnelly Group, overseeing the menus and profitability of 14 locations around Vancouver, and now Toronto, for beer, wine and cocktails.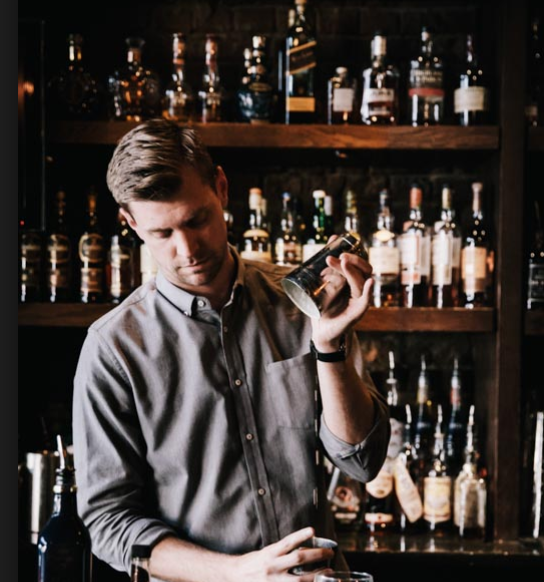 In 2009, I helped found the Canadian Professional Bartender's Association (CPBA), an organization that is now Canada-wide with members in Ontario, Quebec, Alberta and the Maritimes. In 2013, I was elected president of the BC Chapter of the CPBA and maintain that role today. In 2011, I became part of the Cocktail Apprentice Program (CAP) at the infamous Tales of the Cocktail in their first ever Tales on Tour in Vancouver. I've since been promoted to CAP manager of the annual Tales of the Cocktail in New Orleans, where I help manage a team of 60 global bartenders who execute seminars, cocktails and events at the biggest cocktail event in the world. There I have the opportunity to work with brand ambassadors, distillers and some of the best cocktail minds from around the world.
CPBA has been involved with Science of Cocktails since year one. What motivated CPBA to get involved?
We were approached by two of the initial organizers of the event, Clare and Jenn. They reached out to the CPBA website, so Gez McAlpine (then of Keefer Bar, now he's marketing manager of Rémy Cointreau) and I had our first meeting, decided it would be a fun project and started the planning process. A couple of hundred thousand cocktails later and here we are!
What are you most excited about going into the fourth year of Science of Cocktails?
Each year the cocktails and concepts change. We're very mindful, on the planning side, that we have some repeat guests to the event so we never want to have the drink ideas that are being showcased get stale. Each off-season I always look for new ideas. One of the best parts of Science of Cocktails is getting the local bar team involved and seeing 10 months of planning and recipe creation get passed onto the volunteers and executed for close to 1,400 guests—all within an eight-hour period of prep, execution and cleanup.
You create all the drink concepts for the event. Do you have a favourite cocktail concept from the past four years?
It's hard to put one above of all the rest. We've had some risky concept ideas over the four-year span, some that we were crossing fingers in hopes they were going to come out perfectly for the guest. We've adapted concepts from globally famous bars and bartenders (Dave Arnold of Existing Conditions NYC), incorporated the growing trend of sustainability in bars (Trash Tiki), introduced our own creations (last year we made our own aromatic vapour) and even had other local creators come along for the ride (Makerlabs). Each year is a challenge, and each year the local community of volunteer bartenders over-achieves. We definitely could not do it without them.
What is your favourite Science of Cocktails moment or memory so far?
We were opening our newest Toronto location, Walrus, in February last year. I spent the week leading into Science of Cocktails 2018 opening a massive Toronto bar, while trying to help coordinate prep and planning for Science of Cocktails over the phone and via email and text. I flew back to Vancouver for about 28 hours to finish prep, batch cocktails, run the event, then clean up that night and load out bar tools the following morning before catching a noon flight back to Toronto the next day to get back to training the new staff. Talk about a whirlwind!
---
Celebrate the artistry and science of mixology under the glittering iconic dome at TELUS World of Science.