In this game, students act out the water cycle by becoming water molecules and simulating evaporation, condensation and precipitation.
Earth is unique in that all three forms of water (liquid, solid and gas) exist here naturally.
Heating from the sun helps evaporate water from oceans and lakes as a source for clouds and precipitation, it is also pulled from the ground and evaporates off leaves of plants as they grow (transpiration). The sun-powered circulations of evaporation, condensation and precipitation move Earth's water from the oceans to the atmosphere to land and back. This is known as the water cycle.

The water cycle:
water evaporates and rises up into the atmosphere
in the atmosphere, the water cools and condenses to form clouds
precipitation falls back to Earth
water collects into streams, rivers, lakes, etc. and is led by rivers to the oceans
the cycle starts again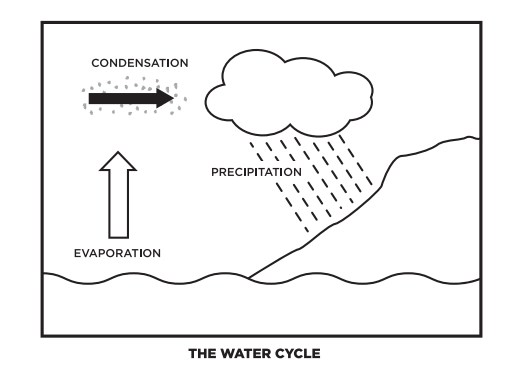 Because water constantly moves through this cycle, the amount of water on our planet now is the same as the amount that existed during the time of the dinosaurs. Water does not get "used up" and disappear; it is continuously replenished through the water cycle.