Science World sent us to the end of the road...literally. Mile 0 of Highway 101, at Lund. We started with squishy circuits on Tuesday at Kelly Creek Community School, followed by magnets and static electricity science with a kindergarten class at James Thomson on Wednesday morning and a light and colour workshop after lunch at Nancy's Bakery.
There were squeals of delight from students when we did the electricity workshop and the LEDs lit up in series and parallel. It meant they discovered how switches work, how two batteries can make lights brighter and how four LEDs is one too many for a nine-volt battery.
Colour mixing with red-green-blue LEDs helps cement the reality that, according to the human eye, red plus green light equals yellow.
We enforced electrical safety by connecting a hot dog to a wall outlet. As the hot dog split and dripped fragrant juices all over the desk, one student exclaimed, "This is the best thing I ever learned in school!"
Wednesday started early with the kindergarten class. The delight of finding out how magnets attract and repel led to a magnet race between students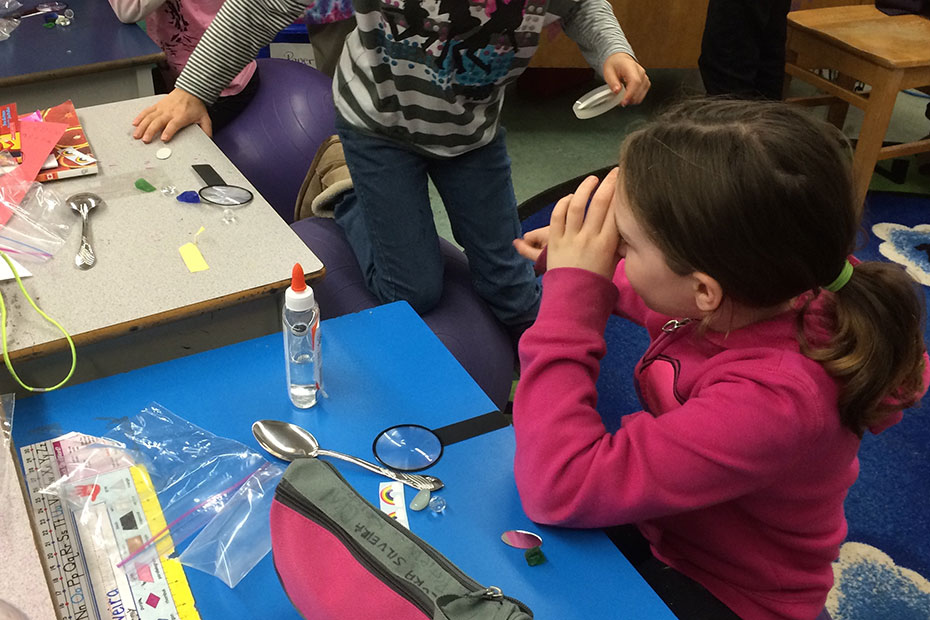 . The teacher came up with the wonderful idea of having a maze with lots of twists and turns that the students had to complete with their dollar store magnets.
Strong enough to go through the desks, the mysterious movement of the magnets caused the teacher to explain, "It's magic." I quickly responded with, "Not magic, but science!" The students greatly enjoyed correcting other students and the teacher with that phrase. I cannot wait to check with the teacher and see if they are still saying it next week.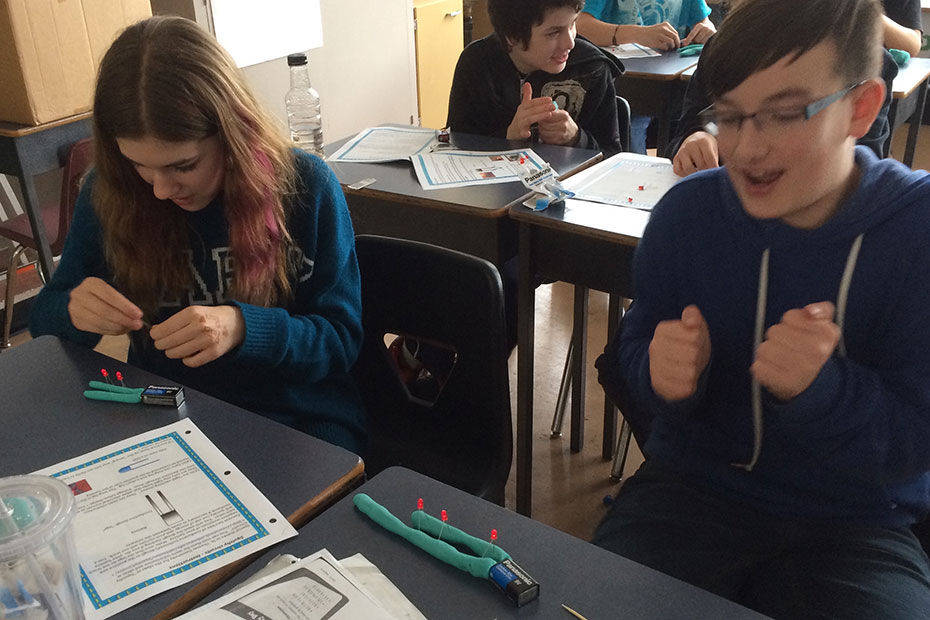 After a trip to lunch, the grade 4 students were entranced by their goody-bags of mirrors, curved glass beads, glow in the dark plastic rocks and crystal beads they could use to make their own rainbows. Contrasting colour mixing with coloured water and coloured light from floodlights was the grand finale. I make a point of drinking all the colours of the water and the students' reaction as I drank black water was hilarious! Shining a laser through a diamond was the final sparkle.
Tired, but happy, we headed off for home.
Elementary school teachers are saints and deserve all the help they can get. We were so happy to be part of this program.
Visit our SIS page to learn more about the program and to invite a volunteer like Jennifer Kirkey (from the Department of Physics and Astronomy at Douglas College) to your school! Join the conversation and share your SIS experience with the hashtag #swSIS