If you have a look at the SSS Green Team's 2014 BC Green Games entry, you'll understand why Smithers Secondary is creating such a buzz. As winners of our $1,000 Judges Prize and $1,000 BC Hydro Energy Prize, they absolutely wowed us with their creativity, dedication and contributions to the conservation community. Not only did they build a Geodesic Dome Greenhouse (imitation is the highest form of flattery) that is heated by a unique biomeiler—a composting heater that uses things like wood chips, leaves and manure to keep the plants warm in the Northern BC weather—they also invented a whole new way of converting sawdust from the woodwork shop into charcoal, which can be used as fuel. Now waste that used to go to the dump is being converted to biochar via a custom-built "converter," which was designed and built by Mr Rick Hubert and his metal shop class.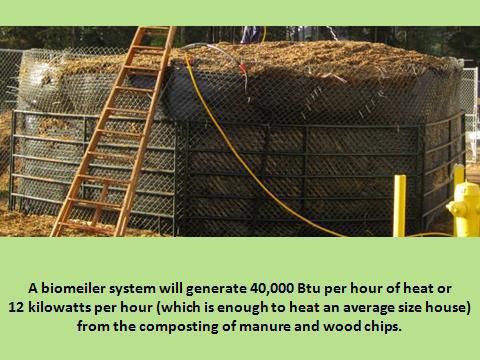 "The Rocket Retort," aptly named since it is a combination of a rocket mass heater and a charcoal retort, was specifically designed to convert the sawdust into biochar. Biochar is a pretty big deal in the world of conservation. It is currently being looked into as a possible approach to carbon sequestration, which is a method of capturing carbon that would have eventually returned to the atmosphere through natural processes and storing it deep down in the earth for hundreds, maybe thousands of years. Biochar is also known to increase soil productivity, which reduces the need for fertilizer, resulting in reduced emissions from fertilizer production. Biochar also increases soil microbial life.
As far as they know, their Rocket Retort is the only one of its kind. The SSS Green Team developed it because they were unable to find a device to meet their specific needs. "It incinerates everything," Mr Hubert said. "And there's no smoke, no nothing. It just lets out some water vapour and CO2. In fact, we are planning to reuse the energy that it burns off." The industrious SSS Green Team is currently working on building a gassifier that will convert wood chips into hydrogen and methane (known as pyrolysis), so that any gasoline engine could run on the gasses produced.
Mr Hubert said that he was inspired to build the greenhouse with the SSS Green Team because he wanted to teach the kids how to grow their own nutritious foods, year-round, which is difficult to do in the northern climate of Smithers, BC.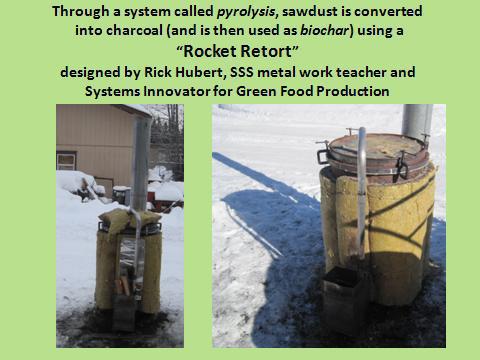 Ms Sally Cunningham, founder of the SSS Green Team, worked closely with Mr Hubert and Smithers Secondary's art teacher, Mr Perry Rath, to help the students realize their greenhouse dreams. "In September, 2012, I decided to sponsor a Green Team," Ms Cunningham said. "I was thrilled when a group of enthusiastic students joined the club. Throughout the year, we worked hard to raise the environmental consciousness of students and staff at Smithers Secondary School."
Mr Rath wrote: "The kids have sure been inspired by working on this project as an active alternative to the energy and food security issues that have becoming more and more prevalent in the North today. And with interest from, and outreach to the neighbouring community, some great connections are being made between adults and local organizations and what we are doing within the school."
Mr Rath sees this kind of project-based learning as an educational advancement. In his opinion, thanks to projects like their BC Green Games entry, "citizens no longer see the school as a place of old-style classroom teaching only, but as a place of vital, progressive, contemporary and relevant approaches to learning for our students. It has been an immense pleasure to work on helping to support and develop this project and see the enthusiasm from kids."
Ms Cunningham mentioned that working with the students and the community to build the Geodesic Dome Greenhouse has been a highlight of her teaching career. "I feel like this kind of project is why I became a teacher," she said when she'd heard the news of their BC Green Games win.
Congratulations to the SSS Green Team and thank you for your amazing contributions to the environment!