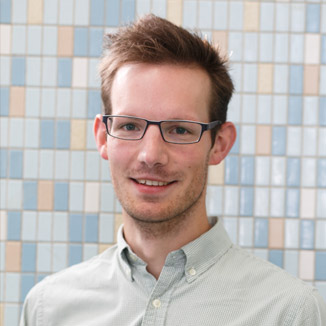 The 2015 James Dyson Award contest for design engineering is open for submission and we are so excited to see what wonders future engineers will come up with to make our lives simpler and more elegant. The contest is a wonderful opportunity for current and recent design engineering students to showcase the imagination, creativity and innovativeness involved in great design.
Design Engineering is a fascinating field of study that not everyone thinks about when they imagine a career. Even Senior Design Engineer at Dyson, Rob Green, wasn't exactly sure that what he loved was called engineering.
Rob graciously agreed to answer some of our burning questions about his life in design engineering—how he first became interested in design, how much creativity plays a part in his work and which James Dyson Awards entries have stuck with him over the years.
SW: Rob, you got into making things at a relatively young age, what inspired you to study engineering?
For as long as I can remember I have always enjoyed taking thinks apart and trying to figure out how they work. It didn't matter if they were broken or not, I just had a relentless curiosity with what made things function and what was going on inside—the hidden bits and bobs you don't see. Much to my parents' frustrations there were many times I took apart perfectly working objects and failed to get them back together. And at the time, I didn't really understand that this was all part of engineering.
When I reached secondary school we started studying Design and Technology, DT as we call it in the UK. It's a light engineering subject that combines math, science, art and craft. I consider myself incredibly lucky to have grown up in the UK where this is a mandatory subject for all students and it was always my favourite class. Even at this point, I still didn't realize it was engineering that I was interested in. I just knew I loved creating things that moved, worked or solved a problem. It wasn't until I was leaving secondary school that my DT teacher explained to me that the subject I loved could become a career and that I should study engineering in university.
SW: What was your first design job and what was your first project?
My first paid design job was for a rubber company on their new product development team. I worked on several projects at the same time, but I believe the first project I finished that went to market was a new design for a teat cup liner in a cow milking machine. It was designed to be softer and kinder to cows.
SW: What project are you most proud of?
It's close between the first vacuum cleaner I helped design at Dyson and the team I worked with to develop the first Dyson Digital Motor.
If I had to choose just one, I think the motor wins it. The Dyson Digital Motor now powers most of the Dyson battery operated products and I have the most patents on the design. It was also the hardest project I have worked on, involving cutting-edge electronics, materials and production techniques. We were also a very small team, making everything incredibly hands-on.
SW: People don't always associate engineering with creativity. Would you say your job is creative?
Definitely. All engineering is creative, just in different ways. Aeronautical or civil engineering is creative in its problem solving, just maybe not in the conventional way that say Product or Industrial Design Engineering is.
SW: The 2015 James Dyson Award is now open and will run in 20 countries this year. What would you say to a prospective participant?
Just give it a go! Most participants enter their final year project or another university project, so there really is no extra effort. At this point you've done all the hard work. Simply upload your project on JamesDysonAward.org—you've got nothing to lose! Plus, the pay-offs can be big. Projects can receive worldwide recognition. The 2014 Canadian national winner, PrintAlive BioPrinter, told us, "Winning the regional James Dyson Award increased the visibility of our project in Canada and abroad. It also helped us gain additional support to explore product development and lead us closer to commercialization."
SW: Which James Dyson Award project in years past really stood out for you?
There have been a lot of great ones over the years. One I really liked was the 2013 US entry Revolights. Revolights are a series of LED rings that clip onto a bike's existing rims. Powered by hub-mounted lithium-ion battery packs, a fork-mounted magnet works with an integrated accelerometer to determine when the lights should be illuminated. The result is that the front half of the front rim shines a brilliant white while the back half of the rear rim emits a bright red glow.
This project really stood out for me mainly for its simplicity. It's a good idea that solves an everyday problem. It doesn't set-up to save the world, just make life a little better. I like that. Good design doesn't have to be over the top, it just has to serve a purpose and do so in the best way possible with an innovative twist.
Science World encourages emerging design engineers to check out the 2015 James Dyson Awards. If you know a youth with a keen interest in engineering and would benefit from expert mentorship and collaboration with like-minded peers, applications for Science World's Future Science Leaders program are now open.