Thanks to rock band, Mindil Beach Markets' The Jellyfish Project and Science World's incredible BC Green Games teams, this Earth Day was one for the books!
Each year, students from around the province are invited to compete in the BC Green Games. The contest is a way to motivate and communicate the already-awesome green projects that are happening in BC schools. Teams that submit a project can win all kinds of prizes, like cash awards, cameras and workshops, but, win or lose, everyone who participates is invited to join us at Science World for an Earth Day extravaganza.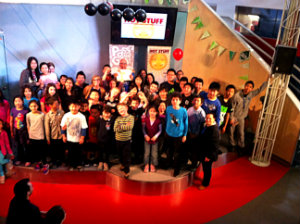 And what a party it was. We started the day off early with a boisterous awards ceremony for the Henry Anderson Eco-Eagles, followed by, their teacher, Ms Price, conducting fire experiments onstage. Our incredible performers then lead a rocking dance party with an important message; we need to pay attention to and take care of the world's oceans. Ocean health is a significant indicator of the overall health of the Earth. Teams who couldn't make the trip to Vancouver tuned in to our Livestream online broadcast.
The Jellyfish Project was developed by Mindil Beach Markets as a way of communicating to young people that climate change is a reality and that young people have the power to do something about it. In their presentation, they called young people of today the "U-Turn generation" because, armed with education and the motivation to act, this emerging generation could power a positive change in conservation practices.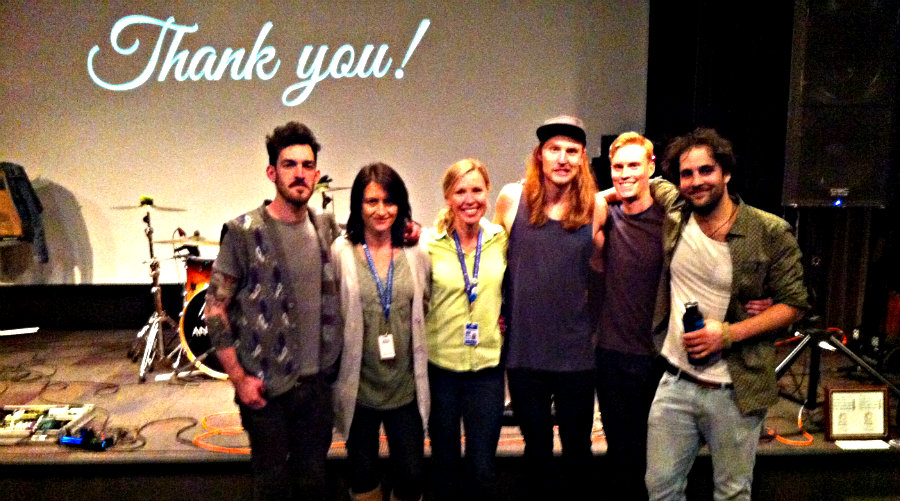 Then we really raised the roof for our BC Green Games teams for becoming a big part of that change by taking action and then communicating their action with others. Awards ceremonies were held for Royal Heights Elementary, Hyland Elementary, Sir Winston Churchill Secondary, Semiahmoo Secondary, Frost Road Elementary and Howard DeBeck Elementary.
We were so stoked to have so many BC Green Games teams together for Earth Day that we ordered up 400 green-sprinkle cupcakes! You won't be surprised to learn that not a crumb went to waste. Thank you to everyone who contributed to making April 22, 2014, a rocking Earth Day.
Earth Day was the kick-off to a full month of green-themed activities and events during Science World's Green Month! Green Month programming runs from April 22 until May 21, 2014.