This is a guest post by Scientists and Innovators in the Schools (SIS) program volunteer, Lynn Westcott, who is an entomologist from Smithers, BC. She has been an SIS volunteer since 2007.
In October, I enjoyed the highlight of my time as a volunteer with Science World's Scientists and Innovators in the Schools program. I was fortunate to visit a First Nations community north of Fort St James in the BC Central Interior. Yekooche is small in the sense of their population (approximately 150 residents), but what the community lacks in numbers, they more than make up for in enthusiasm, community spirit and caring for each other. I received a very warm welcome from the students and teachers of Jean Marie Joseph School, including the school's Carrier language teacher, the Head Start program teacher, the school's teaching assistants and several parents.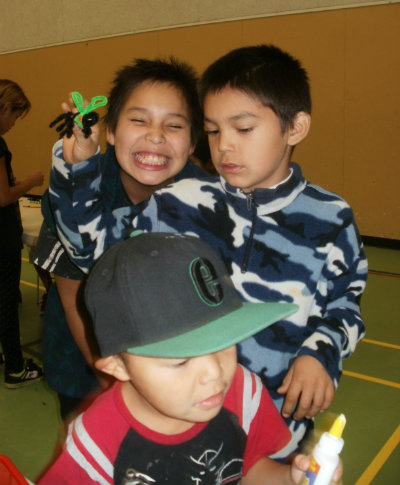 The students and I shared our interest in insects, talked about our favourite bugs and looked at specimens. Afterwards, the children created their own 'bug' using various arts and crafts supplies. The only requirement for their 'bug' creation was that their insect (or arachnid) should have the correct number of legs and/or antennae! I'm looking forward to many more visits to rural and First Nations schools throughout northern and central BC. I hope other SIS volunteers will find their visits to some of the province's more remote schools among the most fun and rewarding of their career.
To request a visiting scientist like Lynn for your classroom, see our Scientists and Innovators in the Schools page for more info. If you are a scientist or innovator who loves communicating science and technology with eager young minds, sign up to be an SIS volunteer today!