Extra-Large Shorts is an expertly curated short-film collection by Science World's very own giant-screen projectionist, Ingrid Lae. She hopes that this unique collection with its range of techniques and creativity will cause people to pause and appreciate just how cool art and technology can be.
Ingrid has been working in our OMNIMAX Theatre for almost thirty years, since before Science World lived under the dome. Ever since she began, she's been involved in fun creative projects. She started working here right after Expo '86 as part of the team that prototyped movement-simulation rides for Universal Studios theme parks.
In the late 80s, Universal moved their creative team into the dome because it happened to have the perfect set-up to design the hugely successful "Back To The Future" ride. The ride ran for 20 years and was just recently replaced with a Simpsons ride using the same technology that was designed here in our theatre.
"I came to giant screens with an interest in documentaries and I thought the ride sounded a little silly. But I knew it was an interesting opportunity, so I agreed to work on it and it was a great experience. Once I finally got to go on the ride, I found out it was really fun!"
Ingrid is an expert in giant screen projection for IMAX and OMNIMAX. A standard IMAX screen is 22 metres wide, while an OMNIMAX screen is around 28 metres wide. Our OMNIMAX theatre is the largest of its kind and one of the last to use actual film. Ingrid tells me that as the giant screen theatres all convert to digital, seeing movies on film is a real luxury—the clarity is unparalleled. "That was what drew me to giant screen in the first place," she said, "It was the clarity of the images."
She thinks that she's seen nearly all of the films made for IMAX and OMNIMAX, which made her the perfect person to put together a show-stopping animation compilation. "Every year, there is an industry meeting where we watch all the new films. The meetings are held all over the world. We've even hosted them here (at TELUS World of Science) a few times."
About ten years ago, Science World was featuring an Animation exhibition that called for an OMNIMAX screening. "I'd seen many interesting shorts at tradeshows and conferences and I knew they would likely never be seen by the general public. Some of them were quite good and this was an opportunity to show them. Having screenings like Extra-Large Shorts or short film festivals are really the only chance to see these films in a theatre as they were meant to be seen—on a giant screen."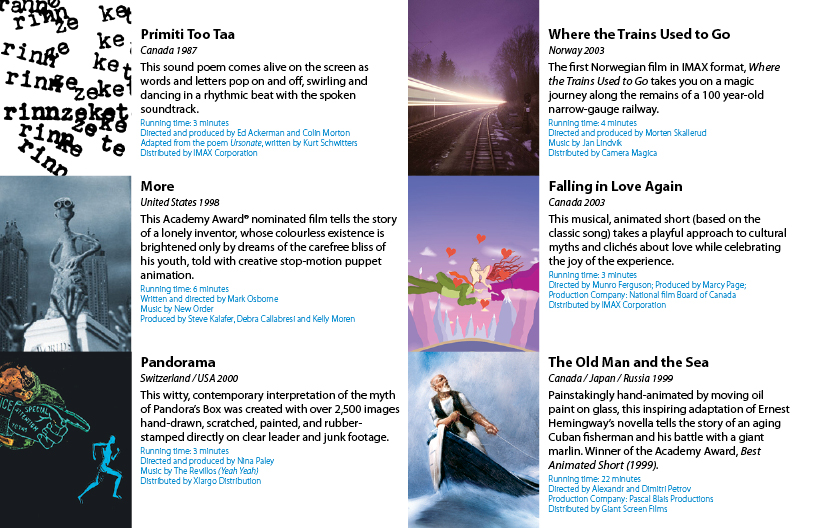 "I chose the films that I liked the most, then I narrowed it down to how feasible they were and I came up with this compilation. I was looking for an eclectic collection. I think these films demonstrate very different types of filmmaking. Because of the different styles, I hoped that there would be something meaningful for everyone."
Some of the films and filmmakers went on to become quite well-known. Marc Osbourne, the creator of More, went on to do Kung-Fu Panda and The Spongebob Squarepants Movie. Nina Paley went on to write cartoons and to animate and direct the film Sita Sings the Blues. The Old Man and the Sea is the animated half of a documentary on Ernest Hemingway and won an Academy Award for Best Animated Short in 1999.
We have the only known copies of these films and we plan to return them this year. Meanwhile, as digital projectors and films take over the genre, it's unlikely that these pieces will be transferred. This may be the last chance audiences will have to view this exciting collection on the giant screen.