Our Why We Give series spotlights our supporters and why they give to our non-profit organization.
---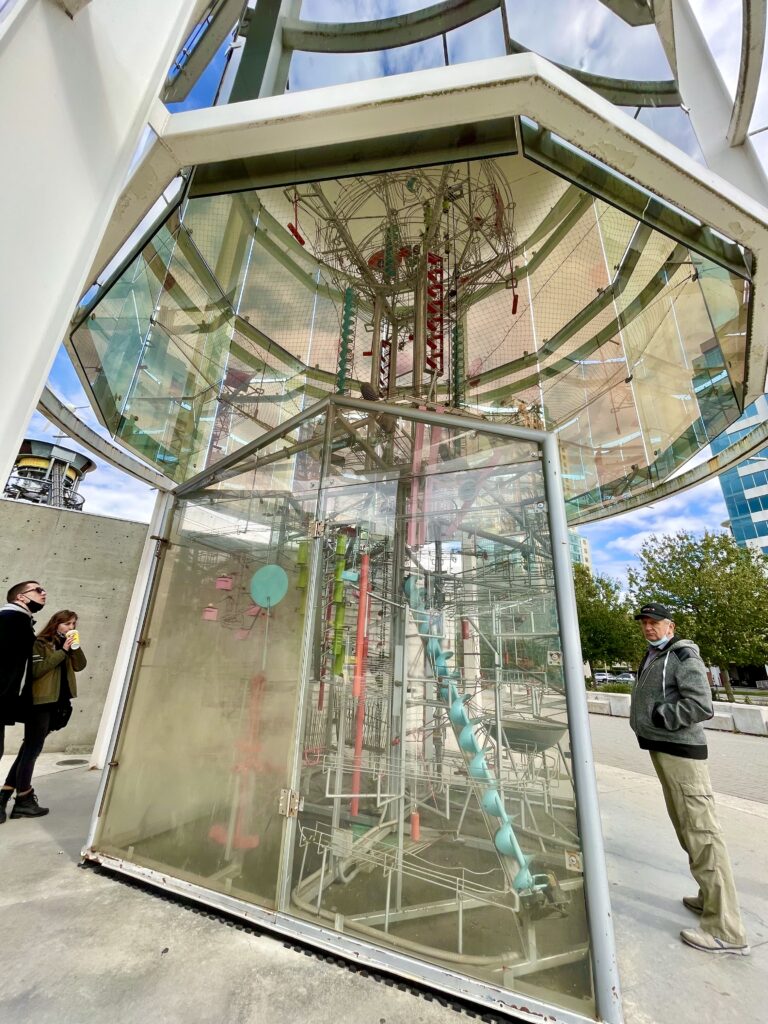 "At 12:57 pm, a family of six stopped in front of the Tower of Bauble. In six minutes, they moved around the exhibit, admiring its complexity, pointing at features and explaining how its systems work. At 1:02, as the balls came crashing through different bells and chimes of the machine, five adults and teens joined. They observed and tracked the various trajectories, saying 'so cool,' with strong emotional responses. They spent four minutes and fifty seconds at the exhibit."
-"Learning in Public Spaces," Luc Bagnérès
In this excerpt from Bagnérès' 2021 graduate thesis, the urban designer observes a day of activity around the twenty-four-foot-tall kinetic sculpture that stands outside the entrance to Science World.
Designed by the late New York artist George Rhoads, the Tower of Bauble—so named for the twenty-four balls that travel seemingly at random along its winding paths—makes whimsical music of chimes and bells that delights both Science World visitors and passers-by.
In fact, Bagnérès found that the Tower of Bauble is more often accessed by members of the public than ticket holders.
Which was exactly the point of its location.
As a non-profit charitable organization, Science World has a mission to engage the public with exploration and enjoyment of science in everyday life.
Many of our donors support our free programs, while others, like Derek Lee and his partners, provide funds to refurbish our exhibits.
This recent gift of $75,000, made by the Lee family, the Macdonald family, the Poole family, and the partners of Northills Shopping Center Kamloops, will allow us to tune-up the Tower and reinstall it next spring.
"Every person I talk to about the Tower of Bauble says how much they love it," says Derek. "It's the perfect feature that announces the wonder and fun of Science World but is available for everyone."