Planet Earth is a stellar art show by Vancouver-based artist, Norah Borden. The art exhibition brings together art and science with beautiful paintings that were inspired by images brought to earth by space technologies like satellites and space exploration.
Recently, I had the opportunity to meet with Norah to discuss the exhibition, which is uniquely partnered with Urthecast, the world's first Ultra HD video platform of Earth streamed from space, which will be screened adjacent to the exhibition.
Norah invited me to her beautiful home and studio in Kitsilano on a bright and sunny day to see firsthand where and how her works were created and what went into her extraordinary vision for the Planet Earth art show.
How did Planet Earth come to be?
NB: This exhibition is really about where art and science intersect. My large scale paintings are made with layers upon layers of paint. They take a long time to create, but the effect is images that are like looking at the Earth through the clouds, but the depth of the paintings are meant to look like slices of rock, so you have multiple perspectives.
Another component of the exhibition is really exciting. I've brought in a company called Urthecast, they're a Vancouver company and they have two HD cameras on the International Space Station. They're going to be streaming all summer at TELUS World of Science as a part of the exhibition.
It's a great fit. We're both looking at the planet from a higher perspective, we want to engage the public and inspire thoughts about a higher sense of what we are doing on the planet. It's been really fun to work together.
I've also designed a website to support the science content and exhibition details, ourplanetearth.ca.  There will be a tablet installed along with the paintings to navigate the website while observing Urthecast and the paintings.
What came first when you began this series of paintings: did you set out to represent nature or did the paintings begin to shape the theme?
NB: My previous series, SeaChange, was inspired by the concept that we project what we want onto our surroundings, we see what we want to see and we have our own illusions about life. Planet Earth was really born out of the desire to see the world differently. It happened, at first, unconsciously. I began to paint through the clouds, on a high perspective and then I uncovered my Planet Earth series.
Do you consider yourself an artist who is interested in science or a scientist who also makes art?
NB: I identify myself as an artist, but I think both scientists and artists have the same mission: to search for a truth. My series is about seeing the world through layers to get to the truth of the world.
What do you think about the relationship between science and art?
NB: I am very inspired by science, so I seek new ideas conjured by scientific exploration in things like satellite images, new technologies and the motivation to learn more about the universe.
Your Planet Earth series showcases elements of geography and space. What is it about space that sparks your interest?
NB: I like seeing the Earth from a satellite perspective, because we are seeing the world as a whole. You can see the continents, but you can't observe the borders. It's like these barriers fade away and we are all together and we are all one…we're all a part of this Earth.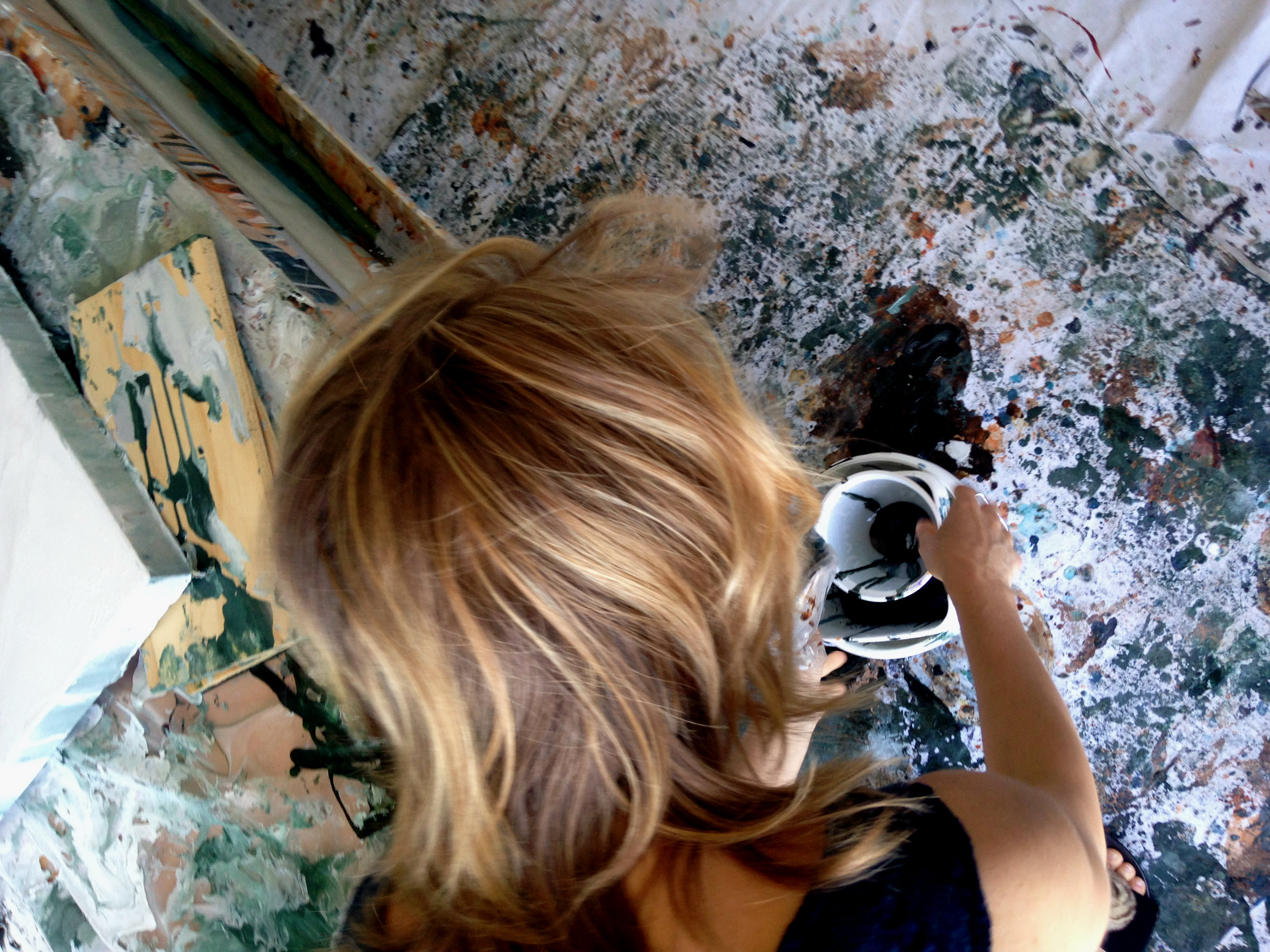 After the interview, Norah took me on a tour of her hugely innovative, yet tiny studio with a million-dollar view. Her studio has a wall of windows, which open the room to light coming in from the north, which, Norah points out, is best for painting because it's the most consistent.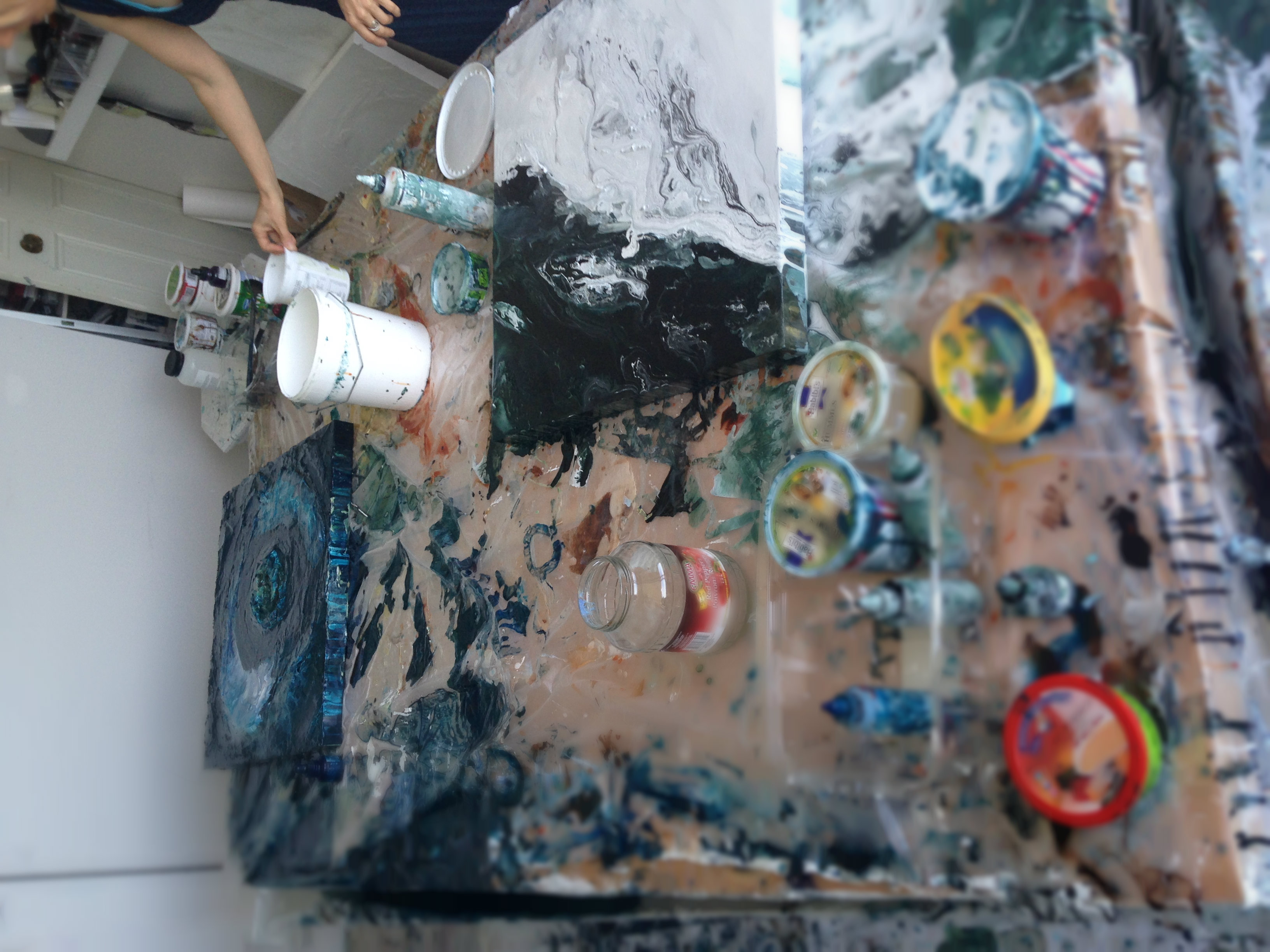 Norah creates on a rotating platform, of her design, which allows her work with large pieces. The platform is outfitted with gutters that allow the paint to flow out over the sides, so she can pile layers and layers of pigment on the thick wooden frames. The gutter system allows the paint to collect in basins to be re-used. She does her best to re-use all of her supplies and she uses non-toxic paints.
Planet Earth will run June 17–September 14, 2015 at TELUS World of Science. A Meet the Artist Event will be held on Wednesday, June 17, at 7pm. Visitors will be able to participate in the exhibition by sharing their experience using the hashtags #OurPlanetEarth and #PeopleLookingAtArt. Enter to win a Planet Earth gift pack designed by Borden. For more information visit Our Planet Earth.