For years, the paid Barbara Brink Internship recruited a Grade 12 student to develop, test and evaluate a self-directed project while facilitating exciting learning experiences for visitors in galleries. Prior to Covid-19, this program was made possible by our generous donors.
Faces of Wonder
Dennise Abrazado remembers the first time she saw Science World. It was 2010, and she and her family had just arrived in Canada from the Philippines. Together, they rode the Skytrain from King George to Waterfront with the intention of viewing their new home from above.
Dennise peered through the window as Vancouver flashed by, and then, there it was: a geodesic dome rising before her like a silver sun. She wondered what could possibly be inside. She'd never been to a science centre before.
I ask her what she remembers from her first visit. It's nine years later, and we've met in a quiet garden at UBC where she is a first-year student in the Faculty of Science.
She tells me that culture shock upon arriving in Canada has made it difficult for her to recall specific details from her early childhood. But there's this:
"I have a photograph of my little brother Nathan posing in a red vehicle made of Lego. Other than that, I just remember the looks on people's faces. They were full of wonder. Old and young alike. People come to Science World and they allow themselves to be curious…After that first visit, I knew I wanted to work there."
Nine years later, the Barbara Brink Internship was a chance to fulfill her dream.
A New Challenge
Dennise got the call while at a salon having her nails manicured for her grad dance. It was Science World, telling her she was the successful Barbara Brink candidate. She was shocked speechless. The phone to her ear, after several moments of silence, she managed to utter, "Say it again? For real?"
High school ended on June 21, and on June 23, the internship began.
For her major project, Dennise challenged herself to the extreme, attempting to build an acoustic levitator—a complicated device that uses sound waves to suspend liquids and solids in midair.
"Electronics was something I knew absolutely nothing about. I figured: if I have all this time to devote to learning, I may as well learn something totally new."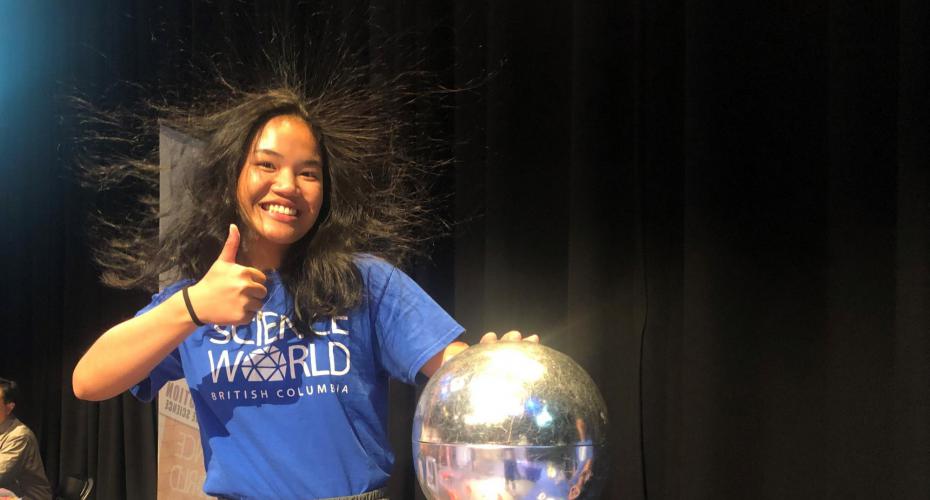 It wasn't easy. For a time, she wondered if she would pull it off.
But then, at 5pm at the end of a "very bad day," everything changed. John Craver, a Science World Electronics Technician, stayed late and helped her rewire the entire device.
"We plugged it in one last time and heard that barely audible ringing noise (which means the transducers are transmitting sound waves) and we knew that was promising. Then, I just dropped a piece of Styrofoam in…and it floated! I started screaming. What a rollercoaster."
Another dream, empowered.
Full Circle
While suspending objects in midair was definitely a highlight of Dennise's internship, her favourite part of the job was facilitating science for young people: "Helping them reach that 'Aha!' moment of understanding. It's so fulfilling."
The best moment of the summer happened in her favourite Science World gallery, Tinkering Space: The WorkSafeBC Gallery.
There, she heard a family—mother, father and their son—speaking Tagalog. When Dennise greeted them in Tagalog, everyone laughed, surprised and delighted.
Dennise spent the next hour helping their son—also named Nathan, like Dennise's little brother—build a large chain-reaction structure with the Keva blocks. "It took a long time," she laughs. "But it was so good to see the excitement in his eyes."
Dennise pauses, recalling her own excitement from that day on the Skytrain, seeing the geodesic dome through the window for the first time.
"It's come full circle," she says. "I've always wanted to work with kids. I had a lot of support around me growing up, from both my parents and my teachers, and I want to be a part of that now. I want to foster curiosity. I see myself in them."
---
Fund The Future.