This week Science World and Encorp Pacific went on the road to visit Abbotsford Middle School, one of our BC Green Games schools running the Return-It School program. Grade 5/6 Teacher, Ms Carmen Howe, has two very dedicated green teams this year and they will be focusing on composting, recycling and agriculture in the classroom.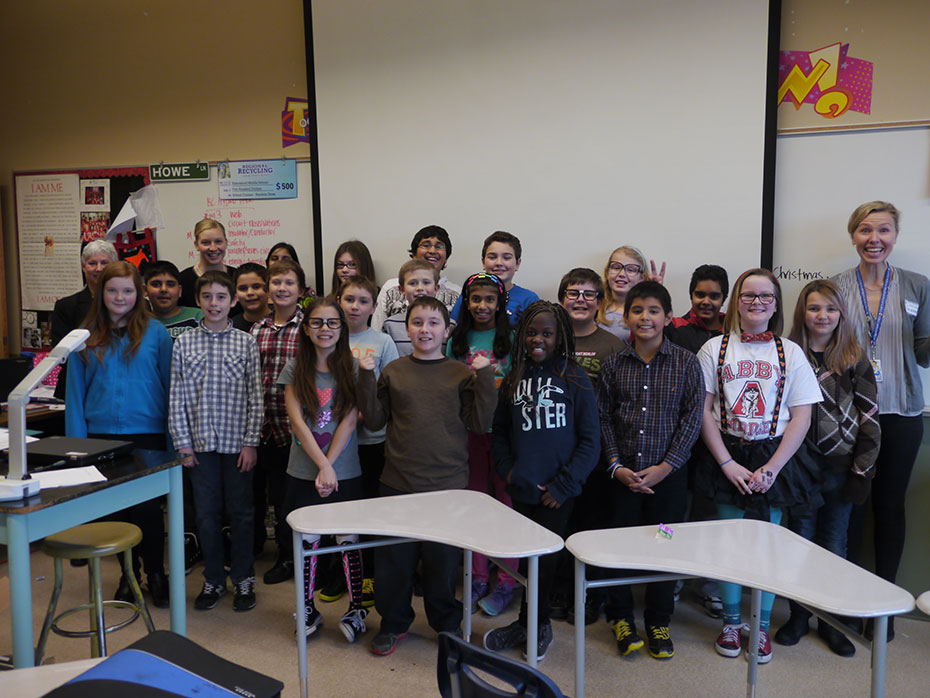 We had no idea that the day of our visit was Nerd Day, which inspired students to wear some pretty fun costumes. In fact, we were pretty confused about what was going on, until a member of Ms Howe's green team explained the amazing getups that included taped-up glasses, tutus and suspenders. We are grateful to the green teams for so graciously inviting us to join them for part of their eco-club meeting and for posing with us in some truly funny photos.
This year, Science World and Encorp have joined forces to help schools go greener than ever before and share their sustainability stories. By enrolling in both the BC Green Games and Return-It School programs, teams can promote the work they are doing, contribute to public education about recycling and conservation, and win even more prizes.
Return-It School has everything you need to start a recycling program at your school—for free! They supply collection bins, online support and educational resources. Mobile pick up of your containers is also offered through their network of Return-It Depots. In addition to bonus prize money, your school collects all the deposit refunds too—which can really add up! Some schools were able to collect close to $10,000 from their eco-initiatives last year.
The Return-It School partnership means great things for BC Green Games schools across the province. Each year, Science World extends an invitation to all of its participating green teams to join us under the dome for a free Green Month field trip. Green Month field trips kick off on Earth Day, with a giant BC Green Games celebration and the eco-party keeps going for a full month!
Typically, only local schools can make it to the Green Month party, due to the cost of travel. But now, thanks to Encorp's new Return-It Trip prize, schools from outlying regions have the chance to win up to $3,000 to subsidize travel expenses. To be eligible for the Return-It Trip, teams simply need to submit a project to BC Green Games. Projects that feature beverage container recycling actions or advocacy will be given preference. Registration in the Return-It School program is encouraged, but not required.
BC Green Games projects must be submitted by March 1 and winners are announced in early April. Action plans must be submitted by January 15 to ensure participation in the Green Month field trip. Green teams can connect with Community Coaches to help guide their projects and have the chance to win additional prizes. To sign-up for Return-It School, visit returnitschool.ca.
BC Green Games is Science World's digital eco-storytelling contest for K-12 students, which was developed to support and celebrate green iniatives in British Columbia schools. Is your school or class green? Tell us your story, win prizes and join us at Science World for our Green Month celebrations.