Sherri Caplan became a teacher "later in life," having worked in the airline industry for over a decade. "I longed for a career that would foster lasting and meaningful relationships. I wanted a stronger sense of community."
She shares with us how Science World's Class Field Trip Bursary is helping her achieve that dream.
A Cheer Erupts
Every September, for the last four years, Sherri Caplan has stood in front of her class of grade threes and asked how many students have ever visited Science World at TELUS World of Science.
"This year, three students had. But that was a high number. Last year, it was one. Other years, it's been none."
And every September, for the last four years, Sherri has applied for and received a Science World Class Field Trip Bursary.
"Being an inner-city school, there is no other way we could make this trip work."
Other Surrey schools—ones with greater resources and more capacity for fundraising—are able to go on a minimum of five field trips per year.
"So, when we receive a bursary, the kids are just on fire about that."
And though most of them have never entered the iconic geodesic dome, they've seen it from the SkyTrain window, and have heard stories about what's inside.
"When I tell them, 'We're going to Science World!' a loud cheer erupts. I say, 'We've been invited.' The bursary makes us feel like we're wanted there. That's really powerful for us. It means so much to the kids. They don't take it for granted."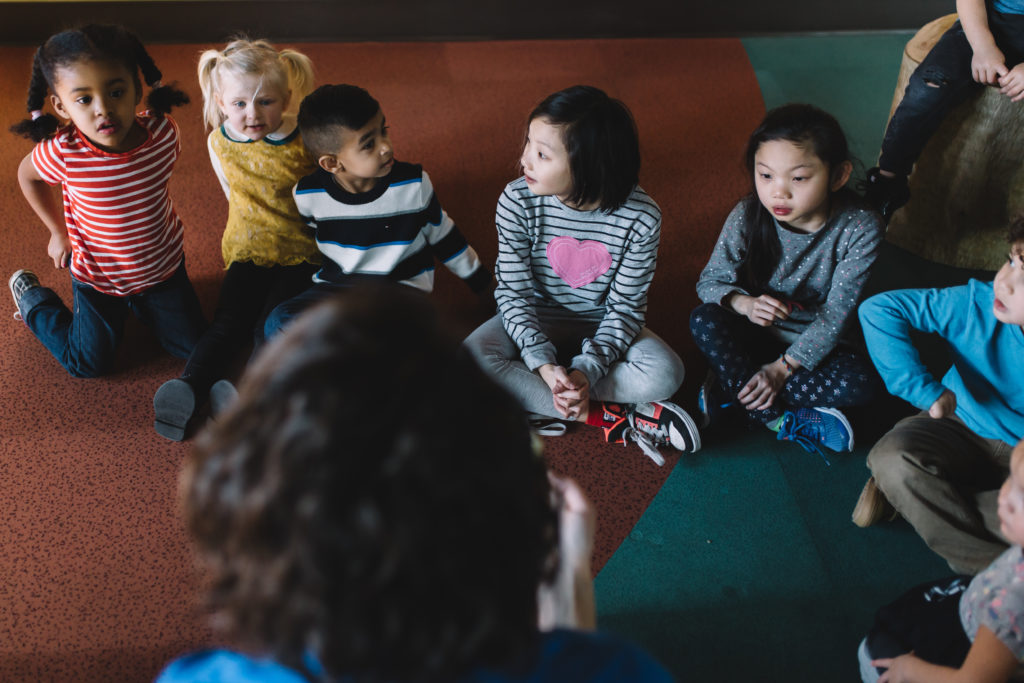 A Transformed Curriculum
Sherri teaches her grade threes almost every subject, from language arts to social studies to career education to science.
And--since 2016--the new Applied Design, Skills, and Technologies (ADST) component, created by the BC government for grades K-9 to prepare this generation for the rapidly changing technology of our increasingly digital economy.
For these lessons, Sherri gets creative, using a variety of materials and gadgets. But, at her school, shortages of both robotics equipment and teacher training have presented challenges.
The free Tech-Up coding workshops for classes on field trips at Science World help fill in these gaps.
"To be able to go somewhere like Science World, where there's a robotics program in place, where the facilitators are familiar with it, that is just fantastic for us."
Empowering Dreams
Sherri's favourite aspect of the field trip is how it grants her a brief moment to switch gears and relate to her students in a new and energizing way.
"I take a couple steps back and just observe the kids as they enjoy themselves learning. It's a chance for me to see another side of them. Often, my quietest students are the ones who are just on fire at Science World."
But the greatest impact of the field trip, Sherri believes, happens after the students leave the dome.
"The trip empowers my students to know that science is fun, it's for everyone, it's accessible to them and they can aspire to it. One girl said, 'I liked when Hilary made the robot move so fast,' and I said, 'You could be a presenter or a scientist like Hilary one day!'"
And then, for the rest of the school year, Sherri relates their lessons back to the sights, sounds and textures they experienced at Science World.
Together, in class, as they move through the grade-three curriculum, they recall the sensation of the motion of water in Eureka; or exploring the inside of a beaver dam replica in Search; or problem-solving a simple wooden-plank engineering project in Tinkering Space.
"And, at the end of the year, when they reflect on their favourite memories of grade three, Science World is always at the top of that list. There is absolutely no doubt about that. It's always there."
---
The Dome is Where the Heart is.
For the first time in 30 years, Science World has closed its doors to the public. Every day, COVID-19 is eliminating our main revenue source and critical operating funds. We rely on donations and partners to run our vital programs. Give now to ensure that when the virus is gone, Science World is still igniting wonder and empowering dreams.