Hey guys,
Time goes by so fast here!
My first week as the Barbara Brink Intern was all about orientation. I was given my workspace, I met my co-workers and I was shown around the building. My workspace is really nice and my co-workers are fantastic people to work with. From where I sit, I can look left and get a beautiful view of False Creek. Trying to get around is still a bit of a challenge for me. I feel like I'm always taking the longest route. It's hard to orientate yourself in a round building!
My first task was to learn about every exhibit we have and watch one of the OMNIMAX® movies. I spent a bit of time each day walking through the exhibits and asking every question I could think of to the facilitators. I do apologize if you happened to be in a gallery at the same time as me, for stealing all of the facilitator's time! I sure learned a lot:
What's the middle body section of a bee called? (thorax)
How long is Science World's ramp to the OMNIMAX® Theatre? (200m)
What did we name our newest chicken? (Betty Blue)
I watched Rocky Mountain Express in the OMNIMAX® Theatre. It was great! I'm a huge fan of trains, so hearing the story about the building of the Canadian Pacific Railway was incredible. Could you imagine laying over 500 miles of track in a single day?
The other task that I had in the first week was to figure out which project I am going to work on. I had short meetings with everyone in the Community Engagement office where they pitched project ideas. The ideas that stuck out most to me involve AMPED, our music exhibition which will debut in October.
I started my second week expecting to nail down my project and dive right into it, BUT I was in for a surprise. On Monday, I was trained as a science facilitator (those are the people who you see with blue Science World shirts working in the galleries). It's super cool that I get to be a part of that because it means I get the chance to share all the exciting exhibits we have with everyone!
On Tuesday, I was given my very own blue shirt (all the facilitators must have one) and got to spend my first day out on the floor. Being so new made me hesitant at the start, but that stopped quickly. All the other staff were also really great at teaching me the ins and outs of how to do a ton of things. Now I can blow visitor's minds no matter which gallery I'm in!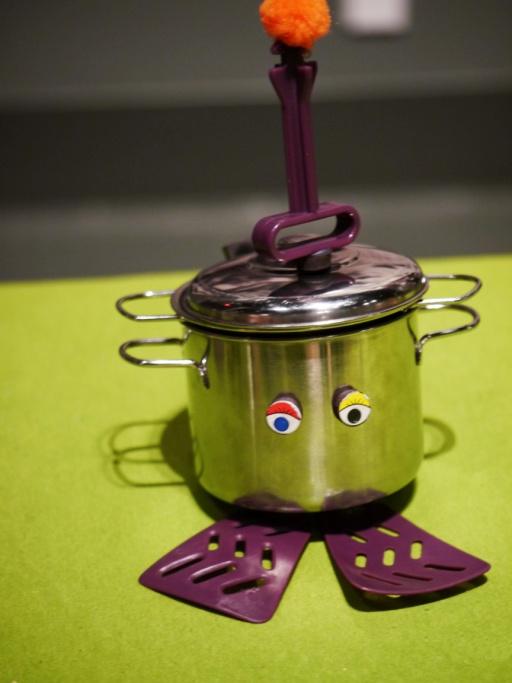 From Tuesday through Friday, I did many smaller projects. I got to revamp a hands-on activity table in the Creativity in Motion exhibition and even had the chance to watch it in action to evaluate how the changes were working.
I found a bunch of science-related news stories and wrote about them briefly so that we could share them with you (in the News from Elsewhere section of our website). I did some research into possible demos and "tricks" we can set up for people who will come to visit AMPED in the fall. Finally, when I was exhausted from being in front of the computer, I pulled some garlic in the Ken Spencer Science Park!
In my third week I started my main project. I will be learning how to use all the musical equipment we have for AMPED, so that I can put together some demos and tips for our facilitators to use once the exhibition opens. Aside from that, I'll be finding many "science of sound" demos which will focus on how stuff works. Finally, I'll be finding curriculum connections that will relate AMPED to the material students in British Columbia will be learning and finding items in our other galleries that will connect AMPED to the rest of Science World. Wow, it's a lot of work getting an exhibition going!
This week Rob, Science World's special projects researcher, and I set up a booth and had a good number of people test it and give us feedback. With the public's help, I tested what will likely become one of the feature activities of AMPED—a DJ station. What we saw and heard is helping us refine how the art of DJing will be presented.
Until next time,
Braeden