The robot showdown is the final event in a series of six VEX® Robotics sessions for Science World's Robotics Club. This final session is always a busy and fun time, both for the teams involved and the observers who watch keenly from the sidelines of the ring.
How do teams get ready for the showdown?
Before the team challenges even begin, students are introduced to robotics and computer programming. These sessions allow students to experiment with both the new VEX IQ system and the original VEX building systems. After students experiment, troubleshoot, discover and learn, they begin to build their team's VEX robot.
The three teams I had a chance to see during the showdown worked on their VEX robots over a series of sessions. Going into the final session, the students were told that they would each lead and control the robot during one of the challenges. This way, each student had an opportunity to lead one of the challenges in front of peers and family. This was also the first time that the challenge was held in the Dyson Innovation lab and both the students and leaders were excited to have visitors drop in to see all the robo-fun.
What happened during the fall Robotics Club showdown?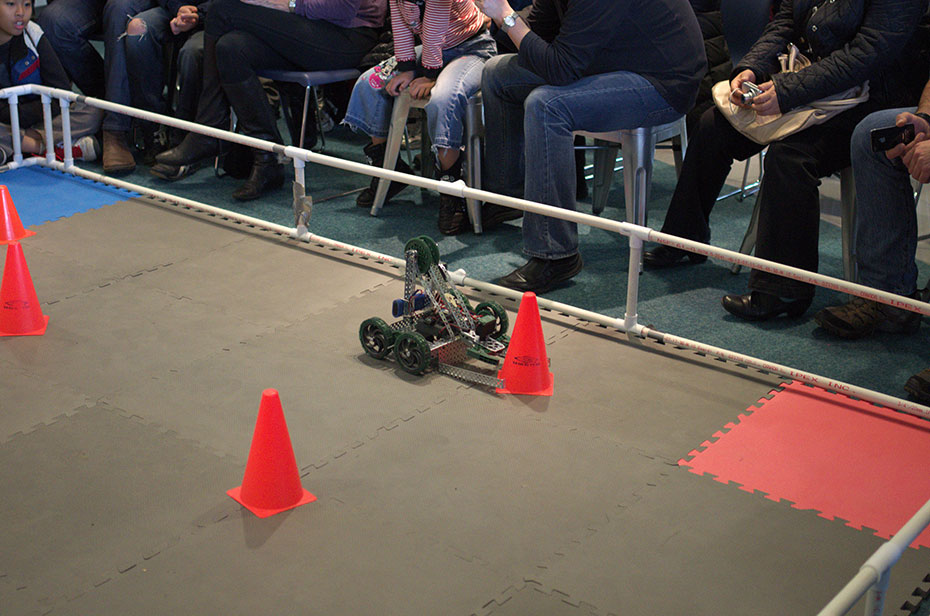 All teams had a goal of designing a robot to compete in four specific challenges. In the first challenge, one team member controlled the robot as it stacked as many cones as it could within the pre-set time period. The second challenge was also a timed challenge and involved a different team member successfully guiding the robot through an obstacle course. In the third challenge, another team member controlled the robot as it picked up pop cans for recycling. In this challenge, opposing teams could remove each other's collected pop cans and reduce their competitor's score. The final challenge was a cup dunk. The winner of this challenge was the team with the first robot to successfully pick up a cup and dunk it on an opponent. This challenge was not timed and continued for almost ten minutes!
The showdown wasn't just an exciting competition; it was a chance for the young engineers to learn. The team members practiced their problem-solving skills when they encountered design obstacles and had to make quick fixes. It was also great to see positive social interactions when teams cheered each other on during the four challenges.
My colleagues and I saw that children of all ages, as well as adults, are interested in robotics. Science World hopes to support this interest by continuing to promote science, technology, engineering and math (STEM) learning through its various programs including the Robotics Club.
Learn more about Science World's Robotics Club and its upcoming spring sessions.

Further Information
Check out this video for some robotics fun.
Teachers, for lesson ideas on how to introduce robotics to your students, please visit the Catalyst for Science resources website.