The summer of 2012 was one of my most memorable summers. As a Barbara Brink Intern at Science World, I got to try my hand at all the things that science facilitators do, under the dome—from dancing the chicken dance with three-year-olds, to delivering OMNIMAX® speeches, to filling bags of popcorn and looking for lost kids. Throughout the internship there was never a dull moment!
My main project as a Barbara Brink Intern was designing sustainability-themed programs for the outdoor, Ken Spencer Science Park. During that time, the park was still under construction, so working behind-the-scenes and eventually seeing programs brought to life was very rewarding. I worked on sustainability activities and connected with community partners as we prepared for Around the Dome in 30 Days, a month-long science festival to inaugurate the park. As part of the TAG (Teen Advisory Group) team, I planned SWEET teen events at Science World and I even got to create my own weekend program, themed around Grandparents' Day.
It's been two years since my internship and I am currently pursuing a Bachelor's degree in Microbiology and Immunology at The University of British Columbia. Although UBC is in Vancouver, it's a world unto itself. My first week of navigating the 1,000-acre campus was daunting. With a folded map in hand, I struggled to make it to class on time and often walked into the wrong classroom. I made a couple poor choices, such as taking honours calculus and carrying a packed course load that included applied chemistry, genetics and physics, but despite everything, my first year at UBC was a success. I was awarded the Chancellor's Scholar Award upon entry and made it on the Dean's Honour List at the end of first year. I also volunteered in a neuroscience research laboratory at the UBC Life Sciences Institute, where I learned about animal modelling and how brain research is conducted, from some of the leading labs in the field.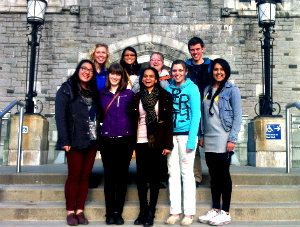 What has really stood out for me during my first two years of undergrad has been my community involvement. I've retained my connection with Science World through the UBC Centre for Community Engaged Learning, which provides students with the opportunity to tackle community-based issues in not-for-profits and inner-city schools. Needless to say, my first choice for a community partner was Science World and I began volunteering for the Super Science Club (SSC). I soon expanded my involvement with the SSC by taking on the position of UBC Trek Student Leader. In this role, I worked closely with both UBC and Science World to lead a team of UBC student volunteers in their SSC placements within local community centres.
I've also been exploring my interest in medicine, through positions that allow me to gain some insight into a career in healthcare. I spent time volunteering at The BC Children's Hospital, bringing a cart full of toys, crayons and storybooks to the children there. I also spent a term at the residential care facility, George Pearson Centre, playing Bingo with residents who have severe disabilities, in order to help improve their cognitive acuity.
This past January, in recognition of outstanding community involvement, I was invited to have breakfast with the President of UBC, Stephen Toope. We discussed student integration initiatives and the emerging issues of campus culture, which further convinced me about the importance of positive community contributions and I hope to develop my role as a Peer Leader at UBC in my remaining years of undergrad.
This summer, as the recipient of the Science Undergraduate Research Award, I am conducting neuroscience research, mapping the neural circuitry of Drosophila melanogaster. With two more years of my Bachelor's to complete and a few more years of medical school after, I still have a long way to go. The years ahead may bring many more new experiences, but I am certain that every time I enter the giant geodesic dome, with its smell of popcorn and the flurry of activity from excited children, I will always be reminded of the summer I spent there as a Barbara Brink Intern.

Read more about previous Barbara Brink Interns, check out Paige's story.