In a simple one-pulley system, the heavier weight will move down and pull the lighter weight up.
When the lighter weight is held out at an angle, it spins around the pulley (just a stick, here) and holds the heavier weight up.
Why?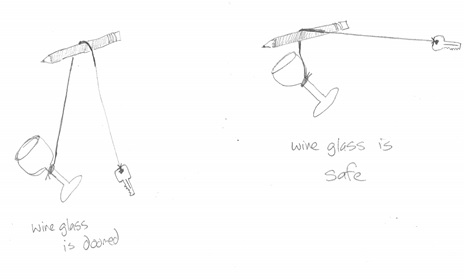 First, consider the heavier weight. It falls straight down because the force of gravity pulling down is stronger than the tension in the rope pulling up.
The lighter weight behaves like a pendulum, swinging down constrained by the rope in such a way as to convert potential to kinetic energy.
Now, the fascinating issue is that the pendulum gets shorter as it swings. Conservation of angular momentum means that as you make the rope shorter the little weight moves faster. At some point it moves fast enough that it will make a complete rotation around the bar.
The last consideration is the friction between the rope and the bar. After a sufficient number of turns, there's enough friction to support the heavy weight. The tension required to hold the weight decreases exponentially with the amount of wrap, so that 5 wraps will allow a 300,000-fold difference between the small weight and the large one.
Although a full analysis of the motion is beyond the scope of high school physics, there is a lot of potential for inquiry in this activity, even at the elementary school level, to help students explore and understand the forces and motion involved.
Vary the length of string
vary the weight on each end of the string
vary the angle of the pendulum as it's dropped
vary the kind of string