In this exploration, students will learn how polarization works and its practical application in our everyday lives.

Light is a wave and it usually vibrates (or wiggles) in all directions. A polarizing filter is a device that allows light to pass only if it's wiggling in a certain direction. We create light that vibrates just up and down or just side to side by making it go through a polarizing filter. These filters are like bars that only let through the light that travels in the same direction as the slots.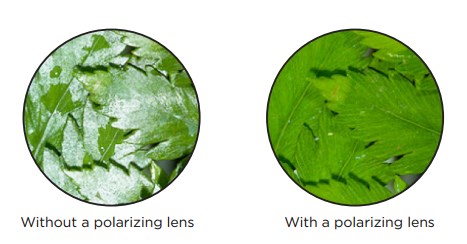 We can use polarizing lenses to reduce glare. Light reflecting off horizontal surfaces like the road, water, or snow is horizontally polarized. A polarizing filter oriented vertically will filter out the glare, but still allow plenty of light through. A polarizing filter on your camera helps reduce shiny reflections.
Polarizing sunglasses work the same way.
Polarizing sunglasses protect your eyes from glare off a road or water. You can tell whether sunglasses are polarizing or not. Look at a table top or water surface then turn the glasses 90 degrees. If the glare disappears and reappears when you turn the glasses, they're polarizing!
Light twists as it passes through some transparent materials: its polarization will go from vertical to horizontal or vice versa. Some colours will twist more than others. For example, blue will twist more than red.
Placing these transparent materials between two polarizing filters will result in only seeing specific colours. The first polarizing filter will only let in light that travels in a certain direction. This light gets twisted as it goes through the transparent material, changing the directions of the various light components. As this twisted light travels through the second polarizing filter, only the colour that twisted in the same orientation of the filter will make it through to your eye .
LCD (Liquid Crystal Display) screens use polarized light.
When you look at an LCD screen through a polarizing filter, you can turn the filter to make the display appear and disappear.