In this activity, students make and take home their own water-cycling terrarium. They will experience how an environment changes and grows as well as how water is conserved through the mini water cycle in their terrarium.
Terrariums are a mostly self-contained environment. Once they are established, terrariums need very little from the outside except for some indirect sunlight and perhaps minimal water.
Moisture in the terrarium is taken up by roots, and evaporates from the soil and plant leaves. It condenses on the terrarium roof and walls. Then, the condensed water falls down (like rain) and re-moistens the soil in a continual closed loop process. As long as the top is sealed, this process can continue cycling for months. This cycle mimics the water cycle found on a global scale. Nature is the best water saver, because water cycles in a full system—our Earth.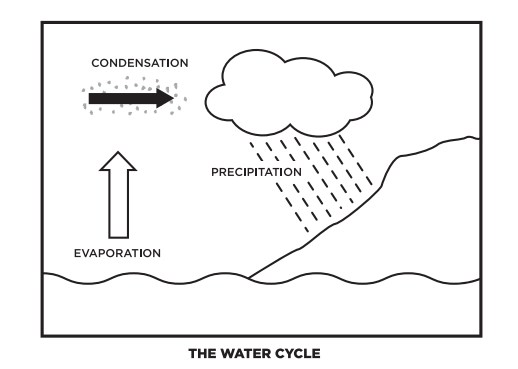 In Arizona, there is a very large-scale model of how systems of ecosystems function. Acting like a gigantic terrarium, this 3.14 acre closed system model, called the Biosphere 2, allows scientists to study nature's cycles in a more controlled setting. At the end of 2012, a new 10 year study has started looking at how water moves through three environments within the Biosphere 2 to better understand the impact of climate change.
Although we can mimic nature's water cycle through terrariums or even the Biosphere 2, it is important to remember that we cannot replace nature. Its water cycle is incredibly complex, full of interactions on micro and macro levels, and provides us with many benefits that we rely on.