In this demonstration, students observe the formation of smog by watching smoke (air particles) trapped in a layer of cold air under a layer of warm air.
Convection is the transfer of heat by the movement of a gas or liquid from one position to another. The basic premise behind convection is that heated matter becomes more buoyant and "rises", while cooler material "sinks." These convection currents occur in atmospheres, oceans, the Earth's mantle and in a bowl of hot soup. When they occur in our atmosphere, convection currents cause local breezes, winds, cyclones and thunderstorms.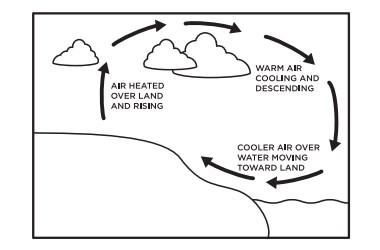 The action of convection currents also result in smog.
When hot air rises and traps cool air below, it also traps the pollutants such as carbon monoxide and dust particles to cause the "brown cloud" effect. Wind or precipitation can reduce the brown cloud by stirring up and breaking up the warm layer of air that traps the cold air and pollution down near the surface of the earth.