Future Science Leaders (FSL) is Science World's after-school program for teens. As we celebrate the resilience and brilliance of our facilitators and students, we also want to highlight that our work is made possible by our generous partners, including: Boeing; RBC Foundation; Connor, Clark & Lunn Financial Group; STEMCELL Technologies; and NumerixS Quant.
---
The Power of "Why?"
It started with a single question, as so many adventures do.
Curiosity, looking closer, and wondering. "I wondered," Stephanie tells me, "how it worked."
She was six years old, playing games on her computer.
Her father, an electrical engineer, told her, "The computer only understands ones and zeroes."
"How?" she wondered. "How do things, on a low level, work? How do machines interact with code through binary? How does the machine learn to understand binary in the first place?"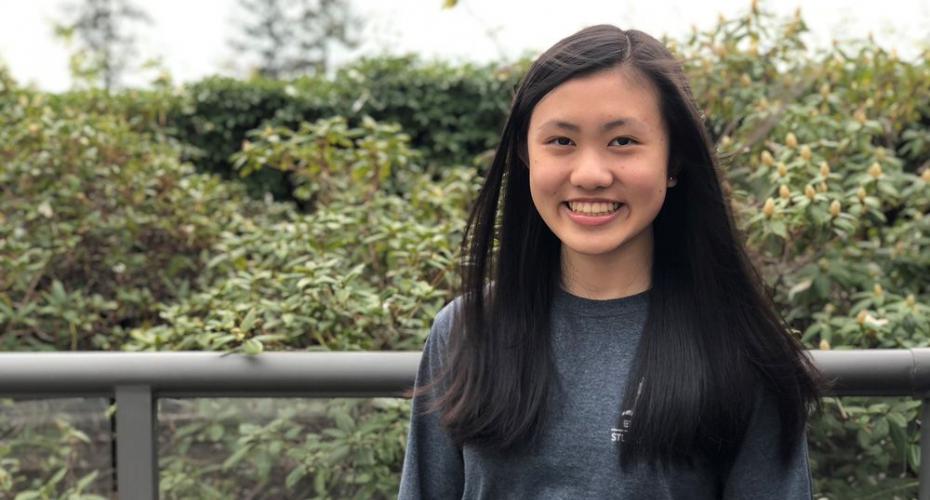 The questions guided her interest. The answers were less important. "My dad didn't teach me the details of science. He taught me a framework for understanding. How to approach problems. He told me to think of my questions in layers."
Strip away one layer, then another, then another. This brings you directly to the motivation. "When you know the motivation behind the question, you can start to understand."
She was nine-years-old with a question. Eating free misshapen potatoes given to her family by a friend with a farm. Stephanie asked her mother, "Why?"
Her mother said, "They had to throw them away."
"Why?"
"Because they are not sellable."
"Why?"
The motivation behind this question: shock and confusion. We throw away food for how it looks?
As a teen, Stephanie founded Sprout-Save-Share, an internationally-recognized initiative that has collected enough landfill-destined food to donate over 10,000 meals to hungry people in Vancouver.
She tells me, "My mother left Vietnam shortly after the war. My father was born in rural China. Neither of them had much to eat growing up. People in this city are hungry, while a lot of food goes to waste."
Sprout-Save-Share has only inspired more questions, and now Stephanie's inquiry has expanded to encompass challenges of mental health. What has Sprout-Save-Share taught her? To think more and more critically.
In high school, there were very few girls in her physics and computer science classes. She was the single girl in her electronics class.
Future Science Leaders at Science World was the only place she didn't notice a gender imbalance. "FSL was an amazing opportunity that supported my interest in engineering, so I hope I can create more opportunities like that…for girls to learn more about engineering."
"In FSL there was a focus on learning through asking questions. Everyone would ask questions. There was always time to ask questions. Now, when I'm in class, instead of taking notes, I just write down questions. Or, when I'm starting a research paper, I read what's been written to find questions that haven't yet been asked."
Today, she is a first-year Engineering student at UBC. None of her teachers is a woman. She's working as a vlogger, making videos about her life in STEAM. If other girls and young women can see her, then they can imagine it for themselves. They can become engineers themselves.
"Why is this important?" I ask her.
"Because people who make things should represent the people they are making things for."
One last question. Is there one moment she can point to as the moment when she knew that she, as one person, could affect change?
Yes. On a camping trip when she was fifteen, she took a late-night walk to a bridge. She lay down on the creaky planks of wood and looked up. More stars than she'd ever seen in her life. The sound of the water running below.
"I was lying on top of a bridge above the pipeline of the Capilano watershed. I knew that underneath me flowed water that everyone in the city needed to live, that everyone in the city would touch. In that moment, I felt connected to everyone. And because I was connected to everyone, I knew I could make a difference."
---
Interested in powering bright futures like Stephanie's?
Since 2011, this program has attracted students from across the Lower Mainland who continue pursuing STEAM fields at high levels after the program ends. Future Science Leaders at Science World has been made possible by the generous support of our donors.