When Gabrielle Peters heard about adaptive sailing, she was thrilled—she had never been on a sailboat. But for Gabrielle who used to be an avid trail runner, hiker, and kayaker, the experience was not what she imagined. She spent more time being transferred out of her wheelchair into the sailboat than she did out on the water.
"We hear a lot about accessible activities being made available for disabled people, but they come at a price that's much more than just buying a new bathing suit," says Gabrielle, who is a wheelchair user and commissioner with the Vancouver City Planning Commission.
To Gabrielle, the outdoors was her backyard and all her advocacy on creating more affordable, accessible solutions intends to keep it that way—starting with its beaches.
A few years ago, she worked with the Vancouver Park Board to get an accessible beach mat installed at English Bay Beach. Not only does it help wheelchair users like Gabrielle navigate uneven sand, it also helps others who are disabled or have limited mobility, including seniors and those with walkers.
Since Gabrielle's request, a second mat has been installed at Kitsilano Beach finally opening access to the beach for a population that would have otherwise been excluded.
"The beach should be a place where humans can enjoy the sounds and sights of the sand and the water, but 'humans' is a big word that is often narrowed down to exclude a breadth of humanity."
While these heavy-duty mats offer a narrow path to the beach for disabled people and those who have limited mobility, it isn't a place to hang out or have a picnic.
Gabrielle says there's a lot the City of Vancouver could be incorporating, "especially as a coastal city."
Beyond Just a Visit
For Gabrielle, accessibility also means that there are options where disabled people and those who have limited mobility can have autonomy—something the city has yet to implement. Of the 10 water wheelchairs that the City has made available, for example, two attendants must be present at the beach with the wheelchair users. This is in addition to being reserved at least 24 hours in advance and only being available between Victoria Day and Labour Day weekends.
While wheelchairs available through the City are useful, it's important to take into account wheelchair users who prefer to self-propel either manually or through power wheelchairs.
The good news? There are a number of adaptive equipment available for beach activities that the City can acquire including: EZ docks, which disabled people can use to drop down into a kayak or a canoe, as well as surfboard and floating wheelchairs that allow disabled people to get into the water.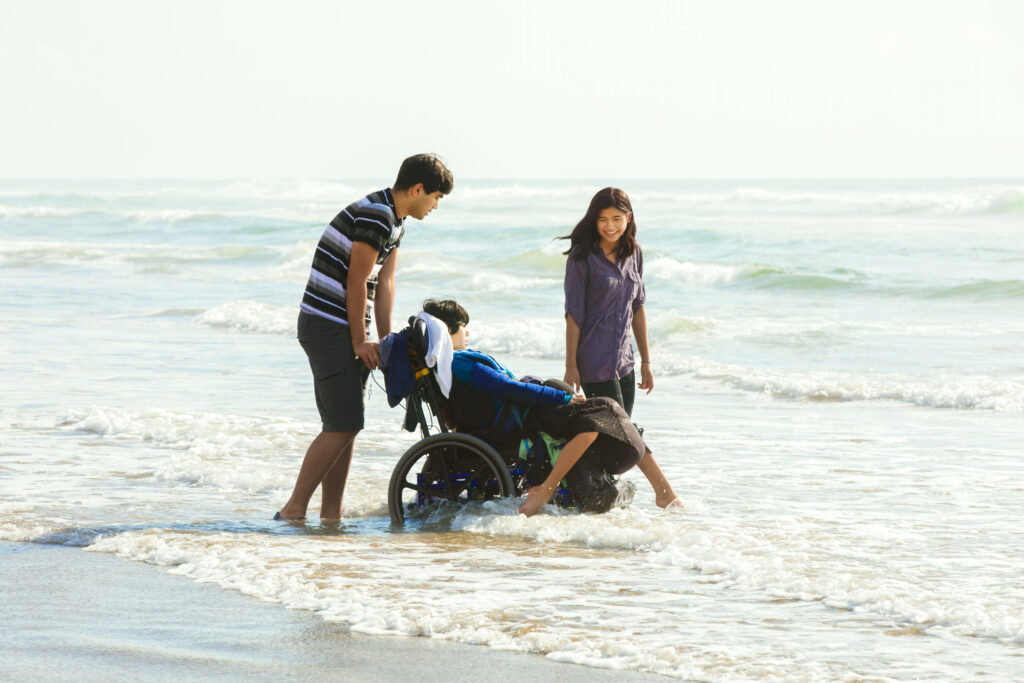 Beyond access to sand or water, amenities such as washrooms, changing rooms, seating areas, and curb ramps are part of what makes a beach more accessible for everyone.
"You have to consider all aspects," says Gabrielle. "Having accessible washrooms is a big part of beach accessibility because otherwise, a lot of people are lying on the bathroom floor if someone is assisting them with changing, for example," she explains.