There's a lot happening in the Ken Spencer Science Park, and for the facilitators that work out there, it means they are always busy, whether they are gathering eggs and taking care of the chickens, or planting seeds and harvesting kale and squash. I wanted to plan something special to thank them for all their hard work, so this September we spent a day meeting up with some of our awesome community partners.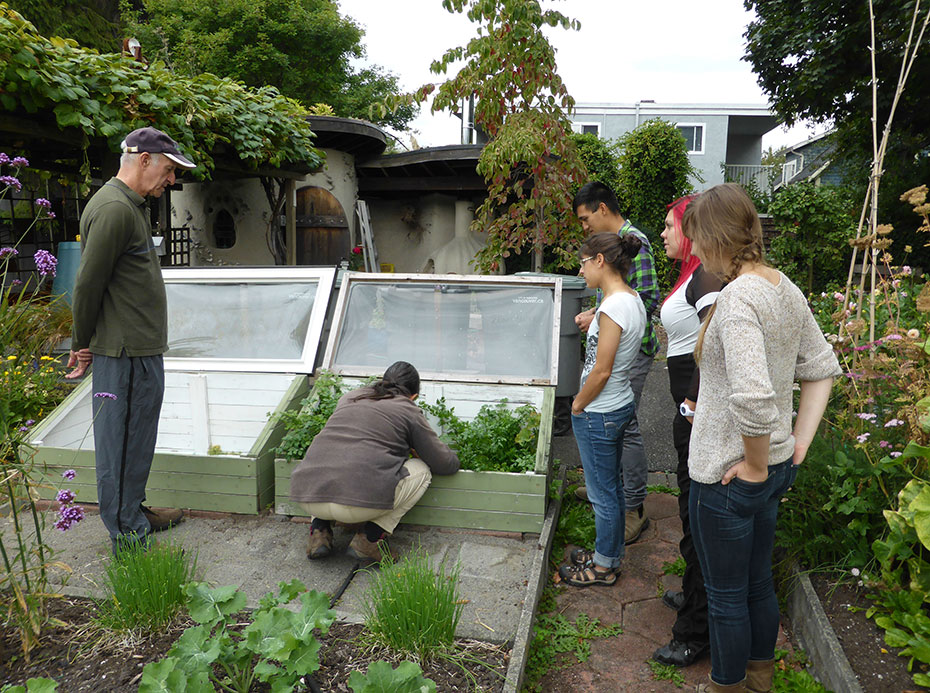 First thing in the morning we jumped on our bikes and pedaled to our first stop of the day, City Farmer's Compost Demonstration Garden. For 36 years, City Farmer has encouraged urban dwellers to develop their own green thumbs. It's the perfect place to visit if you're curious about composting at home or want to get inspired about growing your own food.
As Mike and Sharon toured us around their beautiful gardens, we tasted grapes and collected bay leaves. We were inspired by their unique garden designs and amazing insect hotel.
Providing a habitat for native bees and other insects gives these critters a reason to stay in your garden, so you'll have all kinds of beneficial pollinators around. After a morning of exploring their beautiful greenery, we're even more excited to have City Farmer here at the end of the month as part of our Around the Dome Science Festival (we're celebrating Do-It-Yourself urban agriculture during our City Farm Fest—a weekend long event where you can learn about composting at home, take a tour of our gardens, meet our city chickens and chat with organizations like City Farmer who work in and promote sustainable agriculture).
After helping to harvest (and taste) some tomatoes we jumped back on our bikes and headed to our next destination. This time, we visited our friends from the Downtown Eastside Community Kitchens Project (DECK), which is a Greater Vancouver Food Bank program.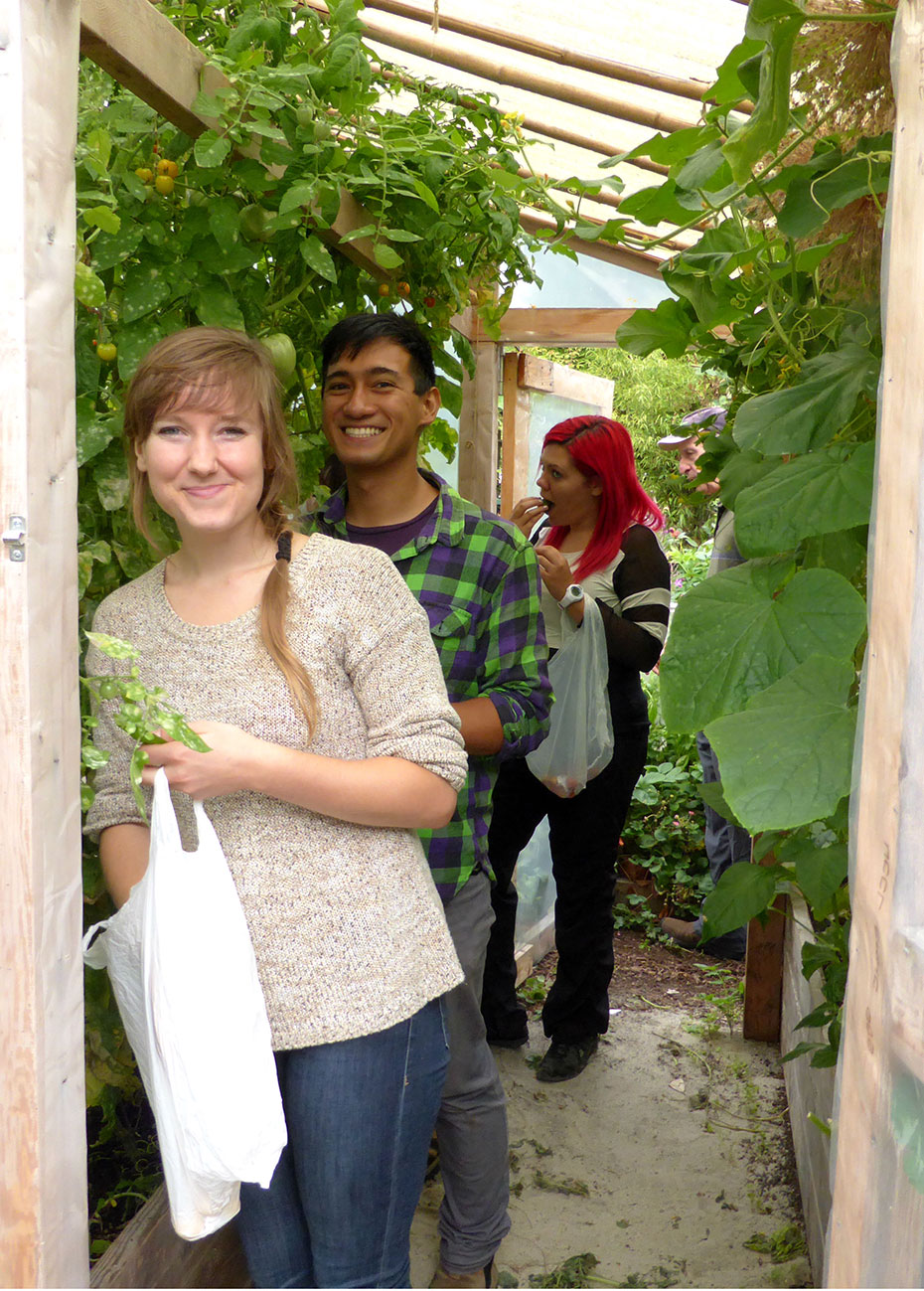 It provides people who do not have access to cooking facilities and cannot provide a meal for themselves a means to do so. DECK focuses on the residents of the Downtown Eastside and develops community kitchen groups to not only provide space for people to cook, but also to develop the skills to do so while working together.
Everything edible that we grow in the Ken Spencer Science Park (that doesn't get nibbled by our chickens) is donated to the DECK program to provide them with fresh produce. So far this season we've donated 98kg of veggies! We watched the residents of First Place hard at work in the kitchen, and our mouths were watering.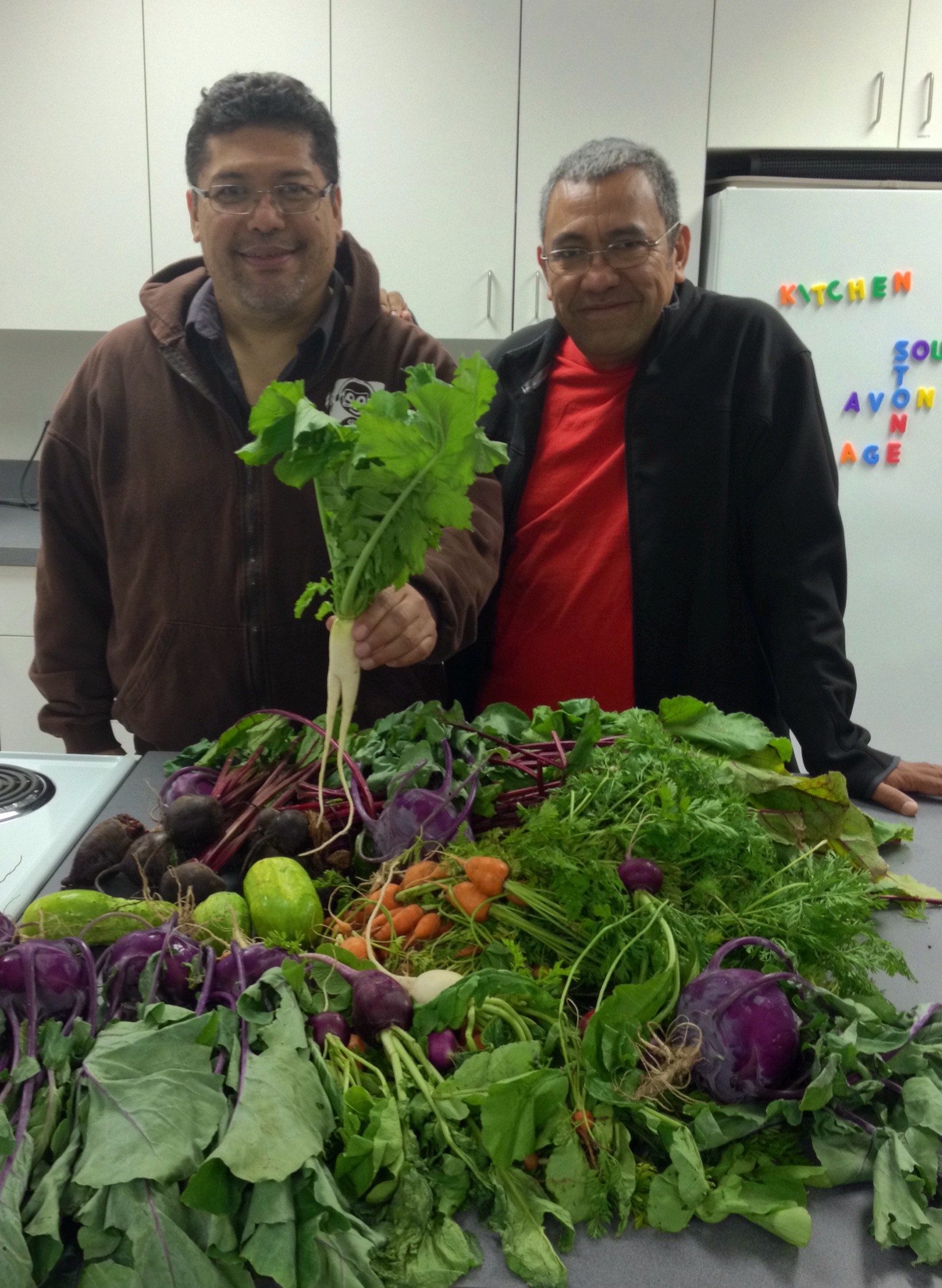 Byron from DECK explained to us that their staff don't need to be involved in the food preparation for very long—people learn their way around the kitchen quickly and the community develops and continues without much outside help.
Our new friend Glenn, a resident of the building, toured us around and showed us their rooftop gardens—they were growing the most beautiful purple tomatoes.
By the time we got back to our own gardens, it was clear the field trip was a success—not only did we gain insight into what we can do in our own space, but we connected one-on-one with new friends and strengthened our always growing community.
Looking for outdoor activities?
Ken Spencer Science Park is open 7 days a week. Immerse yourself and nature and learn about the flora and fauna growing in your city.