When visiting Science World's KEVA Gallery, do you ever wonder how you can show off your amazing structures? Creating structures takes a bit of planning and engineering, but sharing them is easy! Our visitors enjoy building elaborate structures that they can share with others, by simply snapping photos of their structure and posting the photos on social media with the hashtag #swKEVA. These images get collected from a variety of social media platforms and form a visitor-curated photo gallery, which is displayed at Science World, on the KEVA gallery monitor, and on our KEVA webpage. It's a fantastic way to see and share the structures as they go up.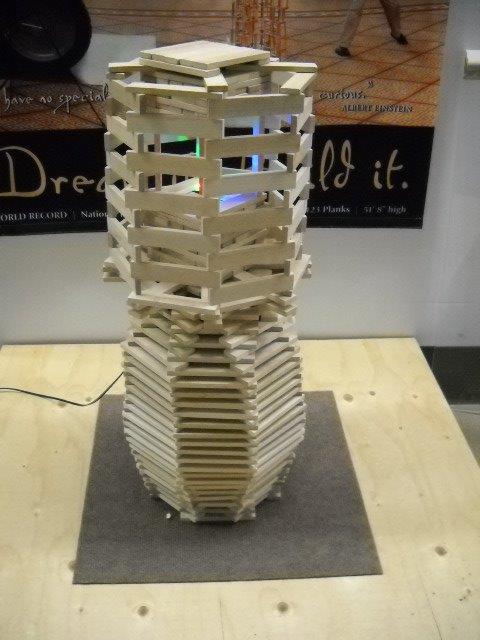 Over the summer, during our Science of Sports exhibition, one of the science facilitator's designed a sports shoe out of KEVA planks, right in front of the KEVA Gallery. It was the perfect way for visitors to see how we feature our new exhibitions and it provided visitors with some ideas for building, before they enter the KEVA Gallery. We also featured weekly challenges for visitors and staff in the gallery. Many people built stadiums, uniforms and other items related to sports. Thank you Hyder (shown in photo above), for your design and engineering of the shoe structure.
This fall saw the opening of Light: Illuminating Science & Art in our Feature Gallery. What creations tie in with light? Well, Science Facilitator, Iain Fraser, took his idea and built a lamp, which included an LED light. The result was delightful. With many KEVA buildings, we can see how light creates shadows and illusions. There are many other light-related challenges that you can do in the gallery—can you think of some? Look for the signage when you enter the gallery and explore shadows and light with KEVA.
Are you a KEVA builder, creating structures at home? Share your creations using #swKEVA, to join and inspire our in-gallery builders. Check out our stream to see "What's building now?"