Future Science Leaders presented by Acuitas (FSL), Science World's after-school program, connects teens to like-minded peers and STEAM experts. Our partners make FSL possible: Acuitas; Boeing; RBC Foundation; AMGEN; STEMCELL Technologies; and NumerixS Quant.
---
Skin in the Game with In-Woo, Miguel and Nathan
It started, as all science does, with an observation that sparked a question.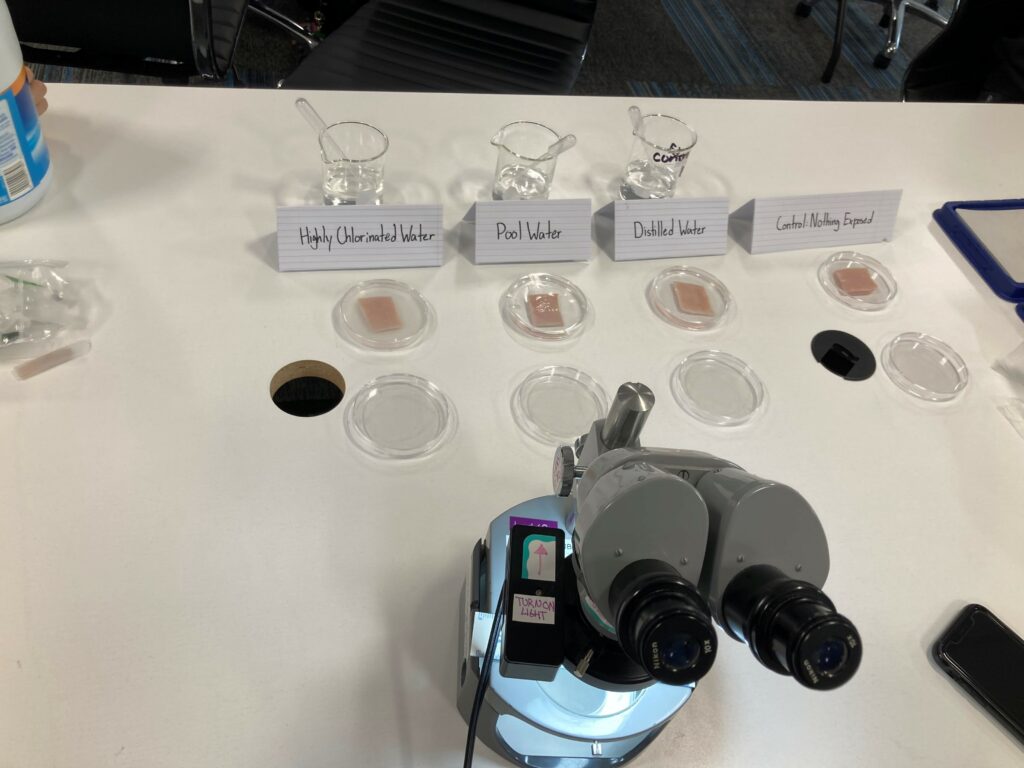 While visiting a cousin in Texas, Grade 10 student In-Woo Park noticed a dramatic change in the condition of his skin.
"It was super itchy. After a few days it was almost peeling off. I was like, 'Why?'"
It could have ended there, but his enrollment in Science World's program for teens Future Science Leaders presented by Acuitas (FSL) provided a unique opportunity to pursue this question with the rigor of a real-life scientist.
It also provided him with a group of like-minded peers equally enthusiastic about conducting research.
"In-Woo and I were both interested in human health impacts of environmental alteration," says Nathan Yeung, also in Grade 10.
When In-Woo learned about Texas's chlorine program to disinfect water, he and Nathan teamed up with Grade 11 student Miguel Bi to conduct their major research project on the effects of different levels of chlorine on skin. 
"Water is all around us every day," says Miguel. "So, learning how it impacts us is a curious and relevant thing to discover."
Toss Around the Pig Skin
The official stance from Texas government is that scientific studies "did not find any association between exposure and dermatitis (skin rashes)." So, was In-Woo's reaction an anomaly?
Thanks to FSL Program Manager Dr. Jenny McQueen, they had the materials to investigate.
"I've been a vegetarian most of my life, so rarely go into a butcher shop," says Dr. McQueen. "I now call my local butcher though for pig skin and sheep hearts. I'm curious as to what animal body part I'll pick up next!"
Their FSL mentors guided them through the steps of creating a proposal; building an index to measure skin reactions; planning the steps for effective experiment with useful results; and summarizing the whole process in a proper scientific paper.
It was a lot of work, with different levels of success. Quantifying skin dryness is trickier than it sounds. What's certain is they learned more than they ever could have predicted.
Nathan learned he loves designing experiments but that he'll avoid wet labs in the future for more theoretical research. Miguel learned he has a proclivity for problem-solving, which might make him a prime candidate for the Engineering stream in Year 2. And In-Woo was surprised by how much he enjoyed presenting his project, and that he has a knack for science communication.