Having immigrated to Canada in 1997, Jan de Beer has been living in British Columbia for over two decades. His artwork has been featured in several galleries across the province, including a feature exhibition at the Doris Crowston Gallery in late 2017. More recently, Jan has been creating paintings using recycled materials, including paint. Most of this work is very large – up to 8 x 4 feet.
Jan de Beer's Tides was on display in our Aurizon Atrium from June to September 2019.
How did you come to start using recycled materials in your artwork?
It was around 2015 that I became aware that paints dropped off at the recycle depot were available for use. My wife who is a potter needed some plinths painted and I accessed white paint from my local recycle depot and discovered that there was an abundance of different materials and stains available.
What do you find enjoyable or impactful about using these materials?
The abundance of available material and the cost effectiveness of getting it from the recycle depot make it easy pickings and a real joy for any artist who wants to produce large scale works. My paintings have incredible visual impact and are beautiful and engaging in their own right. However, for me the real impact with regards to the materials I used lies in the conceptual relevance of the project as a whole. Turning waste into art reflects on a wasteful society and raises questions around our sustainability as human beings on this planet.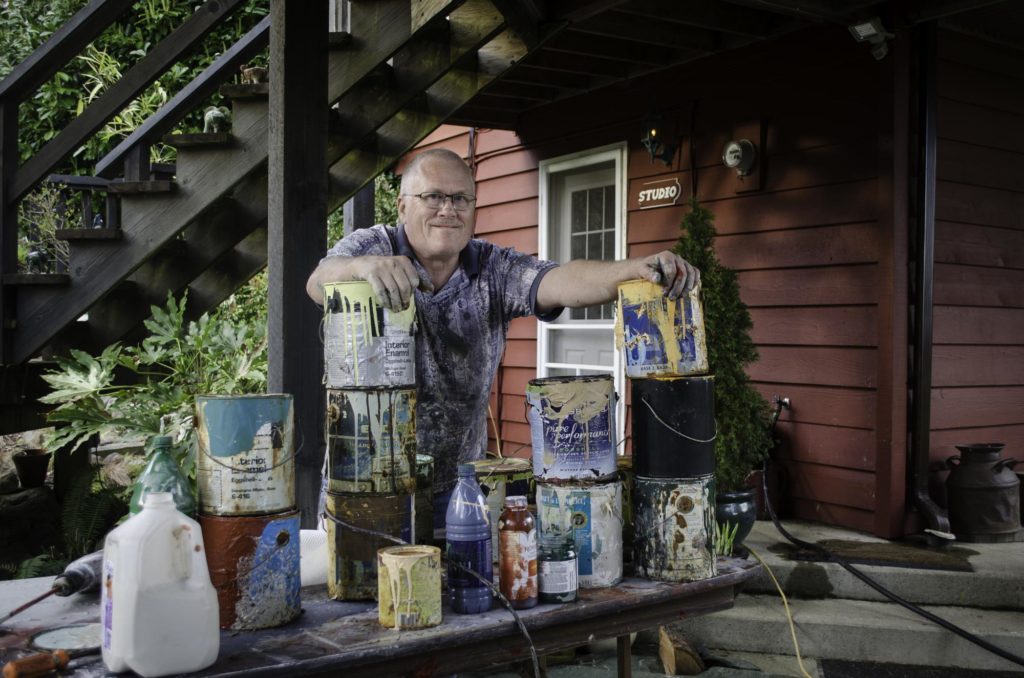 How do the works of artists like Marcel Duchamp influence your work?
Conceptual art prizes ideas over the formal or visual components of art works. Marcel Duchamp's display of a urinal as art in 1917 is seen by many as a turning point in 20th century art and traces the origins of conceptual art to this moment. I created Tides specifically to pay homage to Duchamp on the 100th anniversary of this event.
Can you tell us a little about your process when you begin a painting?
Preparation is critically important as I am basically setting the stage for an act to play out. The creation process is in the tradition of action painting with most of the creative process happening in a fluid state on a very large canvass over a relatively short period of time. The process leads the creation and there is no preconceived idea of what the end result would be.
What would you tell someone interested in learning how to paint in a similar style?
Do not take yourself too seriously and allow yourself to stray outside of the lines. Tackle it as a communal project with a couple of friends or family over a glass of wine and have fun.
In your view, what is the relationship between art and science?
Both science and art are human attempts to understand and describe the world around us. Artists tend to be subjective and emotionally involved with their subject matter whereas scientists are objective and factual. Both scientists and artists are driven by an urge to explore and uncover the unknown. I think it is important that artists and scientists acknowledge each other. I am currently supporting the not for profit Pender Harbour Ocean Discovery Station, a base for ocean research and education on the Sunshine Coast, and will be donating 65% of the proceeds of any sales from the paintings displayed at Science World to this organization.
Where do you hope your art practice will take you in the next few years?
Ideally to a place where when I look back I can have the satisfaction that the work I did had a meaningful and positive impact on the lives of individuals or on society as a whole.
---
Science parallels art as a subject matter and a source of inspiration.
Here at Science World, we are delighted to work with local artists who are interested in and inspired by science. Check out our latest exhibits.