Whether we're really ending a decade has been up for debate, but we at Science World are happy to take the opportunity to share our accomplishments and celebrate how you've been a part of that success.
As a new decade commences, we're looking back at the top moments that happened under our geodesic dome over the past 10 years .
Renovations to the Ken Spencer Science Park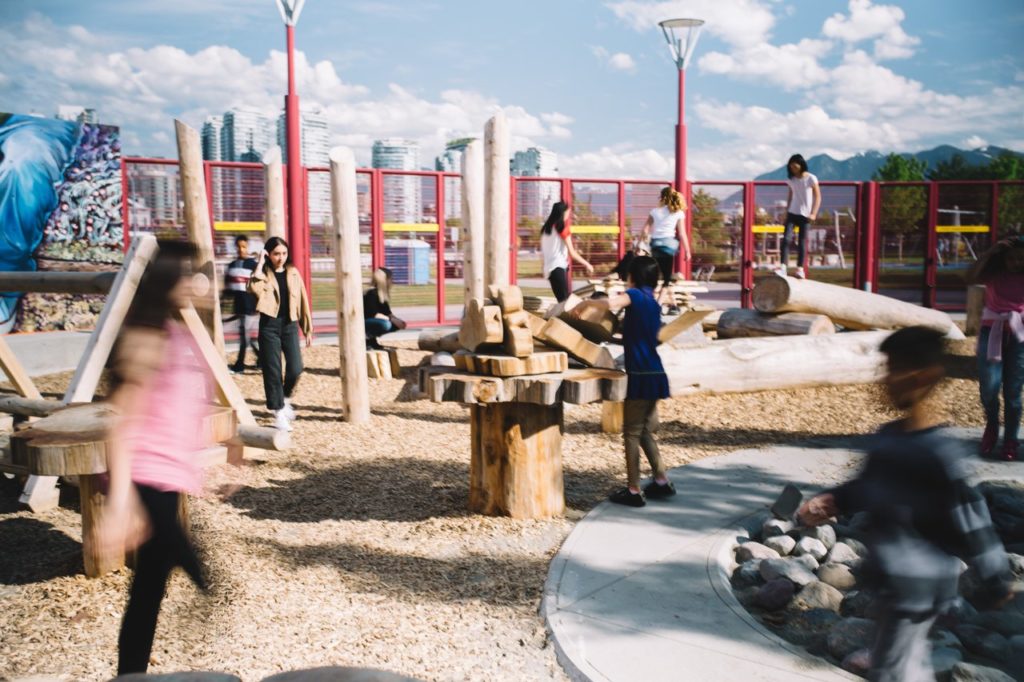 In 2010, our Science Park reopened after some major renovations including new interactive ways for visitors to learn about nature and engage in risky play. From the Sensory Bed, with fragrant rosemary to run your hands through, to clucking chickens in the coop, the Ken Spencer Science Park offers a renewed sense of connection to the natural world.
Science World as Russia House
During the 2010 Winter Olympics, Science World became a diplomatic hub of sorts as Russia House, which was home to the "look and learn" program for future Sochi hosts. The Vancouver Organizing Committee for the 2010 Olympic and Paralympic Winter Games (VANOC) invited organizers from the Russian resort city to our False Creek landmark, offering a behind-the-scenes look into "every aspect of the Olympics."
Record Breaking Bubble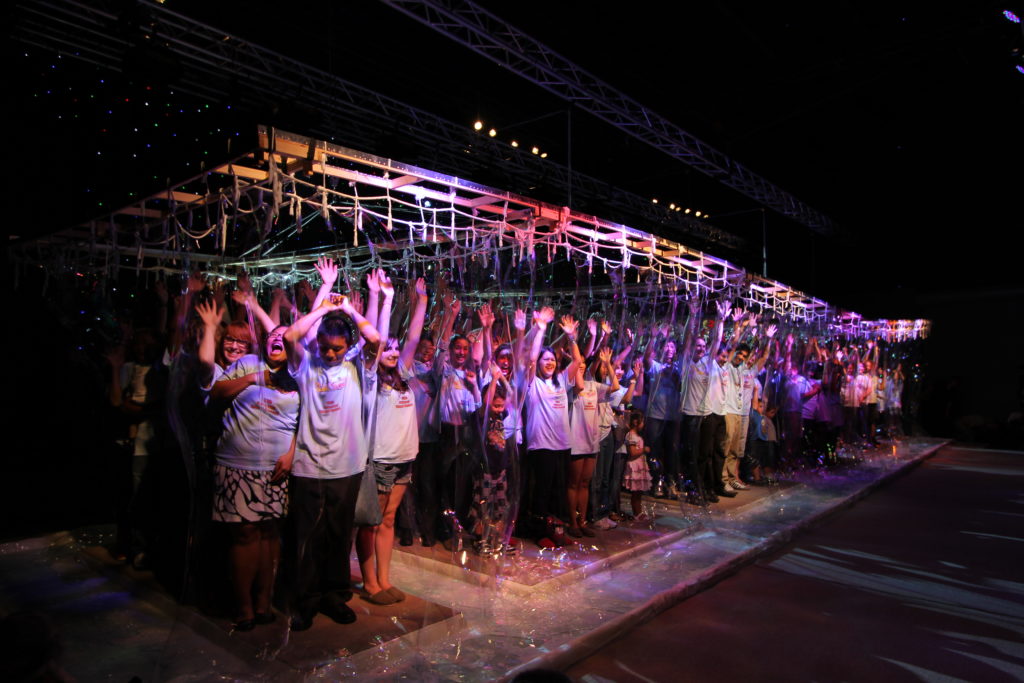 In 2012, Science World was part of a Guinness World Record attempt to put the most people ever inside a giant bubble. Canadian bubble artist Fan Yang, who is internationally known for his show, The Gazillion Bubble Show, successfully encapsulated 181 people!
Chris Hadfield visits Science World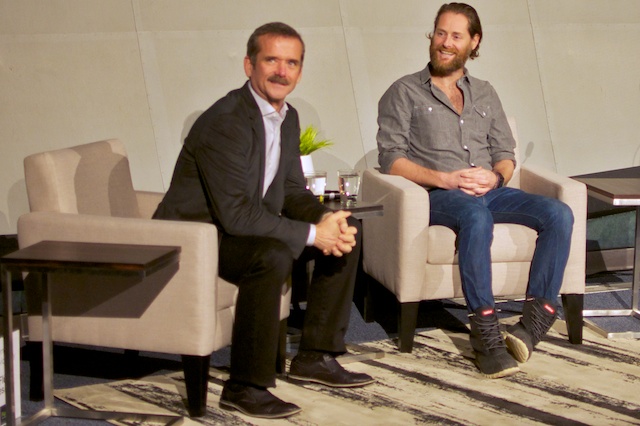 In 2013, Science World launched its Innovator Speaker Series, which aimed to showcase BC's world-class science and technology-minded leaders within our iconic dome. Helping us kick off a successful inaugural event was founder of social media company Hootsuite, Ryan Holmes, and astronaut Colonel Chris Hadfield, who boasts many "firsts" in Canadian space history including being the first Canadian to perform two spacewalks as a mission specialist on STS-100, and the first Canadian to command the International Space Station (ISS). Among many curious questions from the crowd, Colonel Hadfield answered what it would be like to start a water fight in space and how astronauts fart.
The On The Road program Makes A Return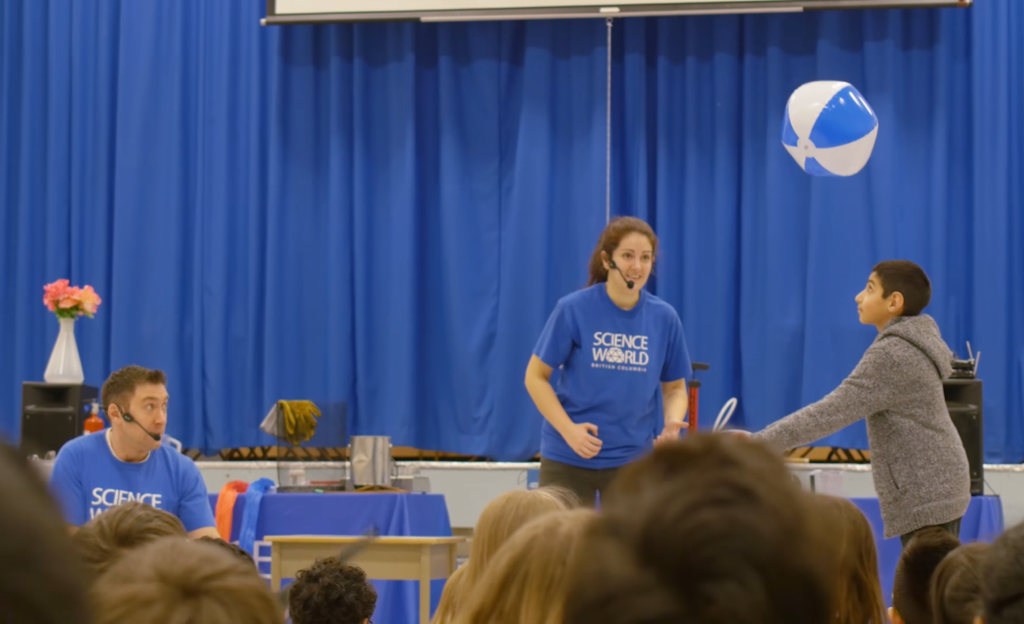 After a multi-year hiatus, Science World marked the return of the On The Road program in 2015, bringing the unforgettable demonstrations that happen underneath our dome directly to 96 schools in the Lower Mainland. Today, On The Road visits more than 40,000 students each year who might not otherwise have a chance to visit and from 2020 onwards, we will be continuing this outreach to communities across the province.
The Great American Eclipse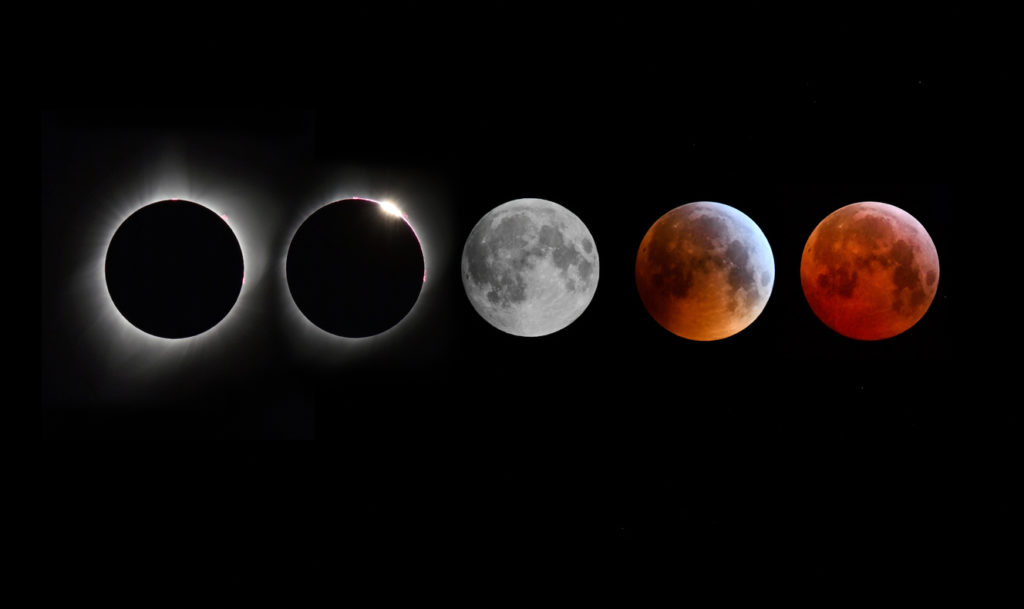 In 2017, Science World invited the wider community for a False Creek viewing of the total eclipse. Thousands gathered outside the dome for special programming offered in partnership with the Royal Astronomical Society of Canada (RASC). With a limited number of eclipse glasses available at our gift shop, Science World staff members passed around the specialized shades to families so that everyone had an opportunity to take part in this once-in-a-lifetime experience. Visitors who brought homemade eclipse viewers were happy to share with one another.
Opening of Tinkering & Wonder Galleries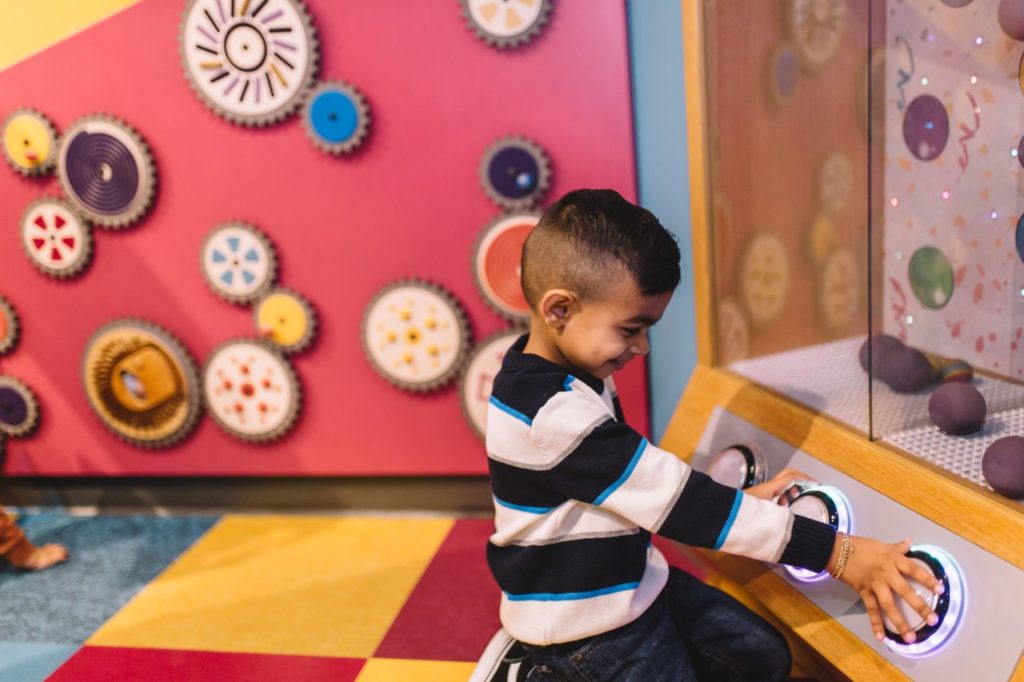 Science World is all for hands-on, experiential learning. So it's hard for us to imagine a time without the sounds of wooden KEVA planks coming to a crash or the excitement and laughter that comes from the Splash area, but it was only in 2017 that the two galleries came to our iconic building: Wonder, designed exclusively for visitors aged 0 to 5 and their caregivers, gives kids the opportunity for play-based learning; and Tinkering Space: The WorkSafeBC Gallery is a problem-solving hub where you can learn programming and engage in experimental construction.
Science World Hits 1 Million Visitors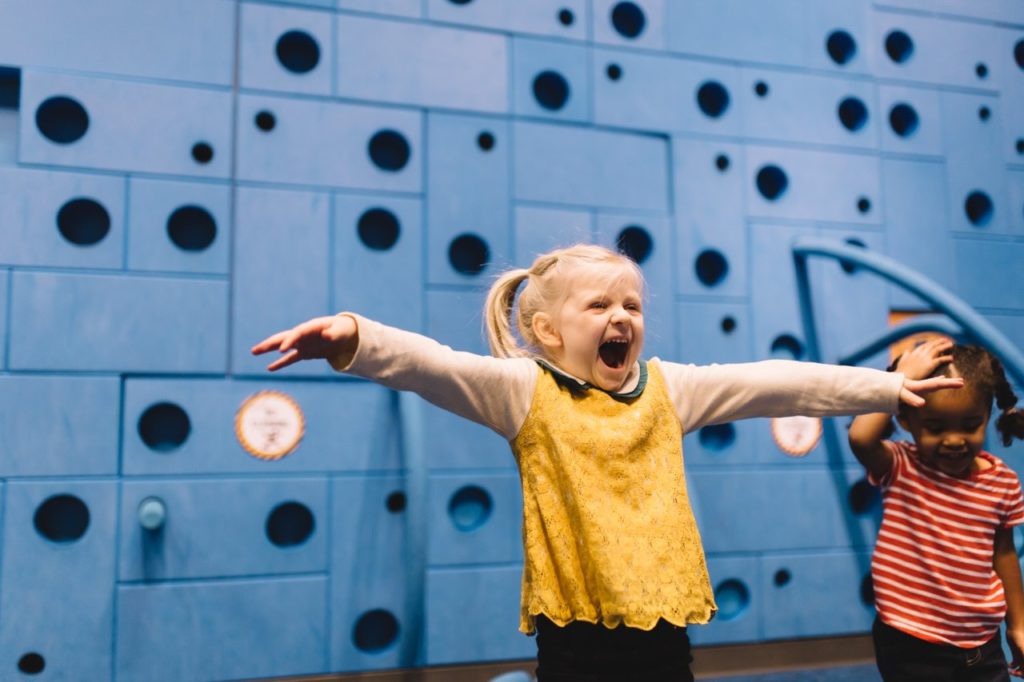 Thanks to the success of our outreach programs (like our Class Field Trip Bursary Program) and the renovation of our gallery spaces, Science World surpassed the 1 million visitor mark in 2018 - a record breaking attendance for our glittering dome. That means about one-fifth of the population of British Columbia engaged in hands-on science learning and grew in their STEAM literacy.
Science World's Bright & Bold Brand Refresh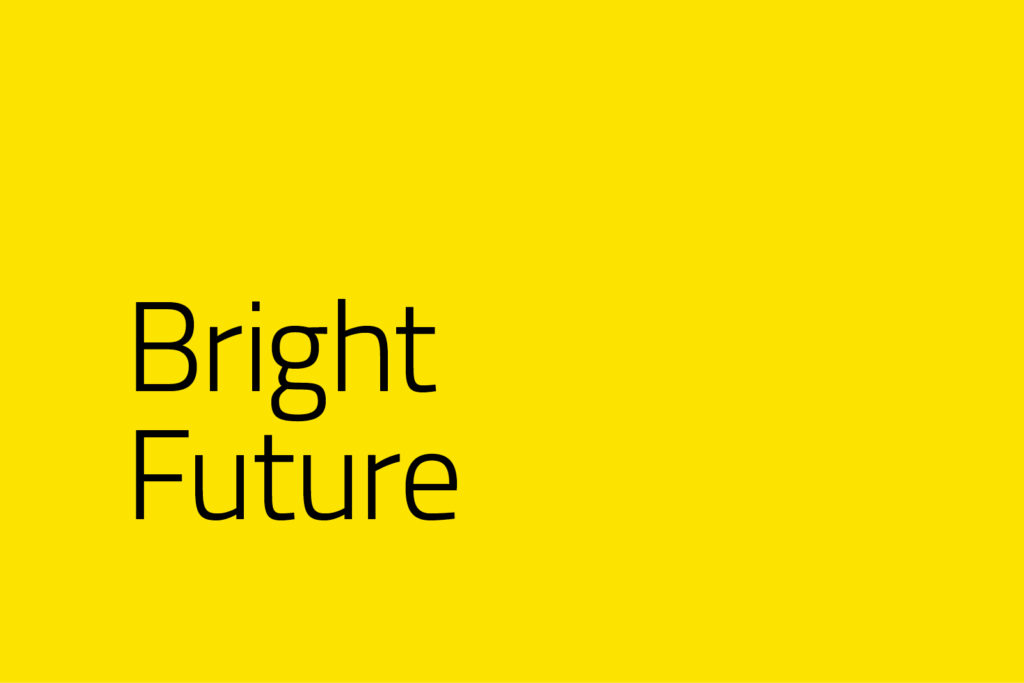 In 2019, equipped with a brand-new strategic direction, Science World unveiled a bright and bold brand refresh that emerged as a result of a year and a half of research, consultation and experimentation with staff and community members across BC.
Reflected in the new colours, typeface and logo are our core values: curiosity, play, inclusion, relevance and collaboration. Our new brand promise to you is, "Evolution through discovery."
Celebrating 30 Years of Wonder
From our humble beginnings in 1977 as a mobile exhibit to calling this geodesic dome home after the success of Expo '86, Science World has evolved to reach more than 18 million people under the dome and across the province over the past three decades. In 2019, we celebrated 30 years of Wonder! From your ha-ha! to your ah-ha! moments, thanks for being part of our bright tomorrow.
---
Want more Science World moments?
Head on over to our Top Ten Moments of 2019 for a round-up of our favourite memories from last year.