It takes a lot of people to run a science centre, and Felicia Rafael is not afraid to coordinate all of them! She is one of our Administrative Assistants, always planning meetings, organizing staff events, and jumping on new tasks as they come up - because you never truly know what the day will bring when you work at Science World.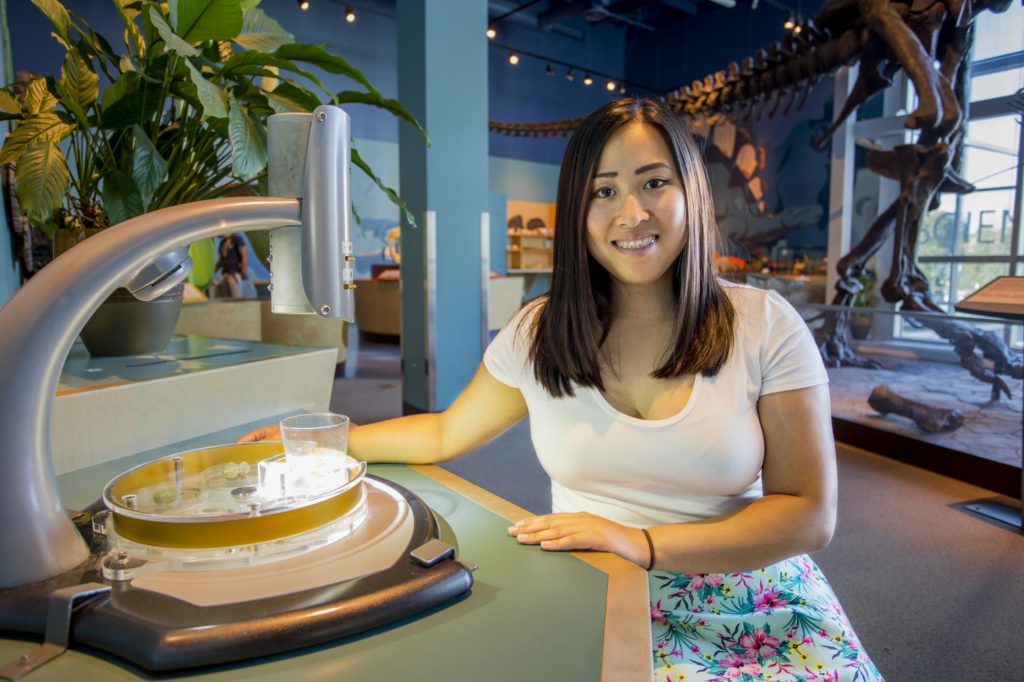 Where are you from and how did you end up at Science World?
I would say there were many twist and turns in the journey that eventually led me here. As a child, I wanted to become a teacher. In university, teaching changed to a pursuit of Cultural Anthropology with a dream of seeing the world and learning about its places and people. I spent a number of years working and volunteering in non-profits/charities, event planning, tourism, administration and education. In 2015, I left Canada and spent a year teaching English and travelling in Japan which was a fantastic experience. When I returned to the Lower Mainland, I found myself working as a teaching assistant for another year, before I finally stumbled upon my job here at Science World.
What inspired you to pursue a career at our science centre?
I was drawn to Science World for a number of reasons. First of all, it seemed like one of the most fun places you could potentially work at, and I wasn't wrong! I've met a ton of great people and do something new each day. My mix of interests and experiences also seemed like the perfect fit for the organization. I have experience in tourism, Science World is a tourist attraction. I have a strong interest in education, and the organization is all about STEAM (science, technology, engineering, art and math). I love working for the community and with non-profit organizations, so that checked off another couple of boxes. You get the picture. Overall, it's the perfect fit for me at this time in my life.
What do you do at Science World?
I work as an Administrative Assistant at Science World. I primarily work away from the front-facing action, and keep busy behind the scenes. My main focus is supporting our Board of Directors. When I'm not doing that, I work alongside an awesome team of other administrators organizing meetings, keeping databases up to date, help organize staff events, and find myself doing a lot of other miscellaneous tasks as they come. Sometimes I end up wearing quite a few hats.
What is your area of expertise?
I wouldn't say I have an expertise in one thing just yet, but I'm fairly well verse in most things administrative, and find project/event/meeting management quite a delight. I also would say my background in Anthropology gives me an edge in learning more about people and cultures.
What do you love most about Science World?/What is your favourite Science World story or moment?
I love the people I get to work with every day here. Everyone is nice and supportive and we all treat each other with a great amount of respect.
What is your favourite science fact?
The science of fireworks, goes back to early Chinese alchemists trying to search for an elixir of life (or so the story goes). By mixing saltpeter (potassium nitrate), sulfur, and charcoal they found a way to create gunpowder. That gunpowder was packed into bamboo shoots and thrown into fire to create the first fireworks. It may not have been the key to eternal life, but sure makes the night skies bright during the summer nights.