Even while the Ken Spencer Science Park was closed for the winter, there was no time to sit and twiddle thumbs waiting for spring to arrive once more. In fact, this winter ended up being some of the busiest months for big decisions and changes, at least in the life of the curator. The excitement didn't stop at the removal of the Urban Density exhibit to make room for something new. We also made a huge change in what the park looked like, underfoot.
This past fall, we applied for a grant with Tire Stewardship BC (TSBC), a not-for-profit society that was formed to manage British Columbia's tire recycling program. Unlike many provinces in Canada, BC has an amazing scrap tire recycling program. All the recycling happens right here in our province, and on average, between 80% and 90% of the scrap tires collected are recycled into various products, thanks to TSBC.They ensure that tires are disposed of in environmentally responsible ways instead of ending up in our landfills. Most of these tire scraps are turned into something called crumb rubber. These fine rubber granules are used for all kinds of products, but you'll most often see it used for flooring, mats, and rubber mulch.
We got in contact with Marathon Surfaces, a local supplier and installer of recycled rubber surfaces. This company is committed to providing environmentally responsible surfacing choices, and they were happy to take on the project, despite it being the off-season for this type of work. They even generously donated a portion of the work, to extend the rubber surface to include our seating area.
When we found out we were chosen for the grant with TSBC, we were ecstatic. Our park was in need of some resurfacing, specifically around the stage where we run our outdoor stage shows (think BIG science demos that are too messy to be carried out indoors), and our outdoor school programs. We knew we needed to increase accessibility in those areas, as the peat gravel limited ease of movement, especially for those with mobility issues. We're also well aware how difficult it is to move a wheelbarrow full of soil across it, or bring in a flat of cinder blocks for our bed of nails demo!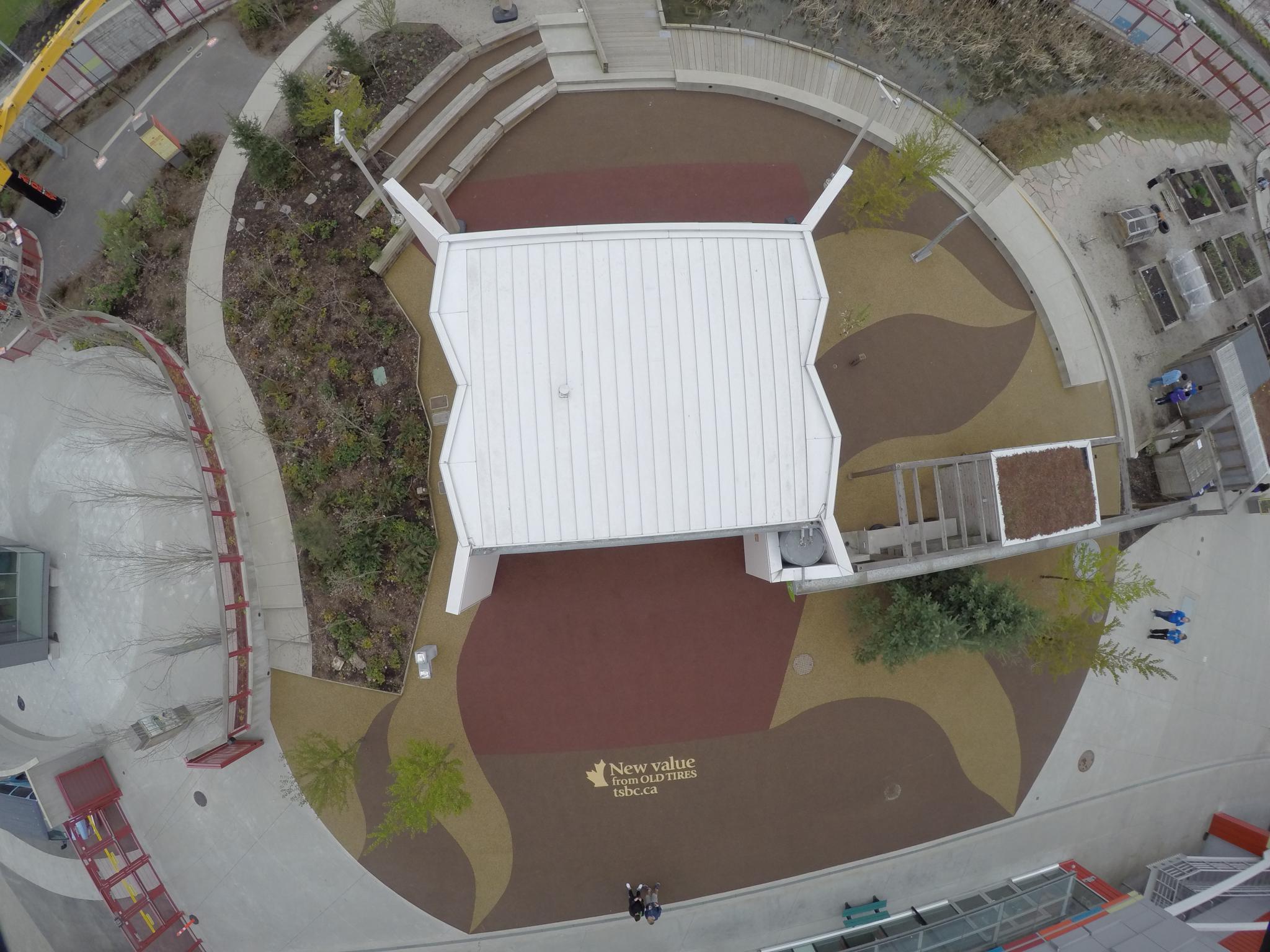 Our new flooring is not only better for our programming and guests, but it also supports local recycling. Marathon Surfaces has a great counter on their website that shows how many pounds of rubber have been diverted from our landfills thanks to their projects. Our KSSP flooring project alone used 24,287 pounds of recycled BC rubber! That's a LOT of tires.
All this, AND it looks really cool! With swirls of colour, it really added something special to the space. We even have a "red zone" at the outdoor stage now, just like we do inside! None of this would have been possible without the support of Tire Stewardship BC.
Come visit the Ken Spencer Science Park on April 25, 2015 at 11am. We'll be giving a special thanks to TSBC and Marathon Paving for making this massive project a reality. It's all part of our Green Month celebrations. We'll be thanking them in the best way we know how—with awesome science demonstrations!