Energy moves in waves — like a wave on the ocean.
Light, heat, microwaves and x-rays are all different wavelengths of electromagnetic radiation.
Humans evolved special senses to notice heat on our skin and eyes to see light, says atmospheric scientist Rachel White.
Everything that is warmer than 0 degrees Kelvin, where molecules stop moving, emits thermal radiation, even ice.
The sun emits very short, hot waves of energy. When that energy hits Earth, some gets bounced off clouds, ice and snow back into space, but the rest is absorbed.
Earth also emits thermal radiation, but in cooler, longer wavelength waves than the sun.
This energy is repeatedly absorbed and re-emitted by molecules in the atmosphere with some of it eventually heading off into space.
Scientists call this the Greenhouse Effect.
Certain molecules, like carbon dioxide, methane and hydrofluorocarbons Hydrofluorocarbons A class of synthetic organic compounds that are used primarily in air conditioning and refrigeration systems and in aerosol sprays and solvents. do a better job at absorbing earth's heat back, so we call these molecules Greenhouse Gases.
Think of them like a sweater for the planet, White says. Sweaters capture your heat so, the thicker the sweater, or the more Greenhouse Gasses in the atmosphere, the warmer you are.
When humans burn fossil fuels, which we do whenever we cook on a gas stove, drive internal combustion cars, fly in an airplane, or burn coal to produce energy, we produce CO2.
When we cut down forests, raise cattle to eat hamburgers or extract natural gas and oil from the ground we produce methane.
Humans produce a lot of greenhouse gas. Remember how atmospheric CO2 was between 180 ppm and 280 ppm for the last million years? As of 2023 there's 423.68 ppm.
Humans have been increasing the amount of greenhouse gasses in the atmosphere ever since the Industrial Revolution in the United Kingdom in the early 1800s, when humans started burning large amounts of fossil fuels for power.
By adding more greenhouse gasses into the atmosphere, we're trapping more of the earth's heat by preventing it from escaping into space and slowly increasing the planet's temperature. This is known as Climate Change or Global Warming.
Greenhouse gasses are a bit like adding spice to a soup, says polar climate scientist Anais Orsi. You only need a small amount of chilli to make the entire pot spicier — or a small amount of greenhouse gasses to warm the planet.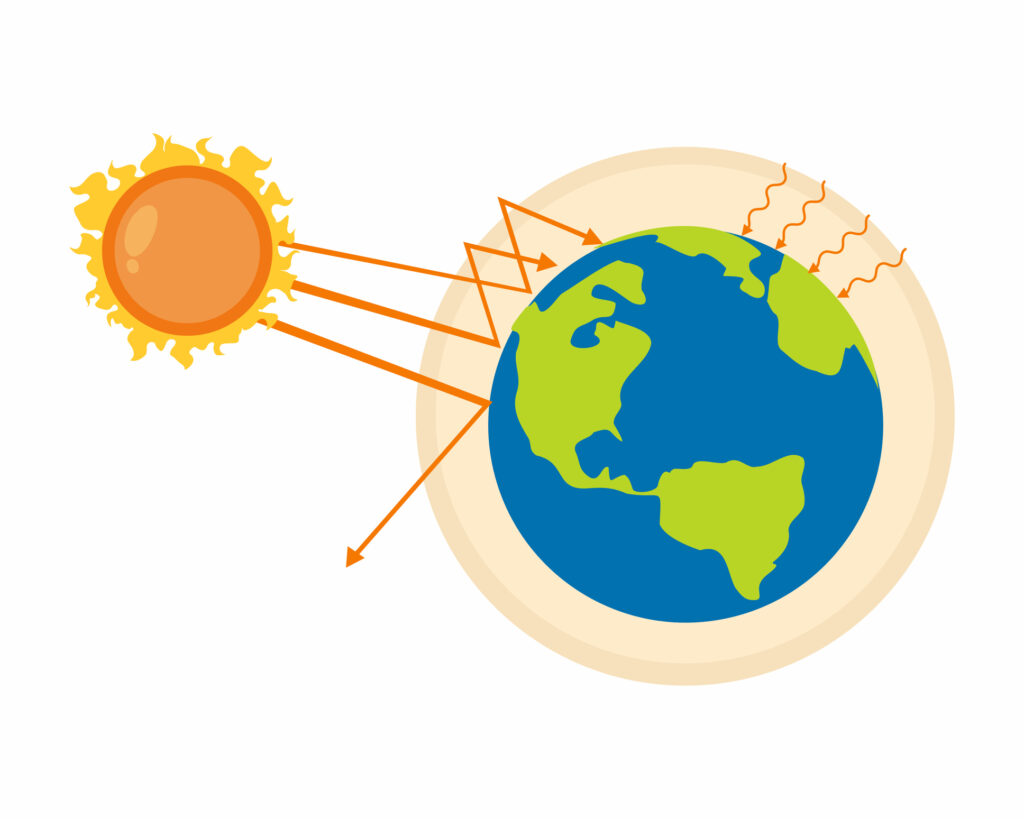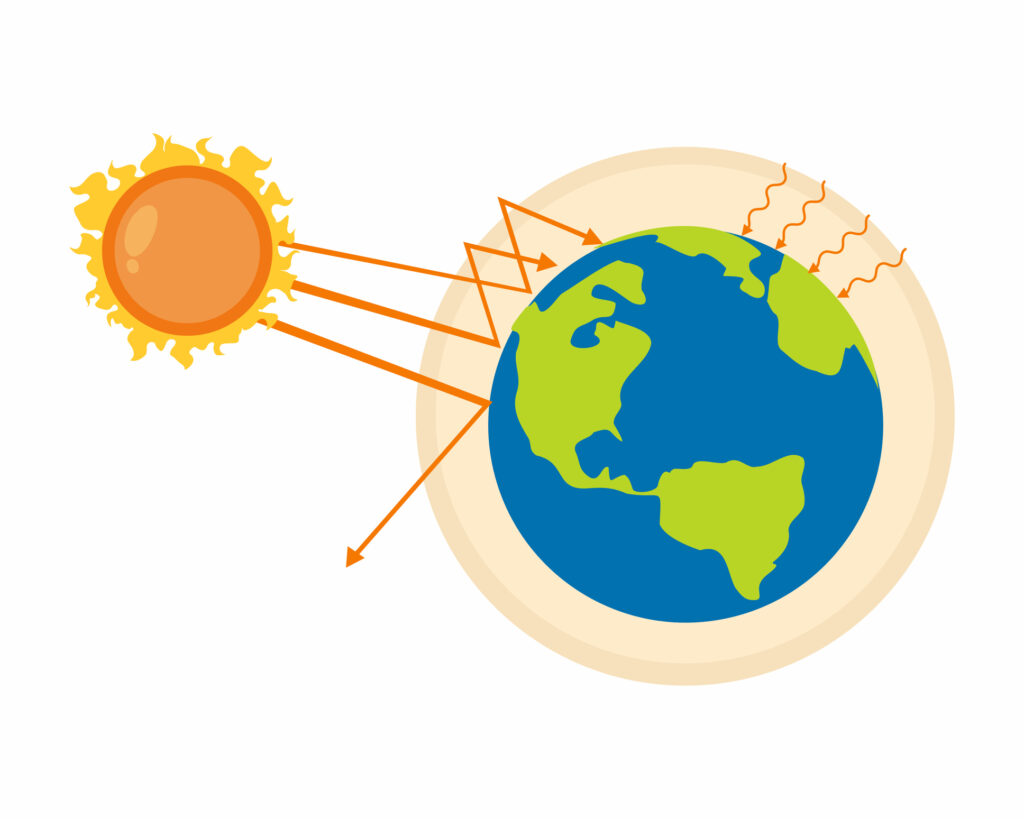 It takes about eight minutes for energy waves from the sun to travel nearly 150 million kilometers to Earth.
Thirty percent of the incoming sunlight is immediately reflected back into space by clouds, ice, snow, and other reflective surfaces.
The rest of the sunlight is absorbed by the Earth and re-emitted. We feel this as heat.
Certain molecules, like carbon dioxide, methane and Hydrofloral carbons, do a better job at absorbing earth's heat back, so we call these molecules Greenhouse Gases. They prevent heat from escaping and increase the planet's temperature.
Since the Industrial Revolution the planet has warmed by 1.1 degrees Celsius.
That might not seem like a lot, but it's very rapid warming by Earth's standards, Orsi says. The difference between a glacial and interglacial period is five degrees Celsius and it takes the planet around 10,000 years to make that transition, she adds.
With the amount of fossil fuels humans are burning we're set to hit three degrees Celsius of warming in the next 100 years, or five degrees Celsius of warming if we continue to increase how many emissions we produce globally.
That's going to create major changes in the next century. Orsi says life will continue to evolve but there will be mass extinctions as the planet warms faster than animals can adapt.
How do you feel about the current rate of climate change and the potential impacts it may have on the planet's ecosystems and species?
---
Curious about the science of climate BC?
Explore the science and solutions for regenerating our planet at Change Reaction.