If we lived on a different planet, like Venus or Mars, our sky would be a different colour because there would be different gasses in our atmosphere.
Earth's atmosphere is the air that is above and all around us. If you point straight up, you're pointing at about 10,000 kilometres of atmosphere.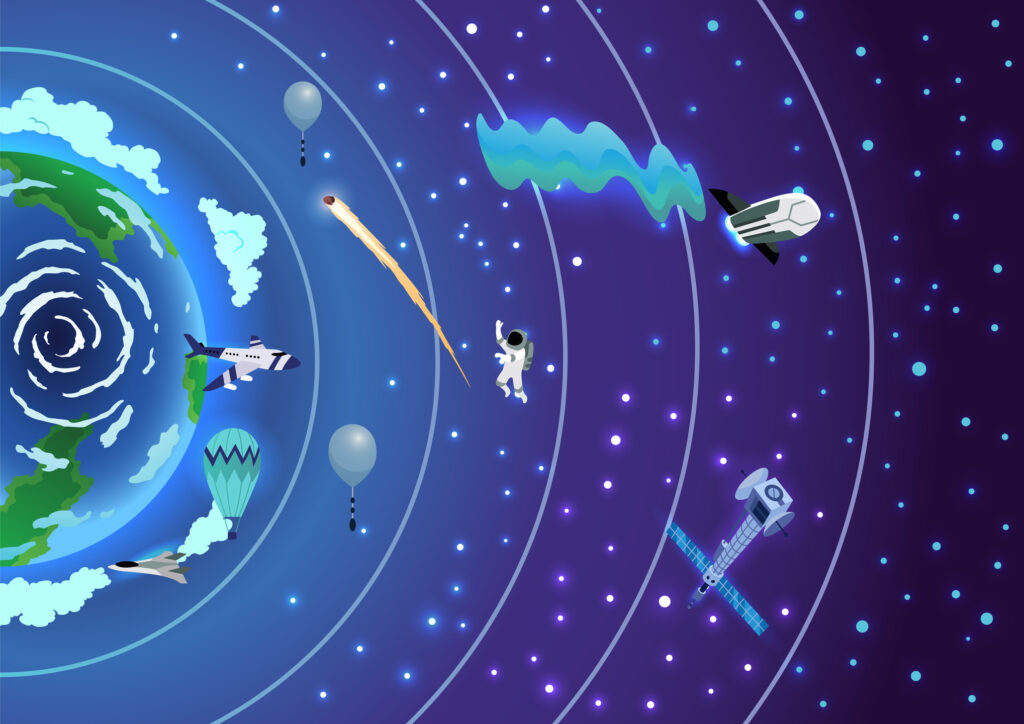 The layers of Earth's atmosphere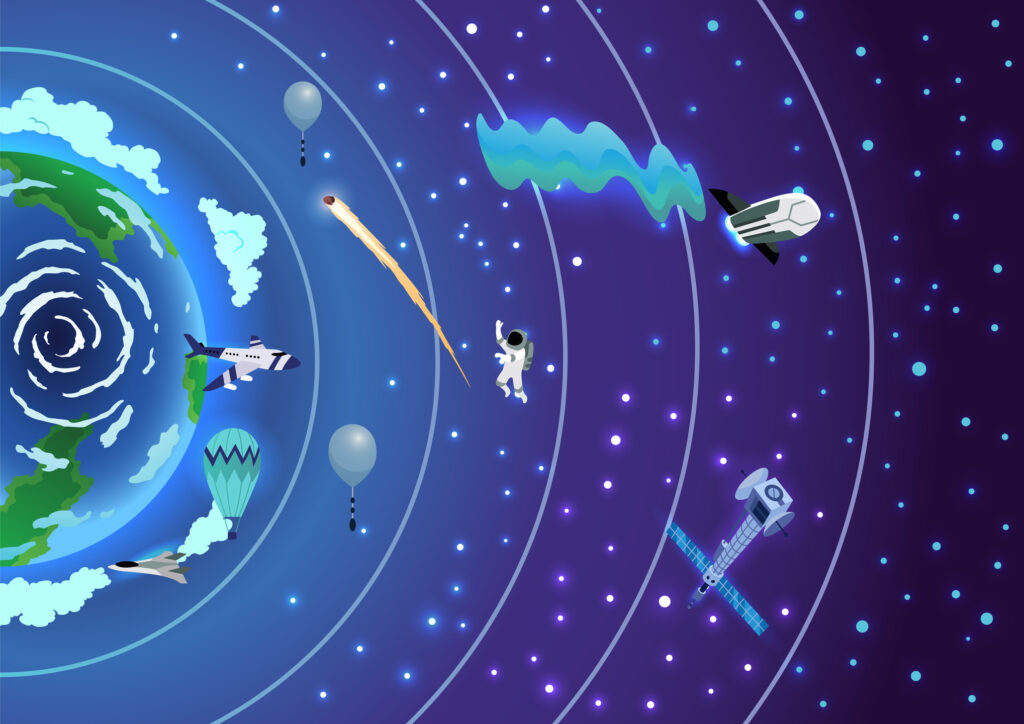 The layers of Earth's atmosphere
1
Troposphere
Click for more!
The air we breathe. Stretches from ocean to about 12 kilometres straight up. The top of Mount Everest, almost every cloud you've ever seen, and almost all airplanes fly within the troposphere.
2
Stratosphere
Click for more!
A high-flying desert with an invisible shield--the ozone layer--screening us from harmful ultraviolet (UV) radiation.
3
Mesosphere
Click for more!
Home of the shooting stars, meteors and other cosmic debris. The coldest layer, temperatures can reach -90 degrees Celsius!
4
Thermosphere
Click for more!
It's getting hot up here! Despite the sizzling temperatures, it would feel freezing to a human visitor because there are so few gas molecules to transfer heat. The thermosphere is also home to the International Space Station.
5
Exosphere
Click for more!
The atmosphere becomes incredibly sparse, with individual molecules few and far between. The grand finale, marking the end of our planetary playground and the beginning of the infinite cosmos.
The air gets thinner the higher up you get until there's no air particles left and you're in outer space.
The International Space Station orbits in the thermosphere which is the second-most outer layer of the atmosphere.
The bottom layer is called the troposphere, which is the air we breathe. It stretches from ocean to about 12 kilometres straight up. The top of Mount Everest, almost every cloud you've ever seen and almost all airplanes fly within the troposphere.
The troposphere is made up of about 78 percent nitrogen, 21 percent oxygen, 0.9 percent argon and the last 0.1 percent is a bunch of other elements — like carbon dioxide or CO2, methane and ozone.
Because air is a gas and affected by gravity, about 80 percent of our total atmosphere exists in the troposphere despite being less than one percent of the total height of the atmosphere. The outer layers are made up of very spaced-out molecules.
The large amount of nitrogen and oxygen is what makes our sky blue, says Rachel White, an atmospheric scientist who teaches at the University of British Columbia.
Sunlight is made up of several different coloured wavelengths which together the human eye sees as white. When that light hits the atmosphere, it interacts with air molecules and scatters in all directions (a phenomenon known as Rayleigh scattering British scientist Lord Rayleigh published a paper titled "On the light from the sky, its polarization and color" in a philosophical magazine in 1871. He must have been pretty proud, naming the phenomenon that causes the sky to appear blue during the day after himself: Rayleigh scattering. ), which is why the sky is light even when you're facing away from the sun, White says.
Blue waves scatter the most, with red waves scattering the least. This is why the mid-day sky is blue but at sunset, when the light has travelled diagonally and therefore through more atmosphere, the blue light is scattered away before it hits Earth's surface and we see red and yellow-coloured skies instead.
Earth's sky wasn't always blue.
Get some air
Got a ping pong ball and a funnel?

Explore air pressure at home.


Why is a clear midday sky blue?

Visit sθәqәlxenәm ts'exwts'áxwi7, a park named for the rainbows that used to form there.

Explore Park
If you go back billions of years to before there was life on Earth the atmosphere had much more of CO2, methane and basically no oxygen, White says.
The oxygen in our atmosphere today was produced by microscopic algae in the ocean and later by plants photosynthesizing for billions of years.
Before there was life to create oxygen the sky would have probably been an orange colour because of how sunlight interacts with CO2 and methane.
Our atmosphere creates our weather, like rain, warm sunny days or storms.
When we record weather over several decades, we can calculate the average weather condition for a certain time and place. We call this climate.
"Climate is what you expect, and weather is what you get," White says.
Vancouver's climate in mid-July is usually a high of 22 degrees Celsius and a low of 13.3 degrees Celsius.
This doesn't mean you can't get a much hotter or colder day, White says — in 1977 it was just nine degrees out in mid-July, that's sweater weather!
---
Curious about the science of climate BC?
Explore the unfolding science and timeless solutions for regenerating our planet at Change Reaction.