All Stories
Why We Give: First Loves with Engineer Connor Langford
Chemistry
One fateful Valentine's evening seven years ago in Vancouver, engineer Connor Langford met his second great love after telling a story about his first.
A member in a local Toastmasters Club, Connor's Table Topic that evening was "your first love," and he spent his two minutes of spontaneous speaking on the subject of science.
"Specifically, my science textbook," Connor laughs today, during an interview about his support of our non-profit organization. "Which is really nerdy, and a little sad. But science created a sense of wonder for me, and built the foundation that I have now, which is that I love my job. I love what I do. And that wouldn't have been possible without that book."
As Canada Tunnels Team Lead at Mott MacDonald, Connor spends his days managing tunnel projects across North America, including Vancouver's Stanley Park Water Supply Tunnel and supporting the Broadway Subway Project.
Unbeknownst to him that night at Toastmasters, he was also boring a tunnel into the heart of his future wife, who sat in the audience, positively smitten with Connor's science-swooning.
After the speeches, he struck up a conversation, and the two had one of their first dates at Science World.
"Exploring the exhibits and seeing her eyes light up," recalls Connor, "well, that was the start of a really great connection. And since then, Science World is a place we continue to return to."
Engineering
A year later, Connor's support of Science World began with a volunteer position in Scientists and Innovators in Schools, presented by TELUS.
This program reaches thousands of K-12 students across BC every year with passionate mentors who deliver inspiring presentations that help demystify careers in STEAM (science, technology, engineering, art & design, and math).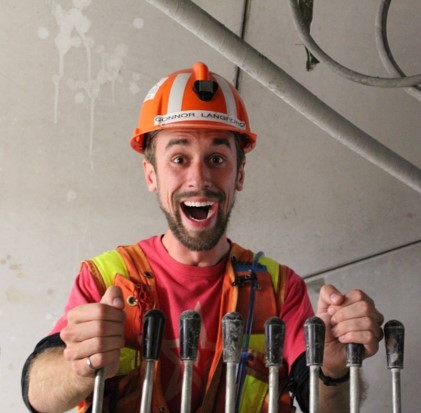 "Everybody I know in a STEAM profession is there because they had a watershed moment when they were young with a person who mentored them," says Connor. "So, I think we have a responsibility to the next generation to do the same for them."
Connor says that the kinds of problems he deals with as an engineer and scientist are "big and complex."
They're about climate change, climate resilience, the scarcity of resources, and how to urbanize properly.
"The reality is, we're not going to be able to solve those problems in my lifetime. And there will be new problems that we can't anticipate that come up. So, the idea of creating passionate and excited new engineers and scientists is critical for us to be prepared to solve those problems. And I genuinely believe without institutions like Science World, we're not going to be able to do it."
A couple years into his role as a volunteer, Connor experienced something that helped him realize that, in addition to providing programming for Science World, becoming a donor would help keep our doors open for the future nerds of BC.
Biology
Before Connor had his own child, he brought his eldest niece Mira to Science World dozens of times.
He recalls their first visit, a special moment in Eureka! Gallery, when her eyes widened with wonder as she touched the plasma ball and saw the electricity drawn to her finger. "It was such a neat moment to have."
And then, just two months ago, Connor was able to bring his baby, then ten months old, for her first visit to Science World.
"And even at this early age, to watch her eyes light up from the colours and the interactivity of all the cool exhibits...She just had such a great day and was so stimulated and—the true mark of success—she slept so soundly that afternoon. A real parenting win."
Connor says these experiences solidified his determination to become an annual donor.
"At a certain point in your life, you might become comfortable enough to be able to give. And when I see even one kid in the dome who's smiling, who has a new sense of wonder, I know my money is having an impact.
"The best way to reach more kids is to help Science World expand their programming, and the only way to do that is through donations."
---
Invest in a Nerdier Future with Connor
Join the growing community of Science World donors investing in our vision for a better tomorrow. Make a gift today.