Winter Break Hours
Sunday, December 24: 10am - 3pm
Monday, December 25: Closed
Tuesday, December 26: Closed
Sunday, December 31: 10am - 3pm
Monday, January 1, 2024: 12pm - 5pm
---
Temporary Closures
OMNIMAX
Science Park: Will reopen in Spring 2024
---
Free Admission for Indigenous Peoples
Science World offers free general admission to all self-identifying Indigenous Peoples. Visitors can access this offer in-person by checking in with staff at the Admissions desk upon arrival.
---
When you arrive:
We encourage you to use the hand sanitizer provided by Science World when entering and exiting the building.
Please be respectful towards staff and follow their directions.
Stroller parking is unavailable. We apologize for the inconvenience.
If you're driving you can download the hangTag app for contactless parking payment when you arrive.
The Wonder Gallery is open at a reduced capacity. Be advised that waitlists may close by 2pm on busy days.
We strive to make a visit to Science World accessible and enjoyable for everyone. Read through our Accessibility page for a complete overview of our accessibility features.
---
Booking your ticket:
Science World has returned to full capacity and timed ticketing is no longer in effect. Members and visitors are still welcome to book their visit online if they choose.
Tickets cannot be transferred or rescheduled. We encourage you to purchase your tickets on arrival at Admissions if you are unsure about the specific date or time you want to visit.
Children 2 and under get in free and those 12 and under must be supervised by an adult.
Please try to keep your visit within a maximum of 3 hours.
For more information please read through our Ticketing FAQ.
Please contact our team at [email protected] if you have any questions about your Membership. Due to the volume of inquiries, please note any emails will be responded to within 48 hours.
Book as a Group
If you require assistance with booking a visit for a group of 10 people or more, please contact [email protected] and our team will gladly assist you.
Please note: If you choose to cancel your reservation, we will not be able to provide a refund.
---
"Science World is a great place for kids to have fun, learn and explore science related subjects and activities. The entrance fees are affordable and there are a lot of fun and interactive games and sections for kids and adults."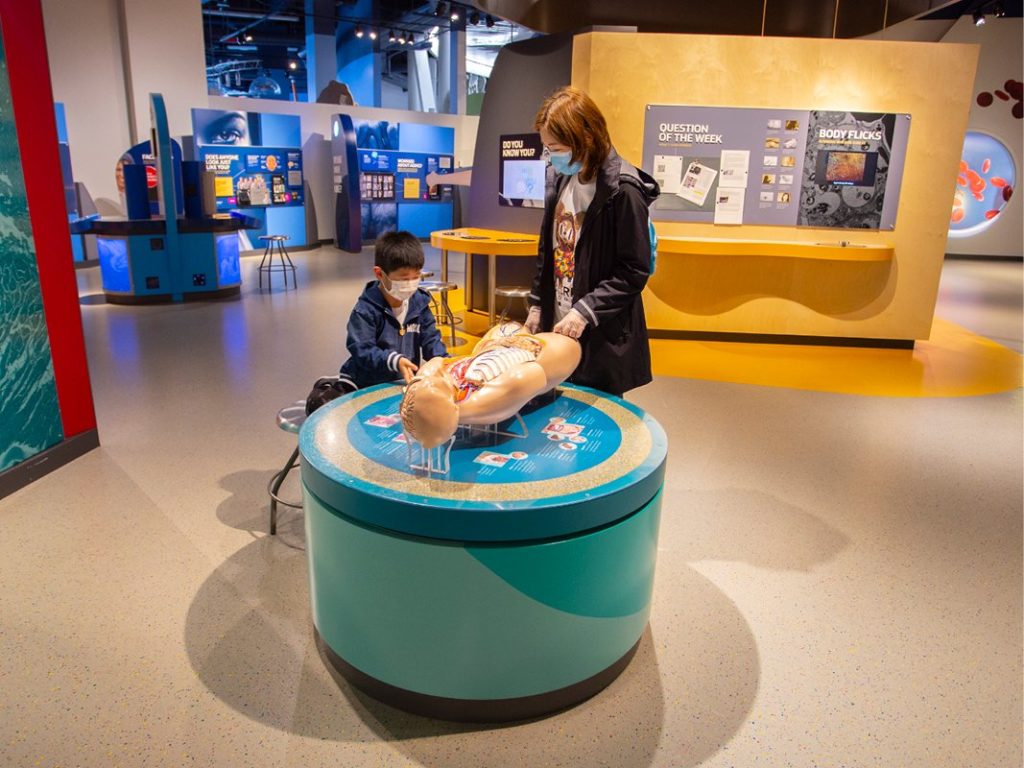 ---
Safety Measures
Since the beginning of the pandemic, Science World has taken an evidence-based approach to our health and safety protocols, following the advice of the Public Health Office. We continue to have hand sanitization stations inside and outside the dome, and extra cleaning measures are in place.
With a theatre, activities, events and workshops that gather 50 or more people, including our Live Science Shows, Science World will continue to uphold a safe community and is committed to taking all the precautionary measures to protect the health of our communities.
We ask for your patience as we implement new procedures. We ask that all visitors continue to be kind, calm and safe—especially to our staff, who comply with regulations and protocols recommended by the provincial health authorities.
We also ask all visitors to be respectful of other people's comfort levels, and respect each other's choices.
We ask that all those visiting Science World:
Stay Home if Unwell
For the safety of our visitors and staff, please stay home if you or anyone in your household has a fever, is demonstrating any COVID-19 symptoms, or does not feel well.
Treat Visitors and Staff with Respect
Science World is committed to ensuring our facilities uphold anti-racist values that allow visitors to feel safe and welcomed. There will be no tolerance for any racism or discrimination (including microaggressions) toward staff or visitors.
Members and visitors can also read through our health and safety protocols to learn what to expect during their visit to the dome.