Students experiment with white light to make their own rainbows.
To make a rainbow, white light (from the Sun) passes through and reflects back from rain droplets. Since the different colours contained in white light have different wavelengths, they are refracted through the droplets at different angles, revealing their individual colours.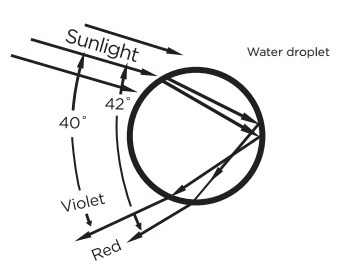 Because the light you see from a rainbow has been reflected, it is polarized. You can make bits of the rainbow disappear by rotating a polarizing filter between your eye and the rainbow.
Polarizing Filter investigations and explanations can be found in this Science World Resource.