The Whirly Tube, also known as the lasso d'amore, corruga tube, corrugaphone, sound tube, musical tube, or Bloogle Resonator, is a musical instrument that consists of a corrugated plastic tube that one "plays" by swinging in a circle. The sound is created by air moving through the tube.
In this activity, the students whirl their tubes at different speeds to produce various pitches.
But why does air move through the tube? The answer is found in Bernoulli's principle. Bernoulli's principle states that as the speed of air increases, its pressure decreases.
The free end of the tube moves through the air much more rapidly than the end that you are holding. Therefore, the free end experiences low pressure. The relatively high-pressure air in the tube rushes up to fill in the low-pressure area, creating air flow from the end you are holding to the free whirling end.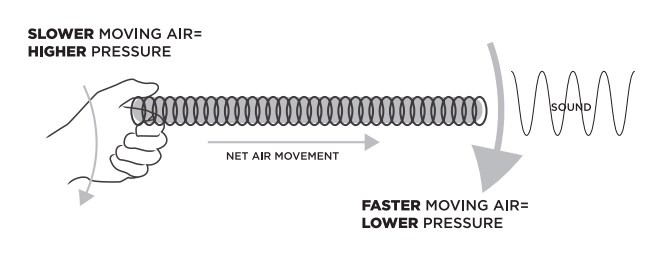 The sound is produced when travelling air molecules hit the tube's inner ridges and vibrate against them. As you whirl the tube faster and faster, the whirling end's air pressure is lowered, and air moves faster through the tube to fill this low-pressure area. The faster air means faster vibrations of the air molecules as they hit the inner ridges, and the pitch then increases.
A vacuum cleaner hose or garden hose will not produce a sound since there are no ridges on the inside to make air molecules tumble and bump into each other and thus vibrate. Air will rush through the hose but does not make sound!