Our Why We Give series spotlights the people who drive our purpose—Science for All.
---
"When I think about climate change, I realize I used to take our natural environment for granted," says Debra Doucette.
As President and CEO of Odlum Brown (an independent, full-service investment firm), Debra has overseen the company's significant investment in Science World's environmental education programs, helping us bring our purpose, Science for All, to life.
Today, the windows of her office in downtown Vancouver reveal peaks of the North Shore Mountains, shrouded in wisps of cloud.
"I grew up there," she says, gesturing to the view. "And my husband and I hike those trails regularly."
We've met to chat about why Odlum Brown has become a Presenting Partner of Science World's climate-focused summer camps, teen programming, and our new online adventure, Science for a Changing World.
These initiatives are core to our vision of creating a sustainable future filled with critical thinkers, problem solvers, and wonder seekers.
"Look at the weather changes we've experienced in the last few years," she says. "You can't deny what's happening here. Providing children with information that's fact-based, and allows them to make decisions for themselves, I think that's important."
Odlum Brown—this year celebrating its 100th anniversary—has branches across the province and over 350 team members.
The summer's devastating wildfires—including in Kelowna, where Odlum Brown has had a location for over 50 years—has brought the interconnectedness of this land and its people into sharp focus.
"We have a responsibility to each of our team members," she says. "And to their families, and to their extended families, and to their communities. As a business, we have a responsibility to try and make their province a better place to live."
Hope in Action
Climate change is not a distant phenomenon, and its effects vary greatly across regions.
Hyper-local, place-based programming designed by experts at Science World tailors climate education to the specific challenges faced by local communities.
In Summer Camps, campers immerse themselves in climate-resilient vegetable gardens, imparting the significance of sustainable, local food systems for both the planet and the community.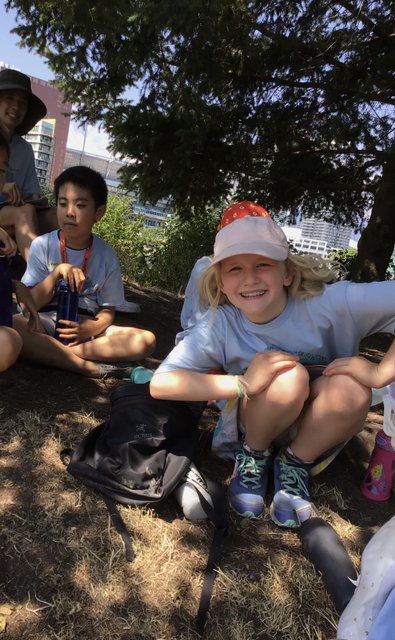 In Science World's teen programming, youth are empowered to explore rich topics relevant to their communities, like mindful urban design for a changing climate and sustainable food systems.
In Science for a Changing World, students in every region of BC can access an interactive digital platform to explore local and global changes, fostering a sense of global citizenship and responsibility.
"Wanting to partner with Science World is about trying to expand community reach and education," Debra says.
"The last couple of years of extreme heat and atmospheric rivers—things that I don't remember to the extreme that we've seen—have made us all rethink our responsibility in preserving this natural environment. Because it's part of our community as well, and without it, where we live would be a very different place."
Demystification
"I was never the poster child for girls in science," Debra laughs. "It wasn't until I had children that I began to see the world through their eyes, with more wonder and awe."
She recalls her first visit to the dome, when she took her kids to see the provocative feature exhibition, Body Worlds.
"My kids were really engaged, but I was the one who was lingering. And that surprised me."
Debra walked out of the dome that day and realized she was thinking about science in a different way.
"It demystified something that I didn't understand. It opened a door for me. To me, that's why places like Science World are so important. They open your mind to different possibilities and make something that once seemed mysterious less so."
When the opportunity arose to partner with Science World to invest in programs that demystified climate change for kids, Debra said the answer was easy.
"In the last decade or so, there's been times when I've walked through the forest in my neighbourhood and thought, how long is it going to be here? And it's not because of development. It's because the natural world is changing."
---
Invest in a Nerdy Future with Debra and Odlum Brown
Join the growing community of Science World donors investing in our vision for a better tomorrow. Make a gift today.