When I was 8 years old, my mother entered a group of us kids into the local Labour Day parade. We carried a hand-painted sign--a gentle reminder to parents to please immunize their children.
I wore scrubs, a lab coat and a face mask. I imagined I was a nurse because my mother was a nurse. Today, we'd call her a frontline worker.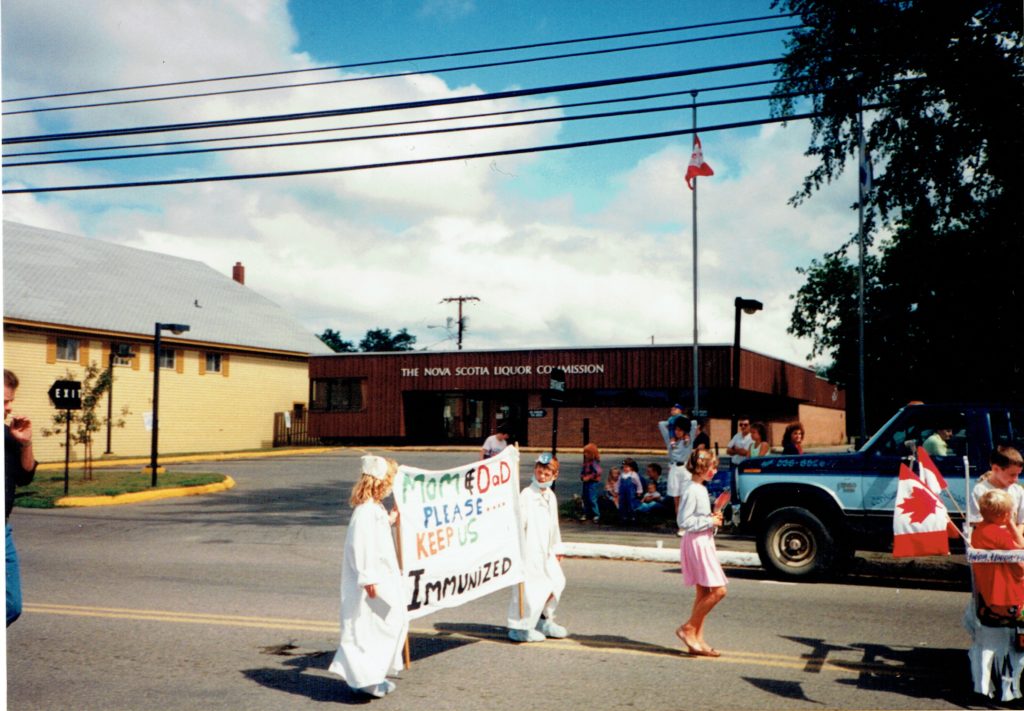 And on the frontline, she was. From her DIY public health communications in that parade; to her visits to my Brownies groups with her GloGerm in tow giving lessons on universal precautions; to facilitating workshops at the juvenile detention centre on the spread of HIV and AIDS.
She had a passion for epidemiology. And I was proud of the work she did for the collective good of our small town.
I didn't know it then, but I was proud she was a nerd.
The Rise of the Nerd
"A nerd is someone who loves what they love, no matter what. They bring passion, wonder and curiosity to everything they do. Problem solvers. Wonder seekers. World changers."
When our charitable organization temporarily closed its doors at the beginning of the global pandemic, the award-winning independent creative agency Rethink offered to build us a fundraising campaign, free of charge.
Science World's VP of Marketing and Visitor Experience Teresa Virani was thrilled. "Rethink's sweet spot is in taking a stand, and saying something that could seem controversial, but actually isn't."
Like the proud declaration that The World Needs More Nerds, a bold campaign that allowed Science World to reclaim and reimagine the term.
In March, our science facilitators and program leads were grieving. They missed sparking joy through field trips, and hands-on programs like Future Science Leaders.
So, staff quickly pivoted to offer these programs online, including our Centre Stage demonstrations, which livestreamed weekly.
We began to see that our mission to ignite wonder and empower dreams was, indeed, essential.
And Rethink agreed.
"We're leaning on science more than ever," shared their Creative Director Leia Rogers. Creative sparks flew when she saw the school photo of a young, bespectacled Dr Bonnie Henry. "It was timely and appropriate to celebrate science and the inspirational people who've made the world a better place."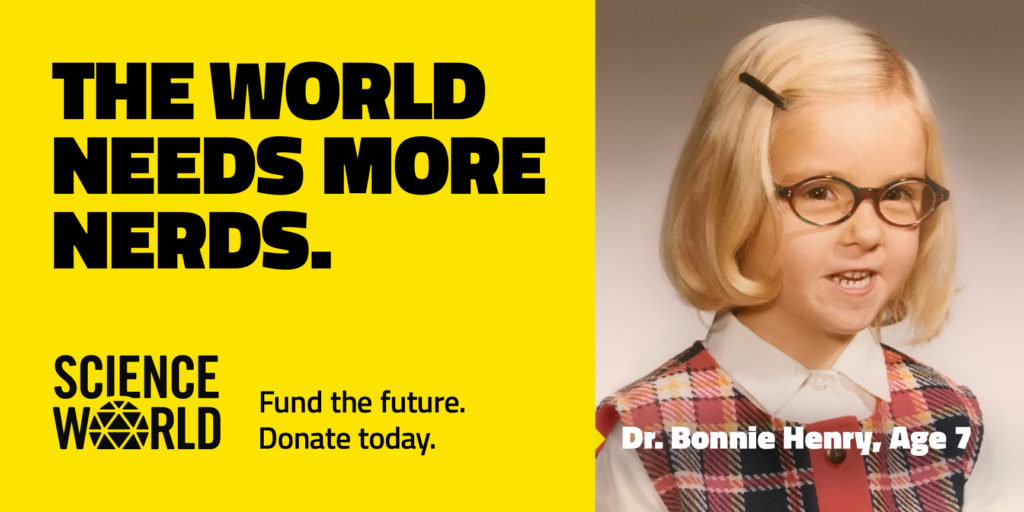 For Teresa Virani, the young photos of Canada's Chief Public Health Officer Dr. Theresa Tam, world famous primatologist Jane Goodall, and astronaut Chris Hadfield not only celebrated our nerdiest heroes, but also served as a reminder of how powerful it is to spark science joy at a young age.
"It's Science World's job to get people excited about science, and to then introduce the pathways to how that could be their career. That's what we mean when we say our mission is to ignite wonder and empower dreams."
As Science World's Creative Director Jen Cook puts it: "Every astronaut was once a little kid who knew nothing about physics or space."
Nerding Out
Both brains at Rethink and Science World saw the opportunity to celebrate extraordinary humans in STEM for what they were: nerds.
When the campaign launched, hundreds of self-proclaimed nerds donated. Some even hosted their own nerd-a-thon, rallying friends and family to keep the dome open.
The campaign also inspired the generosity of local companies. Dr. Ali Tehrani of Zymeworks pledged to match donations from his employees up to $50,000. Founding members of Ecotagious matched donations up to $50,000. And the CEO of Phoenix Labs Jesse Houston and his wife Erica matched donations up to $100,000!
From football player turned medical student Laurent Duvernay-Tardif to BC old growth forest conservationist Ken Wu, the campaign helped show the many paths nerdiness can take. Celebrating local nerds also facilitated deeper conversations about the work taking place in the community.
Micro-plastics researcher Dr. Love-Ese Chile took to Science World's Instagram to share about their work with Regenerative Waste Labs for #WasteReductionWeek. In celebration of LGBTQ+STEM Day, forensic anthropology researcher and SFU PhD candidate Vienna Lam used Science World's Twitter account to talk about her research and the importance of queer representation in science. An interview with SFU Professor in the School of Resource and Environmental Management Dr. Tammara Soma revealed the importance of local food systems in Vancouver.
Leia Rogers believes the campaign is fun and impactful because it addresses the urgency of the moment "without going to a dire or negative place."
And love from some famous Canadians brings even more attention from beyond BC. Online shares by the likes of Margaret Atwood, Ian Hanomansing, Cobie Smulders and Dan Mangan show us that nerdiness extends far outside STEM.
As Jen Cook says, "Nerds are just people who are passionate."
The Nerd in All of Us
Under our first tweet with Dr Bonnie Henry's image as a young girl in glasses, many began to share stories about the nerds they love.
One said, "As the proud mother of a medical scientist, I concur with this diagnosis."
Another shared a photo of their daughter as a child and wrote, "Now an orthopaedic surgeon."
And the campaign allows me to celebrate my mother, too. She died in 2015, and I know if she were alive today, she'd be mourning deeply the preventable mass death caused by COVID-19. But, always called to action, she'd still be thinking up new ways--much like our sign in the local parade--to teach people how to prevent the spread of disease.
It's like Rethink says: "Nerds are all-in. That's the nerd way. Always 100%, because 110% isn't scientifically possible."
---
Fund the Future
Donate today for the next generation of problem solvers, wonder seekers, world changers and nerds.