Get to know this unique animal and the Luk family, the donors who support it!
---
Before we dive into the science of the axolotl (Ambystoma mexicanum), let's start with its pronunciation: AK-suh-lot-l .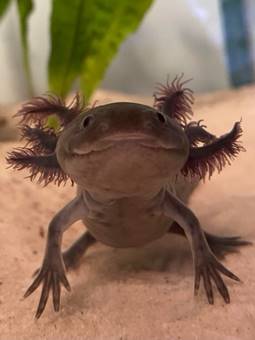 The species name of our newest Conservation Ambassador comes from the Nahuatl-speaking peoples of Aztec. They settled the Valley of Mexico in the 13th century and found this aquatic amphibian swimming in the lakes.
Observing its astonishing traits, the Aztecs drew comparisons to their deity Xolotl, a god who changed form to elude death.
Today, the axolotl's unmatched ability to regenerate makes it one of the most examined salamanders in the world. No matter how many times an axolotl loses a body part—limb, organ, piece of spine, skeleton and even brain!—they can regenerate it perfectly with no scarring.
Over 1,000 times more resistant to cancer than mammals, the axolotl has helped scientists understand how organs develop; the causes of spina bifida; embryo cells and regenerative medicine.
Visitors can learn more about this critically endangered species in Search: Sara Stern Gallery. Come say hi to Xochimilco (Nahuatl for "flower field," pronounced: show-chee-meal-ko or sow-chee-meal-ko), named after the lake in Central Mexico where the last remaining native axolotls live. Xochi is supported by Science World donor and Board member Ivor Luk and his family.
Bitten By the Giving Bug
For his first several years as a Vancouverite, Ivor Luk had no idea Science World was a non-profit, or that we deliver free programming to every region in BC. "There's a much bigger mission that so few people have any appreciation of. If they did, I think they'd be much more willing to give."