In this experiment, students see the forces produced by the Bernoulli effect. As the students blow between the hanging balloons, they speed up the air, creating an area of lower air pressure. The balloons move together since the surrounding air, having a higher pressure, pushes the balloons together.
Bernoulli's Principle states that as the speed of air increases, its pressure decreases.
Airfoils create lift using Bernoulli effects. Air flows more quickly over the top surface of a wing than over its lower surface. An upward force is produced by the slower moving air beneath.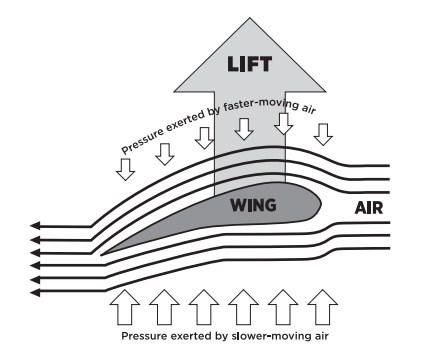 Aircraft wings come in a variety of designs. In all designs air is made to flow faster over the wing's top surface than under the lower surface. This is mainly accomplished by an upward tilt in the wing, called angle of attack.
Lift is greater when there is a large wing area and when the plane is travelling fast. Ailerons, or the moving parts of the wings, can move up and down to change the angle of attack, therefore tilting the plane upward or downward.