Drag is the force that opposes thrust on air crafts. The drag of the air makes it hard for planes to move quickly.
The shape of an object determines the amount of drag produced. Objects that are streamlined produce the least amount of drag. The more surface area you have opposing thrust, the slower you move through air.
For example, a fighter jet is more streamlined than a propeller driven Cessna.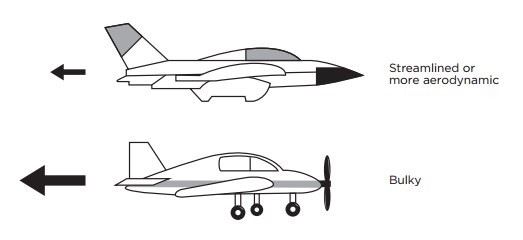 When the students walk or run, the "wind" they feel pushing against them is actually the force of drag. Another name for drag is air resistance. A plane is aerodynamic if it has little drag or bulk.
An airplane has drag when it flies through the air. Drag makes the plane go slower. When you run, your legs have to move fast to make you run forward. The engine in airplanes makes planes go forward. This is called thrust.
If students do not feel any difference in the amount of drag between walking and running, make the analogy of wading through water – what keeps them from running faster in water? The water resistance is also a type of drag.
In this activity, students simulate the forces of drag and thrust as they run across the field in an umbrella relay.
A streamlined shape slips smoothly through the air. The closed umbrella is a streamlined shape with very little drag. However, an open umbrella is more bulky and will slow you down due to drag. An open umbrella held behind you as you run will generate considerable drag since it has no aerodynamic properties at all.