Why Inquiry?
Science World is a charitable organization that engages British Columbians in science and inspires future science and technology leadership throughout our province.
We engage children's natural curiosity about the world; we encourage them to formulate questions and then to actively seek answers to those questions, using whatever tools are at their disposal.
With the increased focus on inquiry-based learning in the BC curriculum, Science World supports teachers to integrate inquiry learning into their classrooms.
Inquiry-based learning requires guidance from the teacher to support students' progression along the inquiry continuum.
Levels of Inquiry (adapted from Banchi and Bell, "The Many Levels of Inquiry", 2008.)
| | | | |
| --- | --- | --- | --- |
| Confirmation | Structured | Guided | Open |
| Teacher provides question and procedure. | Teacher provides question and procedure. | Teacher provides question. | Teacher provides support. |
| Students follow directions to confirm the results. "Traditional" lab. | Students generate an explanation based on evidence they've collected. | Students design procedure to test question and resulting explanations. | Students generate questions; design and carry out investigations; and draw conclusions. |
This Hoopster activity can be adapted for any level of inquiry, depending on the students' familiarity with inquiry-based learning. Primary students who have less experience benefit from starting at the confirmation or structured levels of inquiry. It is important, at all levels of inquiry, that teachers help guide students through their thought processes (meta-cognition) based on their observations.
Background Science
Aerodynamics is the study of how gases move around things. The word aerodymanics has its roots in the Greek words for "air" and "power."
Air, which is a gas, creates lift as it passes over and under the loops of the hoopster. The loops of the Hoopster are airfoils. Air moves faster over the top curve of the loops than beneath the loops. This creates a low-pressure zone above the hoopster that lifts it into the air. The Hoopster is an example of Bernoulli's Principle: that fast-moving air has lower pressure than slow-moving air.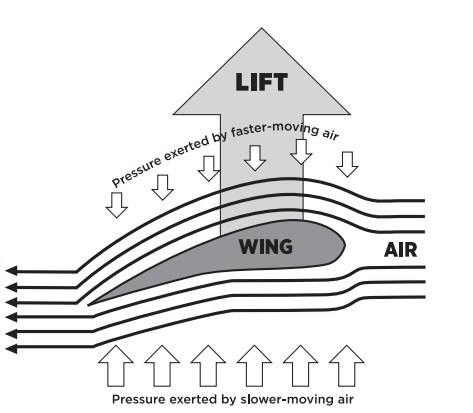 An airplane in flight is acted on by four forces:
lift, the upward acting force
gravity, the downward acting force
thrust, the forward acting force
drag, the backward acting force (also called wind resistance).
Lift opposes gravity and thrust opposes drag.
Drag and gravity are forces that act on anything lifted from the earth and moved through the air. Thrust and lift are artificially created forces used to overcome the forces of nature and enable an airplane to fly. The engine and propeller combination is designed to produce thrust to overcome drag. The wing is designed to produce lift to overcome gravity.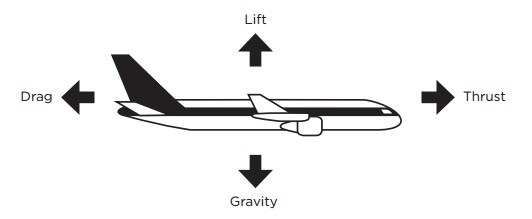 Teacher's Note: Scientists are not in agreement about how much Bernoulli principle versus Newton's Third Law of Motion contributes to lift in an airplane. As an extension activity for keen students, they may research the respective arguments and present them to the class, or find some way of building a model to test both theories.
Vocabulary
Question for investigation: overarching goal of an investigation written as a question.
Independent variable: variable changed in a science experiment to test a dependent variable.
Dependent variable: variable that is "dependent" on the independent variable. It is the variable that is being tested in a science experiment.
Hypothesis: a proposed explanation made as a starting point for further investigation.
Prediction: a statement about what might happen in the future.
Results: outcome of investigation