You don't need fancy fuels to launch a rocket–this paper rocket toy can be launched using only a pop bottle and a garden hose.
Rockets are propelled by pressurized gas. When the gas escapes downwards, it pushes the rocket in the opposite direction, causing it to go up (Newton's Third Law of Motion). This system of thrust is how a real rocket work,s whether it is in outer space, or here in the earth's atmosphere.
In this activity, stomp rockets are propelled by compressed air.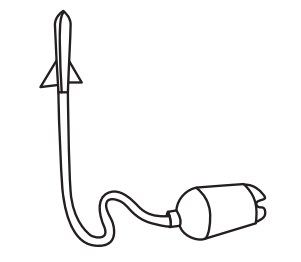 The paper rocket is placed on a launch tube connected to a plastic bottle. When you stomp on the plastic bottle, air rushes through the tube and fills the body of the rocket. The air pushes against the tube until the rocket pops off.