In 2019, we announced a new set of core values: curiosity, play, inclusion, relevance and collaboration. These qualities guide everything we do, from our unique events to our onsite programming to our charitable outreach across BC.
Thanks to you, we've had a big year, and choosing our Top Ten Moments wasn't easy! Here are the times we felt most aligned with our values and most completely ourselves.
Thanks for growing with us.
We wish you a very curious, playful, inclusive, relevant and collaborative 2020.
---
Date: February 7, 2019
Core Value: Relevance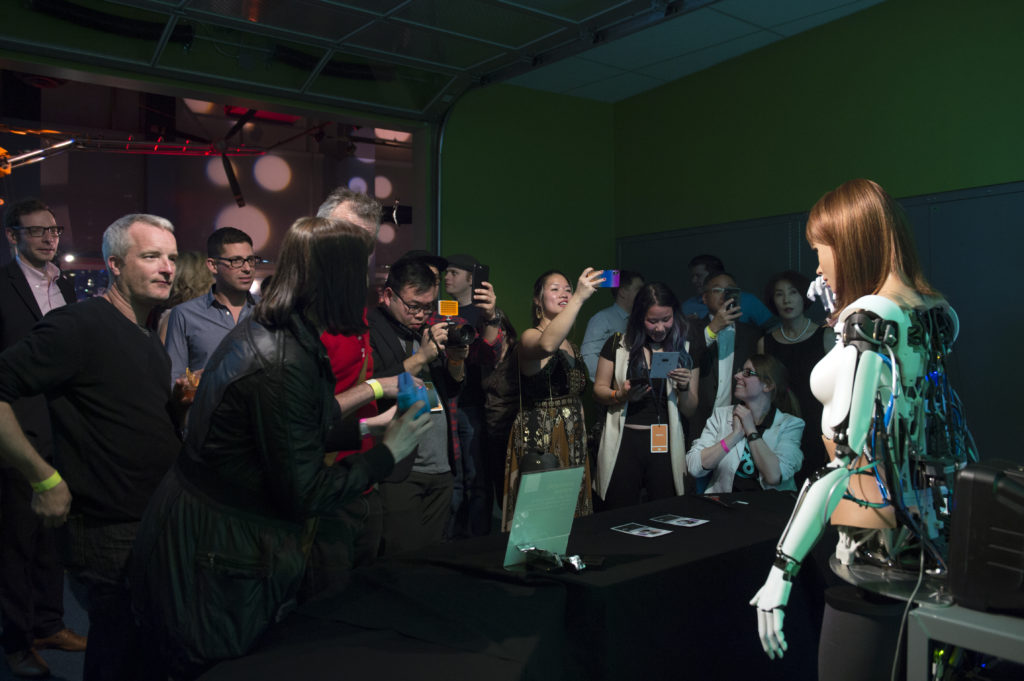 This is Nadine, the current generation of an empathetic synthetic human built by leading-edge Vancouver company, Sanctuary AI. In the future, these machines could help us care for people who need it most.
Nadine joined us at the 4th annual Science of Cocktails and—before enthralled onlookers—used her neural-network program to invent brand-new cocktails for select lucky guests.
Unfortunately, Nadine is too busy to join us at this year's Science of Cocktails, happening February 6, 2020. But you should come see what other science we have up our sleeve.
As always, your ticket supports our bursary program, bringing thousands of kids from underserved schools to TELUS World of Science!
---
Great Bear Rainforest World Premiere
Date: February 11, 2019
Core Value: Collaboration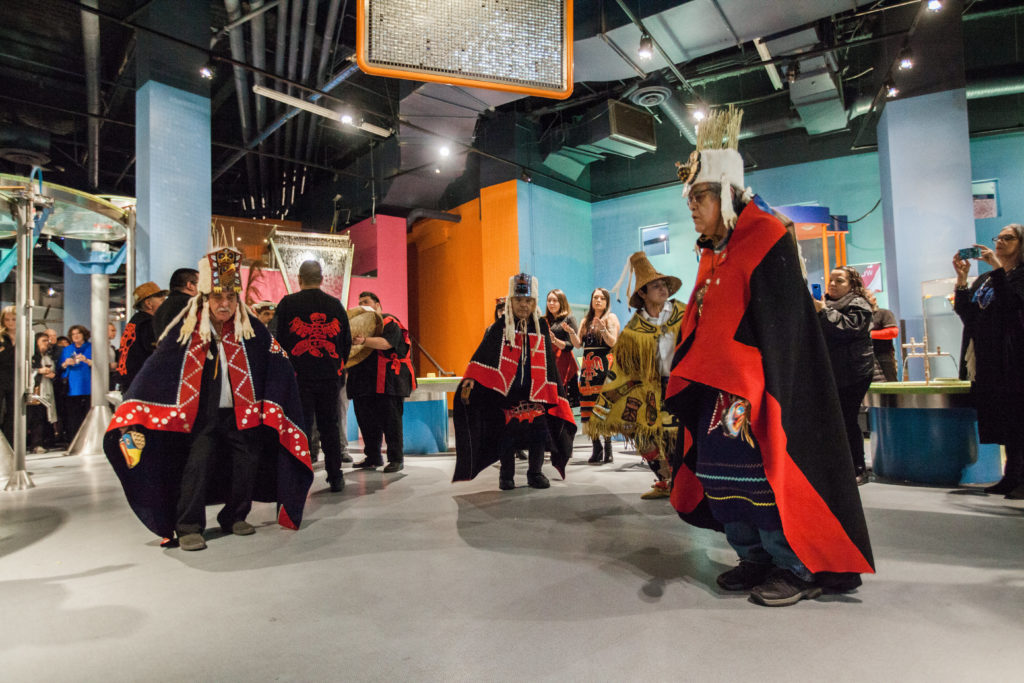 An incredible night unfolded when we hosted the world premiere of Great Bear Rainforest: Land of the Spirit Bear.
The film—which journeys through the last intact temperate rainforest in the world, protected by Indigenous peoples for thousands of years—has broken many Science World records, with 10 sold-out shows and 15,000 attendees in the first three weeks alone!
We were honoured to have a delegation of Heiltsuk leaders, including elected officials and hereditary and cultural authorities, open the premiere with a ceremonial performance. Musqueam Councillor Morgan Guerin was in attendance to provide a Traditional Welcome.
It was an unforgettable evening celebrating the people, flora and fauna of this old-growth forest.
---
Science World's 30th Anniversary
Date: May 6, 2019
Core Value: Play
We celebrated 30 years under the dome by attempting 30 live science demonstrations in 5 minutes. Click on the video above to see how we did!
---
#LGBTSTEM Day at TELUS World of Science
Date: July 5, 2019
Core Value: Inclusion
Did you know that, due to higher rates of exclusion, harassment, assault and discrimination than experienced by their straight colleagues, 40% of LGBTQ2S+ people in STEM do not come out in their academic and professional workplaces?
Our 2nd annual #LGBTSTEM Day featured a networking event for high school and college students run by 25 STEM mentors who identify as LGBTQ2S+, as well as a panel discussion where experts explored how we can all work together to dismantle hurdles for LGBTQ2S+ people in STEM.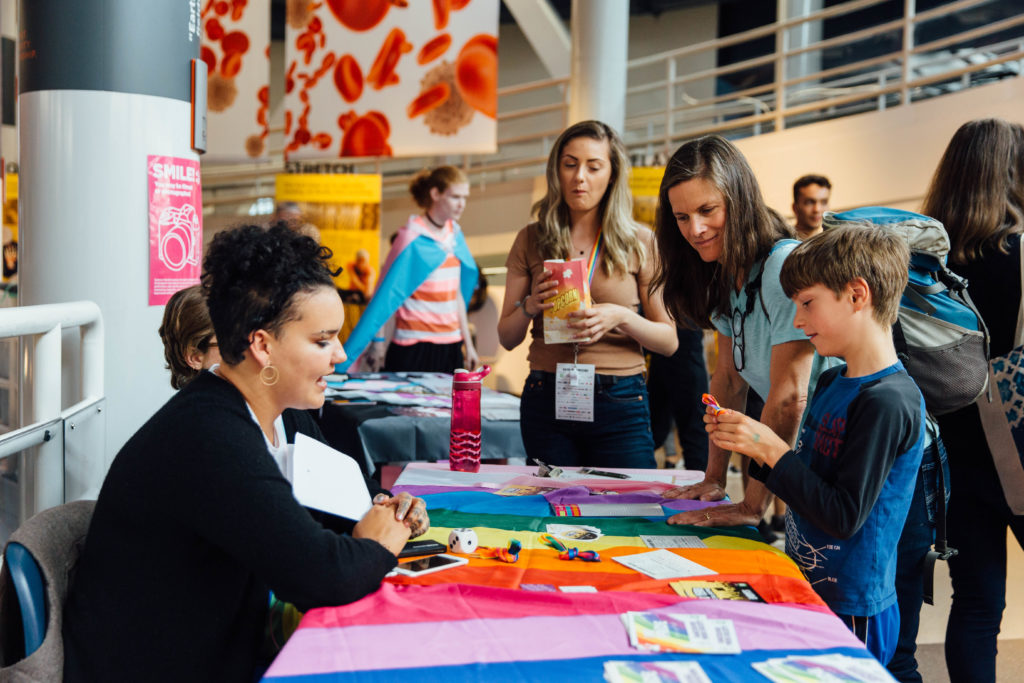 ---
Vancouver's Most Iconic Building
Date: September 6, 2019
Value: Curiosity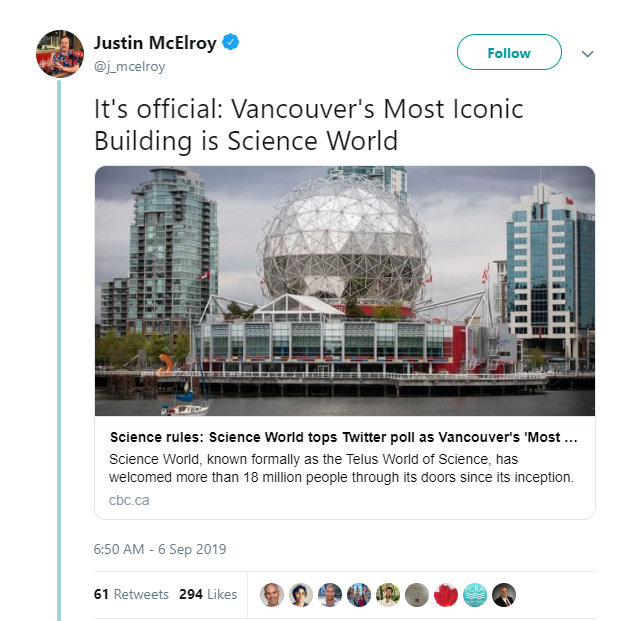 We followed the debate with bated breath, wondering who would triumph after CBC Journalist's Justin McElroy posed a provoking question: What is Vancouver's most iconic building?
He pitted 16 modern buildings against 16 heritage buildings for the title. Days of impassioned online discussion ensued. More than 25,000 votes were cast.
In the end, our geodesic dome beat out Art Deco stunner The Marine Building. Millennials tweeted about memories of entering our dome as children, which, to them, represented a sense of learning and wonder.
---
Tech-Up 2.0 is announced
Date: September 13, 2019
Core Value: Relevance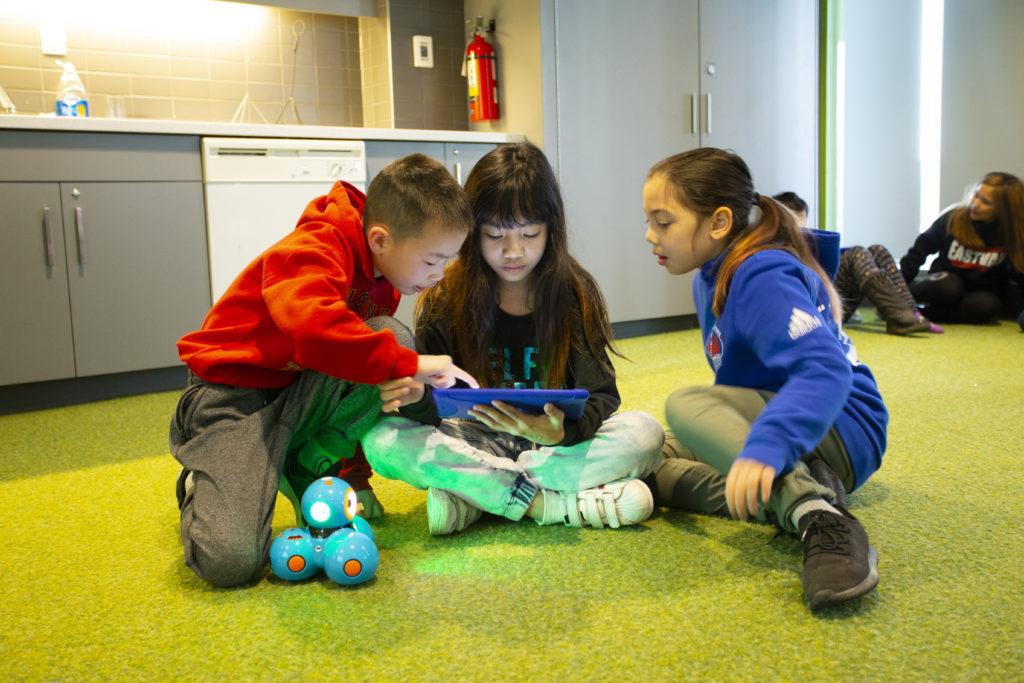 The next generation faces enormous and unprecedented technological change. To help prepare them, the Government of Canada awarded Science World with $695,062 to support our newest program, Tech-Up 2.0.
Tech-Up 1.0 had already reached almost 25,000 students and 1500 teachers in eighty-four BC communities AND handed out $100,000 in coding and computational-thinking equipment.
Over the next few years, Science World will deliver vital digital skills training and resources to 30,000 students and 1,185 teachers both here in the Lower Mainland and in rural and northern BC communities.
Together, we are looking toward a bright tomorrow.
---
Date: October 18, 2019
Core Value: Play
This year's sold-out murder-mystery party combined time travel, a billionaire tech genius, deadly diseases, forensic clues and, of course, a murder that required guests' detective skills to solve. As suspects unravelled and motives surfaced, we all learned an important lesson: sometimes the past returns to plague you.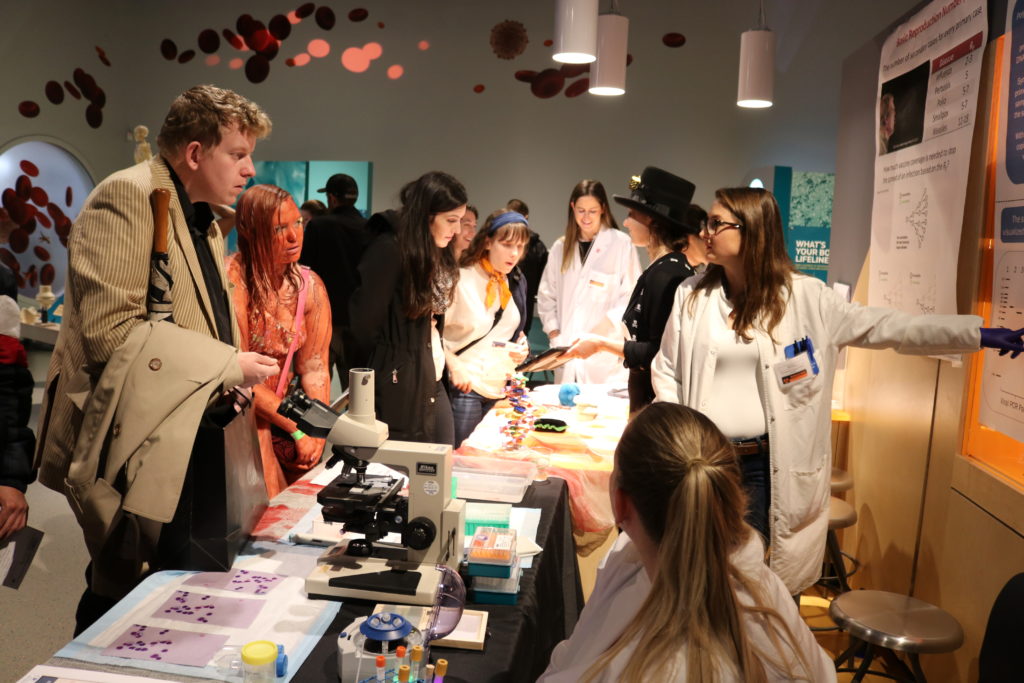 ---
On The Road at the BC Legislative Assembly!
Date: October 28, 2019
Core Value: Collaboration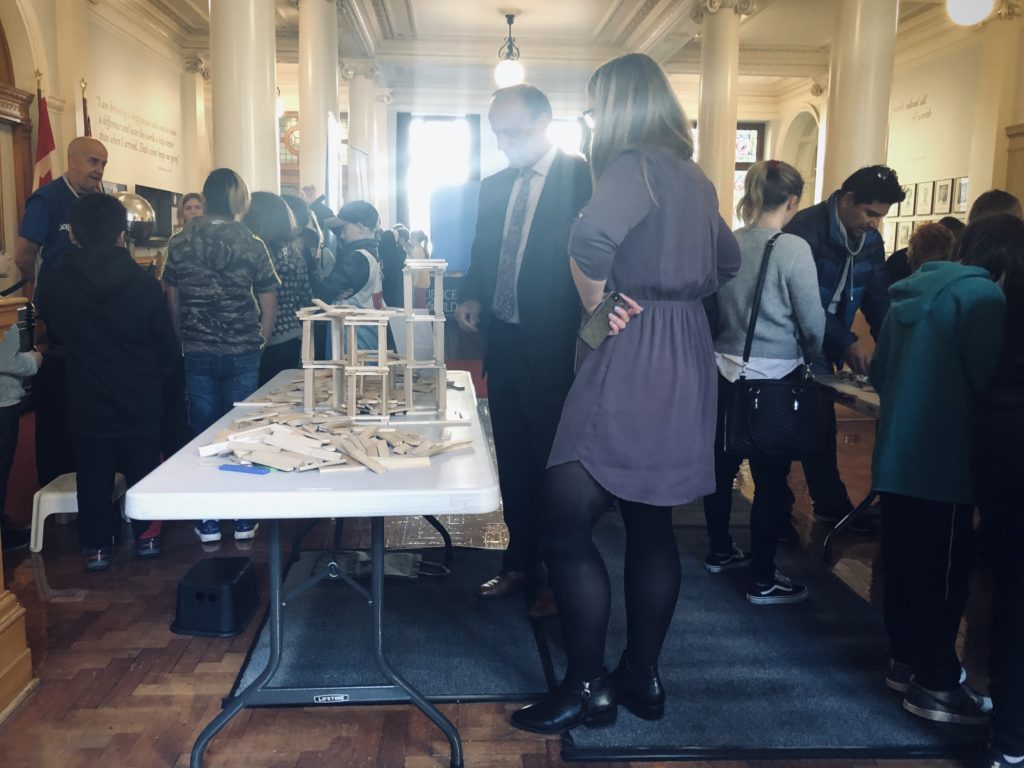 To bring awareness to the 100,000+ people we reach every year across BC, our fabulous travelling science performers (joined by 75 students from James Bay Community School) put on a spectacular live show at BC's Parliament Buildings in Victoria!
Afterwards, we received numerous shout-outs & thank-yous from members of both the government and opposition in the house.
Science really does bring everyone together!
---
2nd Annual Girls and STEAM Symposium and Showcase
Date: November 2, 2019
Core Value: Inclusion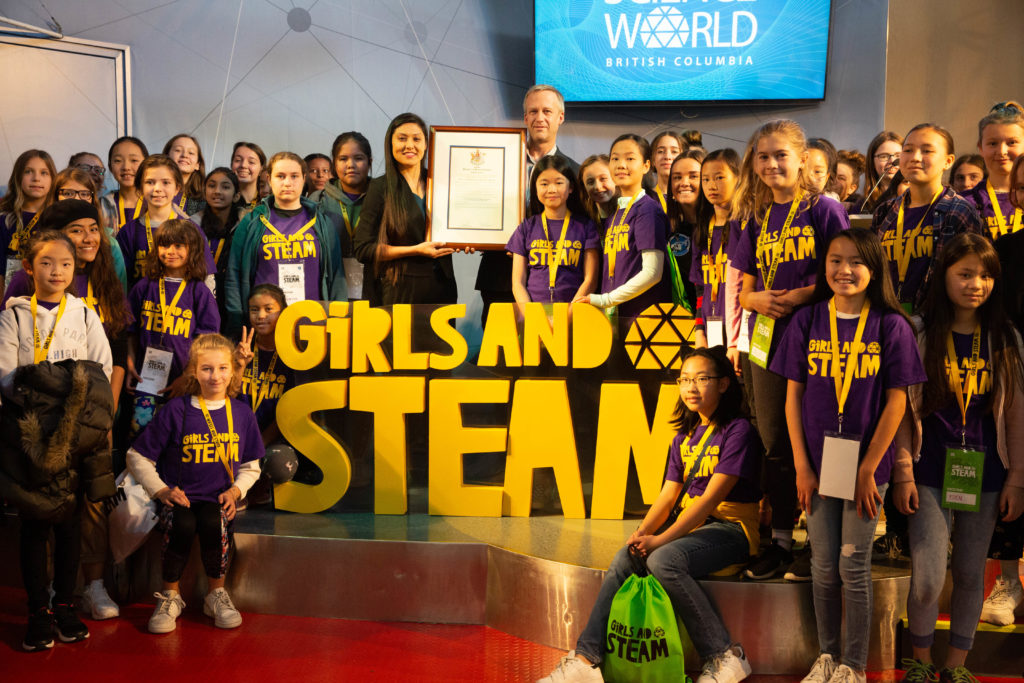 Registration for this unique event filled in two minutes, a dramatic indicator of just how important initiatives that connect girls with STEAM mentorship are for our community. Currently, only 22% of STEM jobs in Canada are held by women.
This year, our free event Girls and STEAM addressed this social imbalance by demystifying STEAM career paths for 300 girls, 60 of whom might otherwise not be able to attend Science World programming.
The girls partook in exciting workshops and met inspirational women in STEAM, such as astronaut-candidate Bethany Downer, Vancouver tech-entrepreneur Cybele Negris, and local scientist-musicians Laydy Jams.
---
Brand Refresh and New Website
Date: December 2, 2019
Core Value: Curiosity
A year and a half of consultation and experimentation, combined with research into visual and colour language and all our different audiences, resulted in a new brand promise: Evolution through discovery.
"We wanted to reflect the wonder you get and the energy you feel when you walk into our dome or when Science World comes to you," says Science World's Creative Director, Jen Cook.
"A bright future is one where we collectively take on big, tough challenges with openness and curiosity—because when you view the world through the lens of curiosity, everything is possible."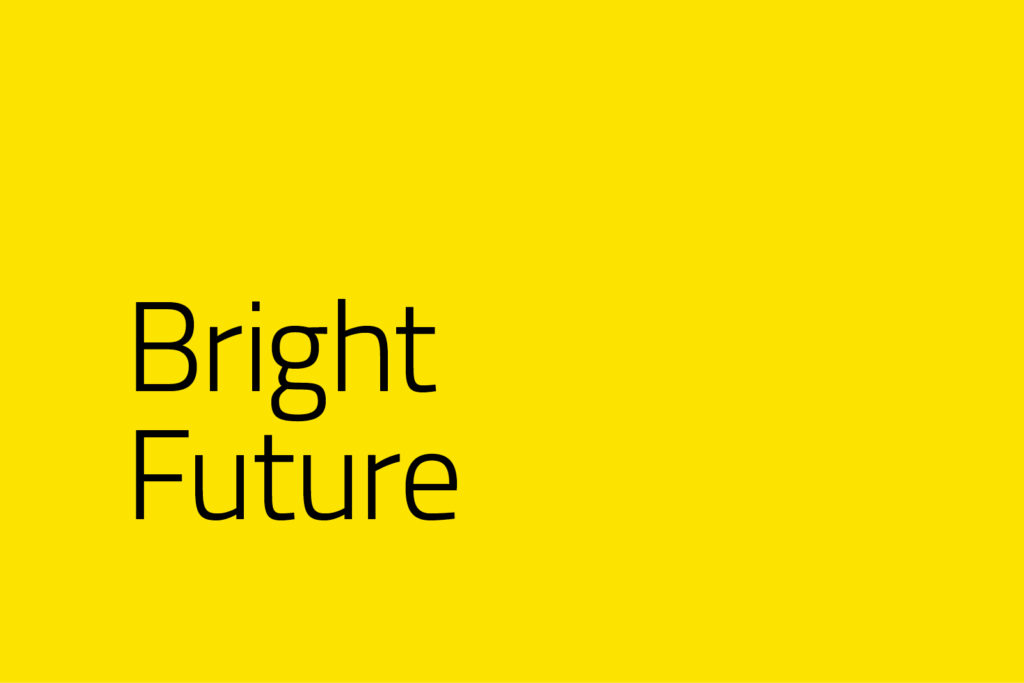 ---
Science World Needs You Now.
We rely on donations to offer programs and services across the province. Less than 2% of our revenue comes from government funding. Most of our revenue comes from admission. With our doors closed, the future is uncertain. Donate now and help ensure Science World will be here for everyone once COVID-19 is gone.